Resident Gardeners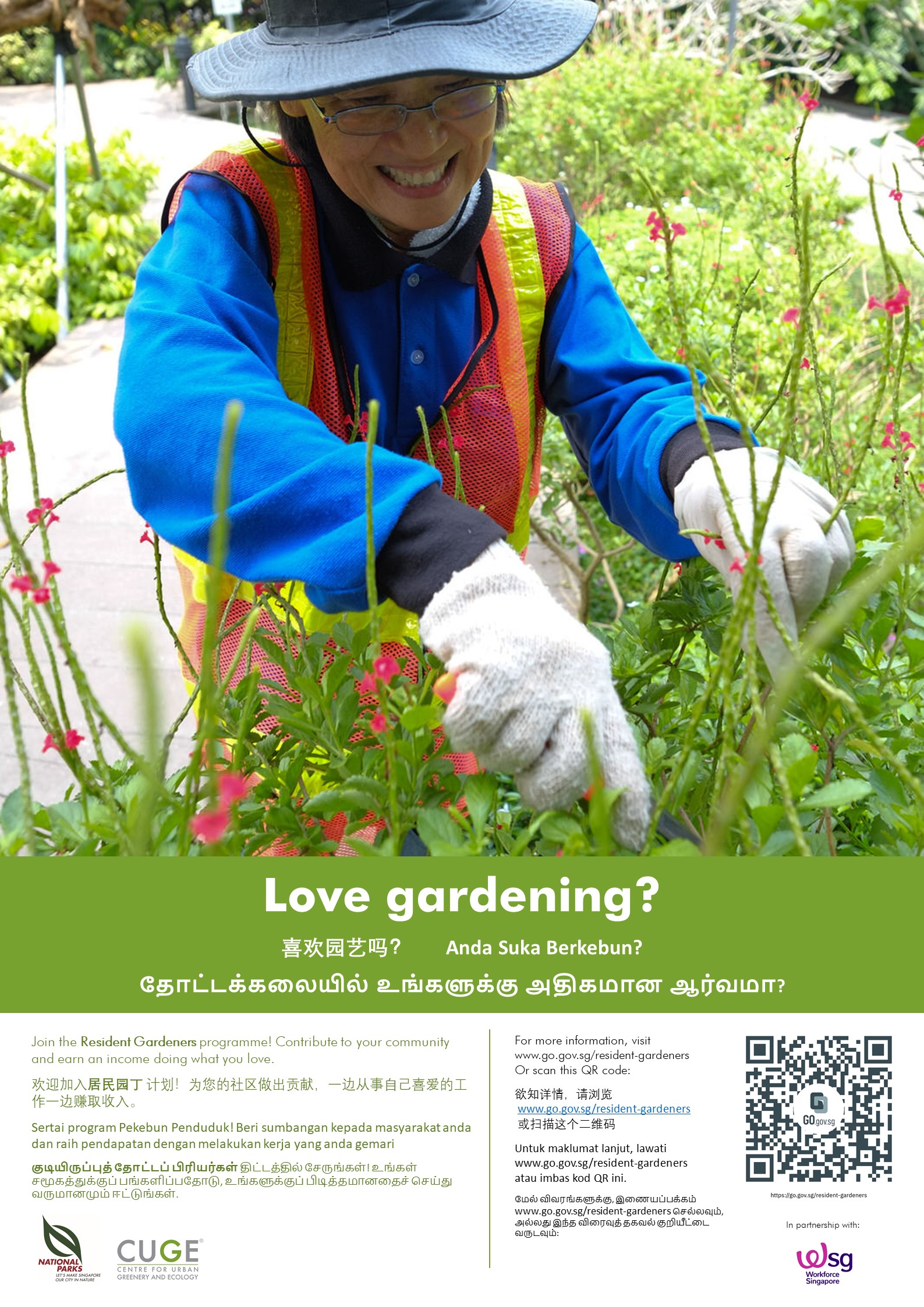 Love Gardening?
Join the Resident Gardeners programme! Contribute to your community and earn an income doing what you love.
About the Programme
The Resident Gardeners programme provides an opportunity for gardening enthusiasts to be employed by landscape contractors to maintain their neighbourhood parks, gardens and other green spaces. It allows residents to contribute to their community and earn an income doing what they love. Registration of interest is currently open for East Coast area (Bedok, Siglap, Kampong Chai Chee, Fengshan and Changi Simei). The programme will be rolled out to other areas progressively.
Residents in the programme areas who are physically fit for landscaping and gardening works and willing to work outdoors are welcome to register their interest with NParks. Qualified applicants will undergo interviews with the landscape contractors. Shortlisted candidates who are eligible will participate in a short term Career Trial with the contractors where on-job-training is provided to assess job fit. During the trial, residents will be given a training allowance from $7.50 an hour. Successful candidates will be employed with the landscape contractors and be paid at least $750 per month for part-time positions. The Resident Gardeners will also undergo further training which includes Landscape Workforce Skills Qualifications (WSQ) courses, to equip them with skills required for the job.
For more information on the Career Trial, please visit the WSG website HERE.
For more information on the WSQ courses, please visit the CUGE website HERE.
Register Your Interest
If you are interested to work at East Coast or other areas, please register your interest by completing the following form:
Please note that only shortlisted candidates will be contacted.