Public Consultation on Pet Sector Review
The health of the animals around us is linked to our own health. As certain diseases can be transferred between animals and humans, it is important we ensure the well-being of animals, especially those that live with us.
The National Parks Board (NParks) is working with the community to strengthen animal health and welfare standards. Since August 2019, the Animal & Veterinary Service, a cluster of NParks, has been conducting focus group discussions with various stakeholders in the pet sector. This input, together with the feedback from this online survey, will go towards shaping pet-related policies that will be underpinned by science.
Your feedback will help us as we look into measures to raise standards of pet breeders and boarders such as improving animal handling and care through staff training, accreditation or licensing. It will also contribute towards processes to enhance the traceability of pets which will be critical in protecting public and animal health.
Share your views at go.gov.sg/petreview or scan the QR code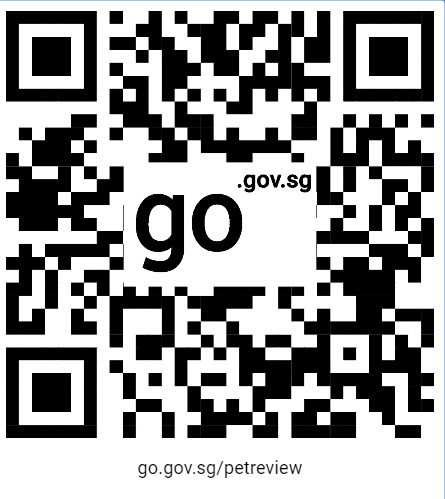 Public consultation period: 26 October to 26 December 2019
Breeders and Boarders
The varying standards and at times, poor practices of pet breeders and boarders, are a concern. Not only may they affect the health and well-being of the animals, they may impact their owners too.
Traceability of Animals
A robust and efficient traceability system for animals is important to protect the health of both humans and animals, especially since some animal diseases can be transmitted to humans. If an animal is infected, there is a need to quickly trace its whereabouts and determine its health status. In the same way, it may also help pet owners reunite with their lost pets sooner.