3rd Landscape Surveying Appreciation Course
13 Dec 2011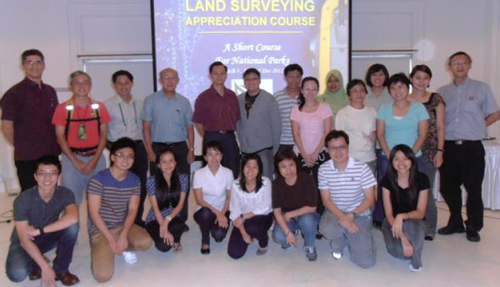 With the encouraging response and positive feedback from participants of the earlier batches, CUGE conducted the 3rd run of the Land Surveying Appreciation Course on 13 -15 December 2011.
Trainers from the Singapore Institute of Surveyors & Valuers provided in-depth insight into land surveying - from the formulation of clear set of specifications for procurement of land surveying services to the legal obligations under the various legislation governing land administration in Singapore. Besides providing an overview of land surveying, the course equips participants with proper reading and interpretation techniques and identifies key issues to look out for when dealing with surveys and surveyors, including the format and quality of submissions. By the end of the course, participants not only took away with them the do's and don'ts of surveying, but also the fond memories of a fruitful learning journey at Fort Canning.
In addition to classroom lectures, this course involved hands-on exercises in reading, evaluating and analyzing topographical plans. Demonstration and excursion helped the participants to identify boundary monuments, survey marks, etc., and reinforced their understanding of how positions of trees are determined and how reduced levels (elevations) of ground features are established.
Participants had the opportunity to use various types of surveying equipment, including total stations and state-of-the-art equipment such as scanners and hand-held GPS equipment. They found the course very useful and relevant to their work in development and management of parks and open spaces.
The fourth run of this course is scheduled for the second quarter of 2012. Interested participants are welcome to contact Ms Constance Chan Yoke Cheng at chan_yoke_cheng@nparks.gov.sg

Classroom lectures
Participants getting hands-on experience in using survey equipment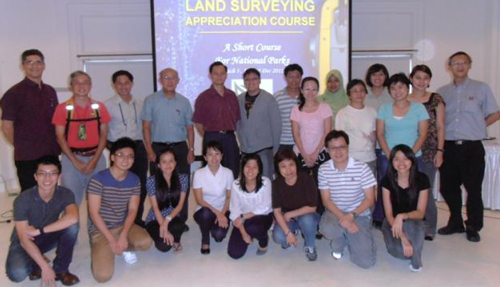 Group Photo for the 3rd Land Surveying Appreciation Class