3rd Renewal of Memorandum of Collaboration Between NParks and Australian Institute of Horticulture
23 Jul 2012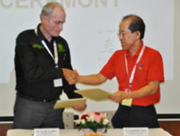 The signing of a Memorandum of Co-operation (MOC) between NParks and Australian Institute of Horticulture (AIH), was successfully concluded at iLIAS Summit 2012 witnessed by 85 overseas and local landscape professionals. This is the third renewal of the MOC and underscores the strong and enduring relationship between the 2 organisations.
Central to this MOC is CUGE's Certified Practising Horticulturist (CPH) programme. It is the first professional certification programme in Asia for practising horticulturists to achieve an international benchmark for their skills sets, expertise and competencies. This is a voluntary certification for Singapore and regional industry professionals to upgrade their horticulture professionalism to keep them on par with their international counterparts. AIH accredits this certification programme bringing credibility and an international dimension to our curriculum.
Currently, there are more than 117 CPH professionals in Singapore and the next intake of the CPH Programme will be launched in August 2012. Please contact Ms Penny Teng at 64629001 or email penny_teng@nparks.gov.sg for more details.

Signing Ceremony - Dr Leong Chee Chiew, DCEO, NParks and Mr Kim Morris, President of AIH