7th Run of NParks Legislation and Enforcement Management Course
27 Feb 2013

The 7th run of the foundation training on NParks Legislation and Enforcement Management Course, was organized by CUGE on 27-28 February 2013. This is part of the Induction Programme for NParks' new operations staff.
The course aims to equip participants with knowledge and techniques to interpret, apply and enforce legislation under NParks' jurisdiction, and adopt proper protocols and enforcement procedures. Through the course, participants would be able to understand and manage the increasing challenges and intricacies in enforcing legislation in the field.
The course was well received. Some positive feedback from participants are as follows:
"Good amount of real case discussions and role-playing."
"Engaging module very interactive."
The 8th run of this course is scheduled on 4-5 June 2013. Interested participants can contact Ms Nalini at Nalini_Atamanadan@nparks.gov.sg.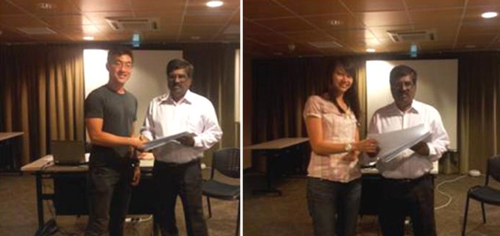 Mr Maniam presenting certificates to participants