A Fun and Enriching Hands-on Experience Sampling and Testing Water
04 Oct 2011 -

Singapore Polytechnic and CUGE recently concluded a workshop on water quality monitoring. The two-day workshop covered the important relationship between water quality parameters and aquatic life.
An equipment supplier was invited to give a demonstration on using the water quality test kits and generously provided test kits for the participants to use. Participants conducted field sampling and analysis using these portable meters and field kits. Participants are now aware that water quality can be monitored easily.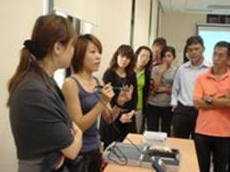 Equipment supplier giving a demonstration

Participants conducting field sampling and analysis
Participants using test kits to analyse the samples collected