Science Comes Alive at Bukit View Secondary School
Science is often seen as a boring and difficult subject to conquer. Bukit View Secondary School (BVSS) has aimed to change that view by organising the 'Ecologic Trail @ BVSS', a science-focused learning journey in their school grounds.
On 28 May this year, the Trail was conducted for 36 Keming Primary School pupils by 20 BVSS students who became guides and facilitators. Since 2006, BVSS has been partnering Keming and Bukit View Primary Schools to make science come alive for their pupils. As Mr Heng Chong Yong, Head-of-Department (Partnerships) puts it, "When [the students] are given a purpose and know that others are depending on them, they take learning into their own hands."
This year's Trail had five stations covering various science concepts such as adaptation, food chains/webs and environmental awareness. BVSS teachers had also produced a worksheet for the participating pupils to use during the learning journey.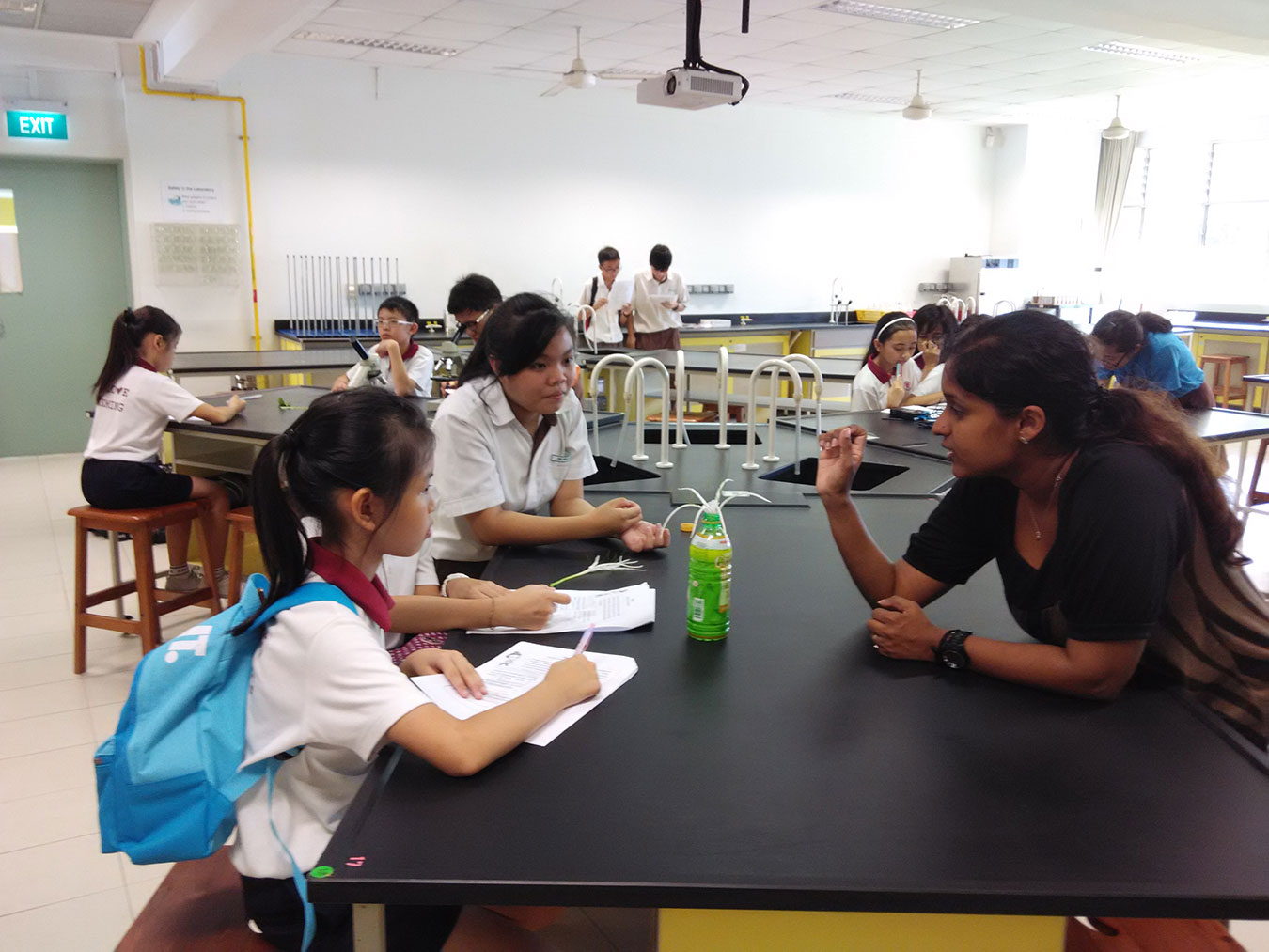 Mrs Reena Lloyd (right), together with BVSS student Ow Wee Shyun, 15 guiding a Keming Primary pupil to answer a question on flower parts, using the Spider Lily (Crinum asiaticum) as an example.
Wu Zeying, 15, reflected that the programme had taught her patience when guiding her juniors, in addition to the need to communicate effectively among team members. Raymond Lay, 15, not only gained a deeper understanding of science but he also learned much from the questions from his young audience.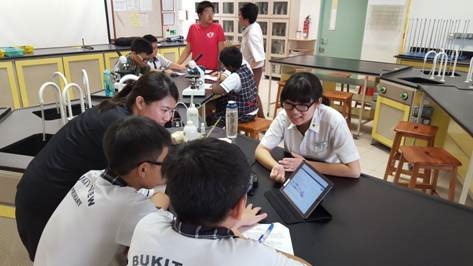 Zeying (right) and her classmates having a discussion in the science lab.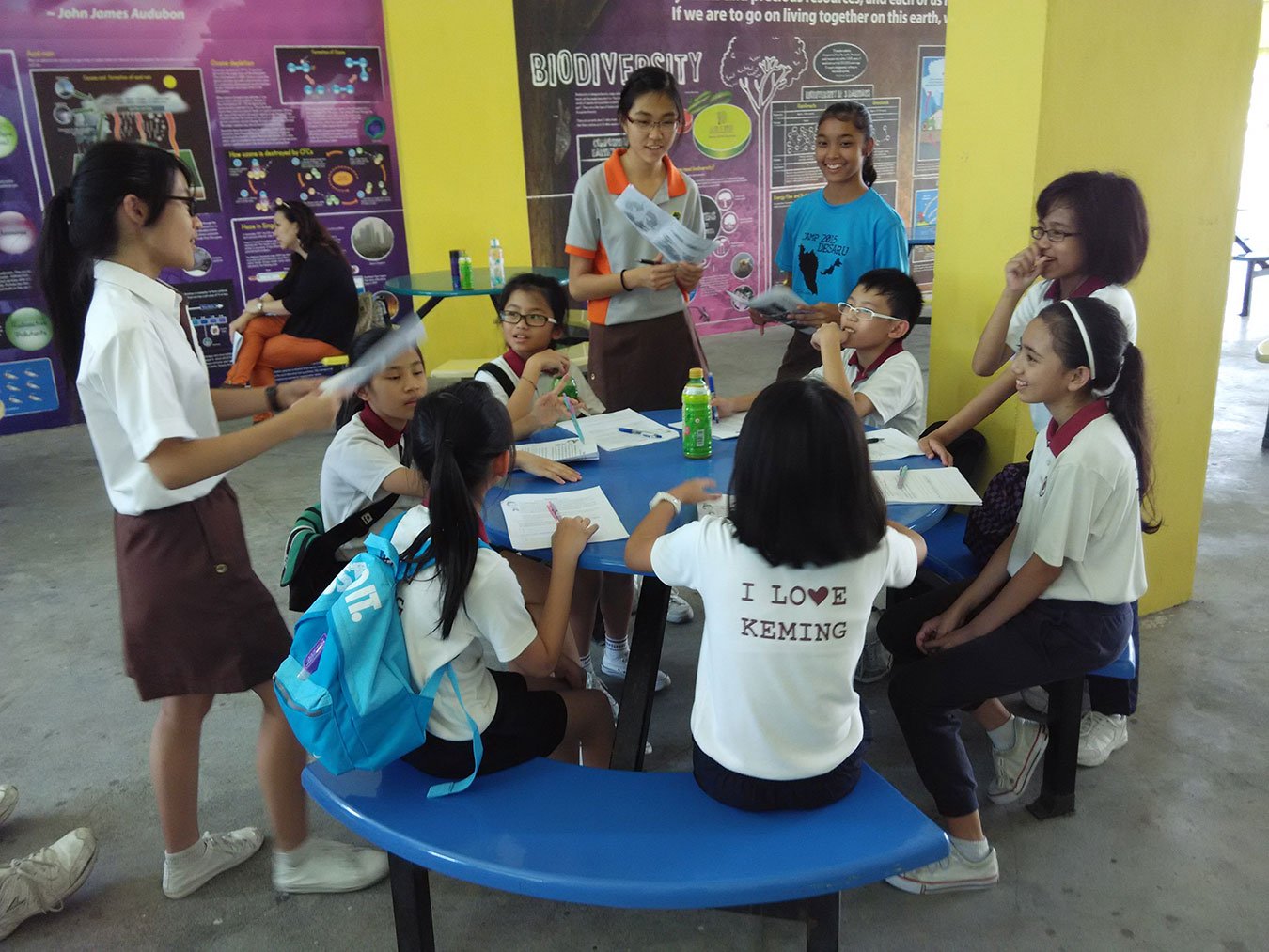 BVSS student guides (left to right) Megan Sim , Stella Ching and Lydia, all 15, share about environmental awareness with their younger counterparts.
New to the Trail this year was a station on biodiversity-attracting plants that were installed as part of Greening Schools for Biodiversity. A programme under the NParks' Community in Nature (CIN) initiative, Greening Schools looks at creating biodiversity-friendly habitats in schools, guided by results from student-led biodiversity audits.
Having adopted Greening Schools in 2014, the BVSS teachers proudly shared that they have observed an increase in wildlife sightings since! The baseline biodiversity audit, which focuses on plants, revealed the presence of several biodiversity-attracting plants in their school including the Caricature Plant (Graptophyllum pictum), Indian Snakeweed (Stachytarpheta indica) and heliconias (Heliconia spp.). A further six species of biodiversity-attracting plants were planted in their eco-garden to enhance the school's biodiversity value, including the Chinese Violet (Asystasia gangetica ssp. micrantha), Seven Golden Candlesticks (Senna alata), and Giant Milkweed (Calotropis gigantea).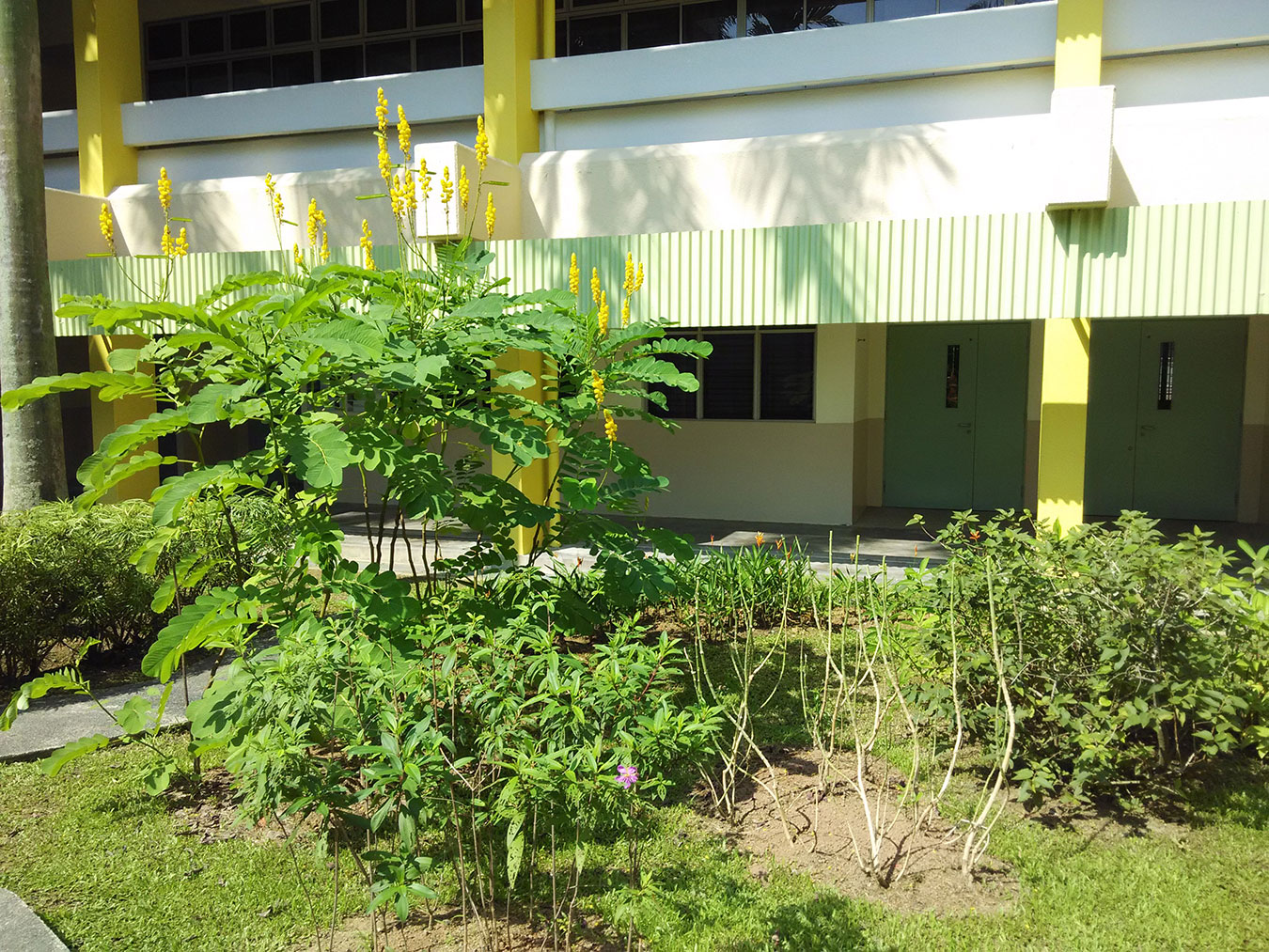 The Seven Golden Candlesticks (left) can be found in the school's greened plot.
Native plants like the Sendudok (Melastoma malabathricum), Crepe Ginger (Cheilocostus speciosus), and the Long-­leaved Beauty Berry (Callicarpa longifolia) were planted too. Some of these species have dual 'attracting' powers, enticing both the butterflies and birds!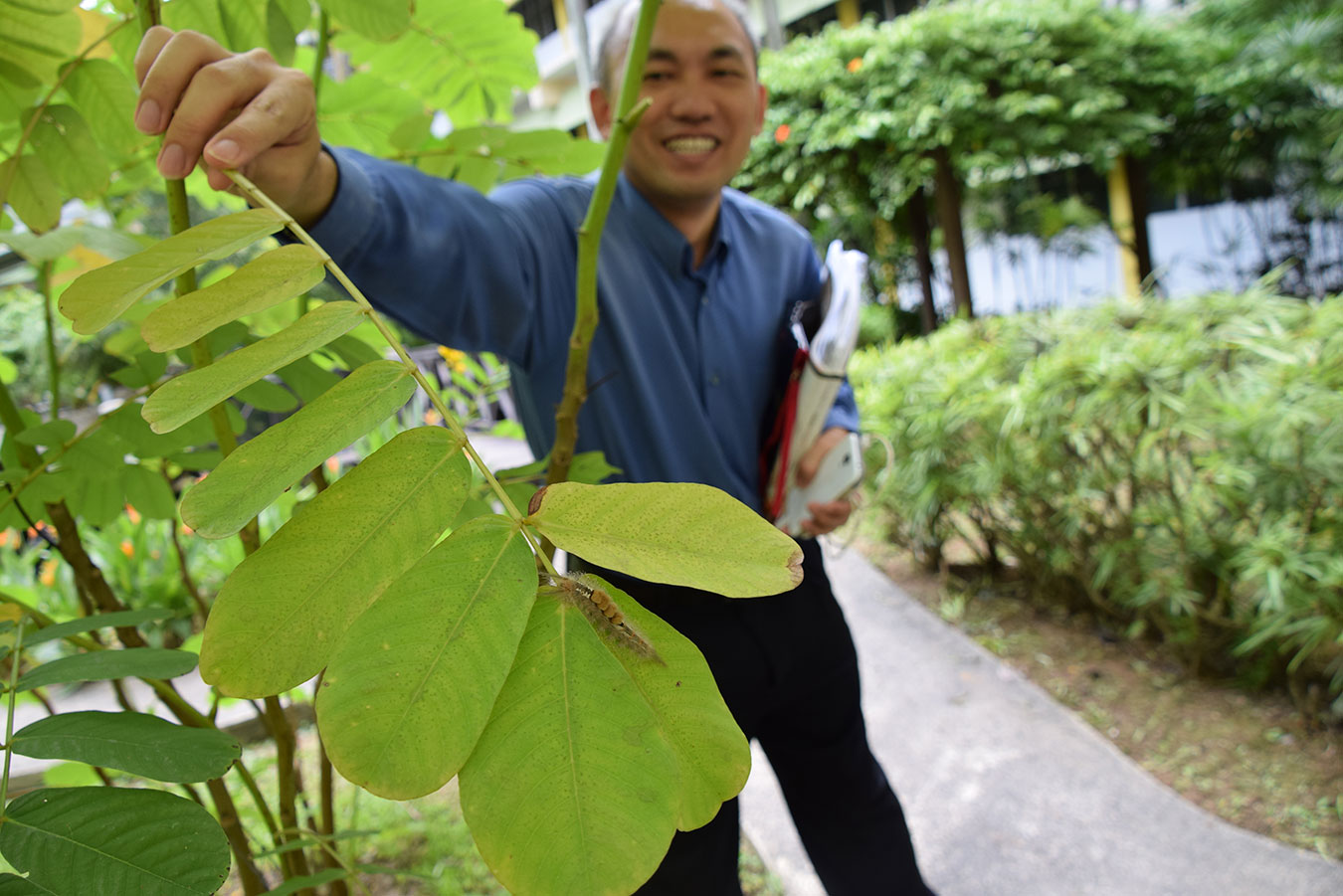 Mr Heng Chong Yong shows off a Tussock Moth Caterpillar (from the Lymantriidae family) on the Seven Golden Candlesticks (Senna alata).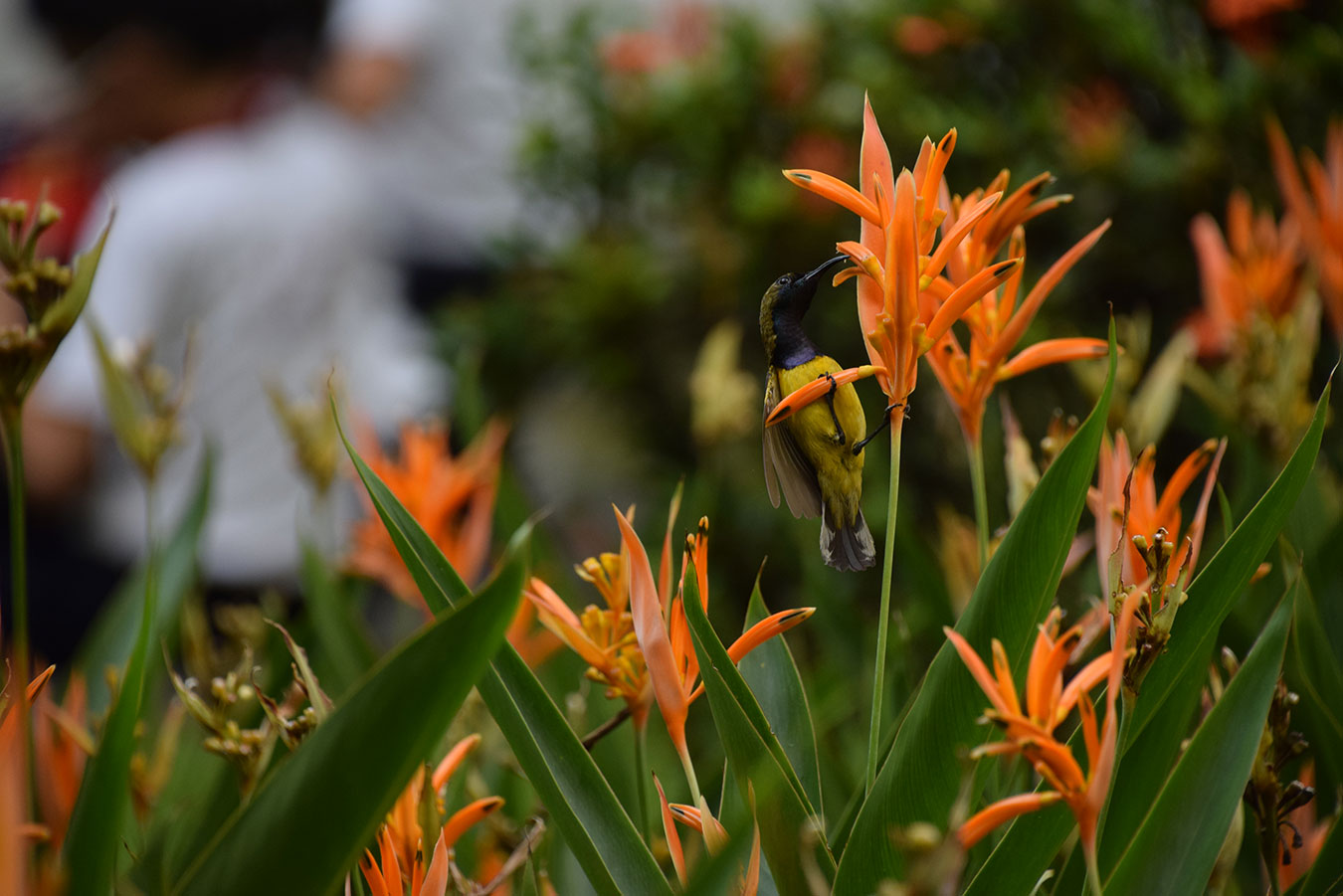 The Olive-­backed Sunbird (Nectarinia jugularis) frequently visits BVSS' eco­-garden to feed on the nectar from the heliconias.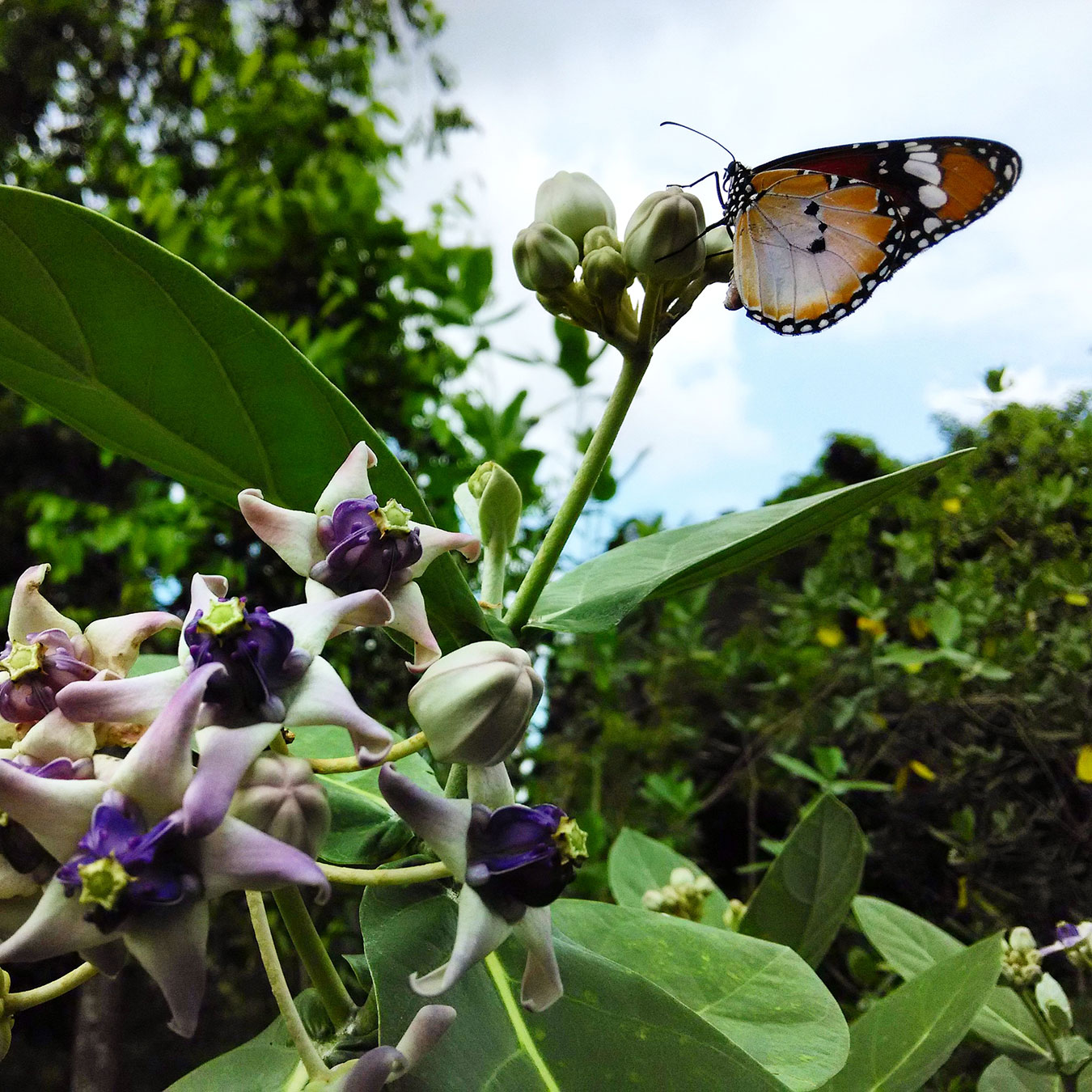 The population of the Plain Tiger (Danaus chrysippus chrysippus) and its host plant, the Giant Milkweed (Calotropis gigantea), are thriving in the school.
Looking to create biodiversity-friendly habitats in your school? Find out more about Greening Schools for Biodiversity below! For skills on conducting outreach to create awareness and appreciation of biodiversity, check out the Nature Outreach Workshop.



Community in Nature (CIN) is a national movement to connect and engage different community groups to actively conserve Singapore's natural heritage. Launched in September 2011, this initiative is aligned with NParks' City in a Garden vision and Singapore's National Biodiversity Strategy and Action Plan. CIN brings together all of NParks' nature-related events, activities and programmes, to better reach out to the community to encourage them to bond with nature and one another.
If your school is interested in learning more about CIN or how you can participate in some of its programmes, email CIN@nparks.gov.sg.
Greening Schools for Biodiversity
Learn how you can entice flora and fauna to your school by creating biodiversity-friendly habitats, and develop a biodiversity trail to increase appreciation and raise awareness of biodiversity! This 12-month programme which focuses on habitat enhancement, citizen science and outreach will involve students in auditing how biodiverse their schools are, as well as formulating and implementing a plan to enhance their school grounds for biodiversity. Under this programme, teachers will undergo training to equip their students with a basic understanding of biodiversity, lead them in conducting biodiversity surveys, as well as guide them in creating a biodiversity trail. A customised horticultural session will be conducted at each school to bolster participants' knowledge on plants, ranging from plant selection to creating a planting design plan.
For schools interested in being part of the Greening Schools for Biodiversity programme, email

CIN@nparks.gov.sg

.
Nature Outreach Workshop
This workshop seeks to equip participants (two teachers, six students per school) with skills on how to create and implement nature-related outreach projects in their school. The skills covered can lead to individual projects, or be used in combination to create and execute a science/biodiversity trail. The projects are to be completed within 12 months of attending the workshop.
To find out more about Community in Nature school programmes, send your enquiries to CIN@nparks.gov.sg.
Text by Henrietta Woo, Eyu Xue Yi and Lim Zhi Yun
hoto of Yasmin, Mr Heng, and the Olive-backed Sunbird by Eyu Xue Yi
Photo of Zeying by Heng Chong Yong
All other photos by Henrietta Woo