Greening Up Northbrooks Secondary School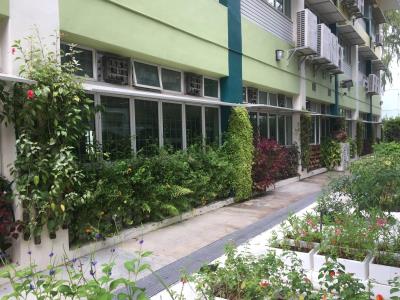 The DIY vertical garden in Northbrooks Secondary School beautifies its walls and helps reduce the building's temperature.

You could call it the Great Green Wall of Northbrooks Secondary School!

Spanning 32 m long, about 2 m tall and comprising more than 15 species of plants, this vertical garden built on the façade of the Design & Technology block is a labour of love by Secondary 4 student volunteers and members from the school's Environmental Art Club. The school's in-house gardener, Mr Poon Soon Hong, initiated the idea for this do-it-yourself (DIY) project in 2014.

He said he wanted to create a low-cost and sustainable alternative to two other green walls that are already in the school's foyer and parade square. Those walls, designed and installed by external vendors, were to increase greenery in the school and to beautify otherwise empty concrete walls. The school was also aware that green walls can help reduce building temperature, making the classrooms and office space cooler for all.

Mr Poon said he was inspired to do the same, but instead of hiring a professional contractor, he tapped the creativity of students, and together they built this third wall up.

Reducing cost and resource wastage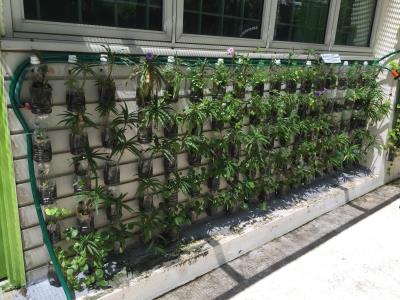 The school's gardener Mr Poon tapped the creativity of students and used simple engineering principles to build the structure of the vertical garden.

So what makes this DIY green wall different? It was constructed using basic recyclable materials and includes minimal structural components to reduce cost and resource wastage. For example, students used plastic bottles collected from the school canteen as planters while a garden hose with holes drilled into it at intervals, make up a simple yet effective drip irrigation system.

Applying simple engineering principles, the plastic bottles are connected to each other through a hole measured and cut out of the bottom of each of the bottles. This allows water to flow from the top planter to the lower ones, ensuring water efficiency. In addition, this method eliminates the need for any adhesive to connect the plastic bottles together, making it convenient to expand the green wall – you can just add planter bottles either to the top or bottom rows!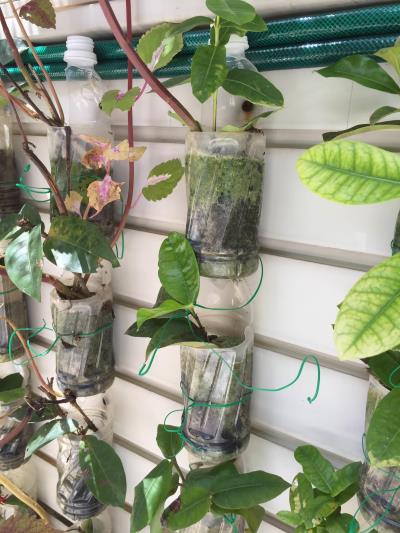 Plastic bottles collected from the school canteen are used as planters for the green wall.

The plants used for the green wall are propagated from the school's community garden. Plants with attractive flowers or variegated foliage were chosen to give the wall more colour. Species include Ixora (Ixora spp.), Hibiscus (Hibiscus rosa-sinensis), Zigzag Plant (Pedilanthus tithymaloides), Singapore Daisy (Sphagneticola trilobata), Blood Flower (Asclepias curassavica), and Lantana (Lantana camara).

The plants used for the green wall are propagated from the school's extensive community garden.

Benefits of Going Green

Students have benefited greatly from the set up of this DIY green wall. Besides adding greenery to an otherwise bare wall and being pleasant to look at, the green wall is also a good way to introduce students to ecology and enhance biodiversity around the school

As most of the plant species chosen are butterfly- and bird-attracting, students have observed wildlife like the Plain Tiger (Danaus chrysippus) butterfly as well as sunbirds and cuckoos in the garden. Some birds have even built nests in the garden!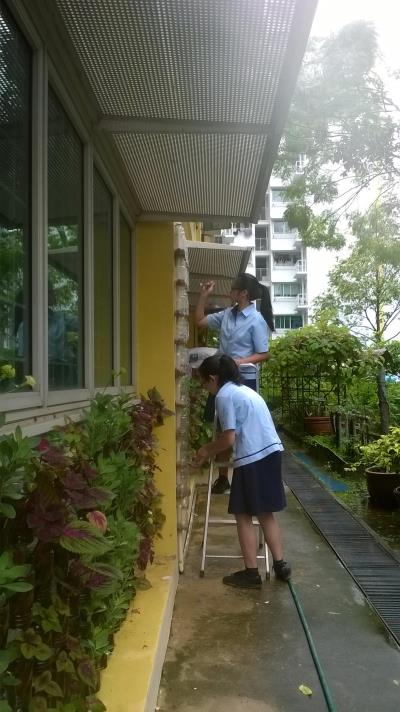 Photo credit: Poon Soon Hong
Students help out almost daily in gardening and general maintenance of the vertical garden.

Students like to chit chat or hang on in the garden, and some also help out almost daily in gardening and general maintenance of the greenery during recess or after school hours. Mr Poon hopes that this is a platform for students to bond over a common interest and can spark their interest in gardening and horticulture.

This project is a good example of what can be achieved thanks to the school's strong focus on environmental education coupled with the hard work of staff and students. And the best part is that students, present and future, will have a beautiful green space conducive for learning and for play.

Text and photos by Teo Wen Yih