A Celebration of Singapore Flavours
While we Singaporeans come from all walks of life, with different cultural traditions and diverse tastes, we have this in common: our love for food. And it shows – our flourishing community of food photographers, our prodigious list of "national" dishes, and, most of all, our healthy appreciation of the vast variety of foods available here, thanks to our multicultural background. What's more, our traditional cuisines share this common element: local plants used in cooking. It's not just all fleshy fruit, crunchy stems or leafy greens as ingredients too – we use different plant parts to prepare and season our food.
Seeds of Deliciousness
One such dish that contains a local plant ingredient is Ayam Buah Keluak, a popular Peranakan (Nyonya) dish. It is made with either chicken or pork (in which case the dish would be called Babi Buah Keluak), stewed in a thick gravy that includes the flesh from the dark brown seeds of the Buah Keluak (Pangium edule) tree, which the dish is named after. The seeds (or the Keluak) must be boiled for a few hours, then soaked for a few days in order to remove their toxicity. The Buah Keluak grows up to 40 m tall, and can be found in Malaysia and Indonesia.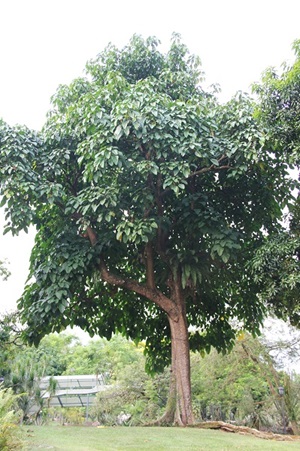 The Buah Keluak tree, and its opened-up fruit and seeds (Photo credits: Pauline Tay and Jessica Teo)
Lovely Leafy Aromas
An all-time favourite, Hainanese Chicken Rice is infused with flavour from a local plant, despite its origin as a dish from Hainan, China. Singapore's version involves the leaves from the Pandan or Fragrant Screwpine (Pandanus amaryllifolius), a shrub that can be commonly found throughout Southeast Asia. Steamed with rice grains and/or sometimes boiled together with the chicken, the Pandan leaf provides a subtle fragrance and flavour to the food it's cooked with. The leaf is also used in other foods, such as Malay kueh (confectionaries) and kaya, our local coconut jam.

The leaves of the Pandan plant (Photo credit: Boo Chih Min)

Roots of Tradition
Another type of local plant used in quite a few Singaporean dishes is the Galangal (Alpinia galanga), found all over Southeast Asia. It is a relative of the Common Ginger (Zingiber offinale). The rhizomes (rootstalks) of the Galangal is ground up and blended with other herbs to make dishes with spicy gravies like Peranakan Laksa (a noodle dish) and Eurasian Curry Debal or Devil's Curry (a type of chicken curry).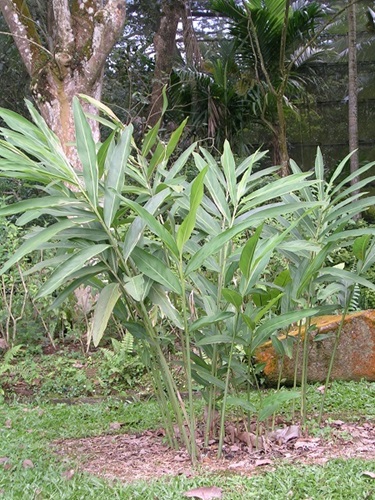 The Galangal plant (Photo credit: Boo Chih Min)
Fruity Goodness
Widely found in India and Southeast Asia, the Coconut Palm (Cocos nucifera) features prominently in our cooking, as its milk, which comes from the grated flesh of its fruit, is a vital ingredient for a few dishes. Curry is one such dish, a mainstay of Indian cuisine and a Singapore favourite. Coconut milk is also used in kaya, which we enjoy as part of our well-loved breakfast of kaya toast.
It's not just the coconut flesh that we use for cooking. In fact, coconut leaves are used to wrap ketupat, a Malay boiled rice "cake" commonly eaten with meat or stews, most often during the Malay festival of Hari Raya Puasa. The leaves are woven into neat, intricate packages to wrap the raw rice grains, to ensure the ketupat does not fall apart when boiling.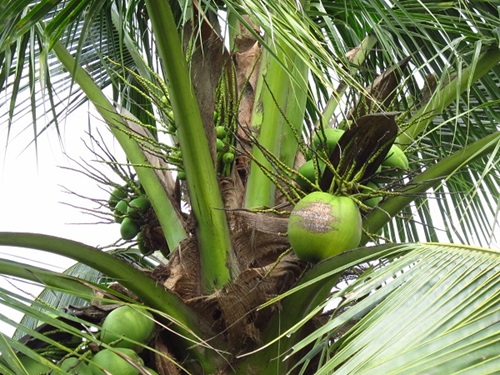 The fruit and leaves of the Coconut Palm (Photo credit: Jessica Teo)
These are but a few of the local plants we use to make our favourite traditional foods. To see for yourself how some of these plants look like, and find out about other local plants we use in our cooking, check out the Edible and Native Gardens at HortPark and the Spice Garden at Fort Canning Park. If you're eager to learn more about edible gardens, mark your calendars for the upcoming Community Garden Festival (3 to 5 November 2017, 9 am to 7 pm, HortPark), where there'll be talks on growing your own herbs and produce, demonstrations, a gardening bazaar and more!
Text by Jessica Yeo Qi En