Bringing You the Year's Biggest Garden and Floral Show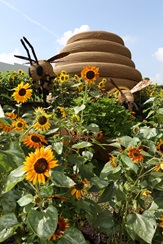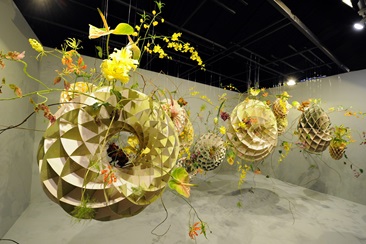 SGF promises to be a visual treat for visitors, but what goes on behind the scenes?

How long does it take to put a 14-day internationally acclaimed gardening and floral fiesta together?

Well, about 550 days, give or take a couple, says Tan Zhijian, Senior Manager (Festival & Events) of the Singapore Garden Festival (SGF). It starts with budgeting and scouting for suitable designers and judges before moving onto the planning of logistics and laying out the site. And in the days before the event, every minute detail has to be put together.

"We start about one-and-a-half year before the opening and running of the show proper. And after the event, there are a few weeks of dismantling and evaluation of what went right or wrong. After that, we enjoy a short break, before planning for the next show starts all over again!" Zhijian explains with a laugh.

From Eight to 800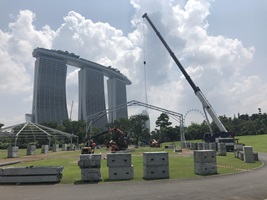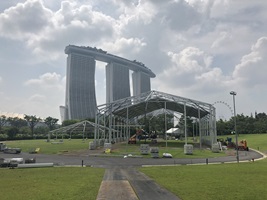 The tents are going up for SGF 2018! Part of Zhijian's responsibility is to manage the builders in charge of the physical set up for the event.
Photo credit: Tan Zhijian

Zhijian should know the ups and downs of planning for and realising the year's biggest gardening and floral show very well by now. This year's SGF will be his third, having worked on the previous two editions in 2014 and 2016.

He works in a core team of just eight staff, specifically managing the builders in charge of the key setup for the event, handling the logistics of vehicular and traffic management, and coordinating with exhibitors for the show's designers. Zhijian says, "Everyone in the team has specialised roles and responsibilities. However, it is important we share what we are doing with one another, so that we see the big picture together."

For the event, additional staff are recruited to oversee key areas such as visitor services, and volunteers also help out to manage crowds. All in all, there can be as many as 800 people involved on show days, and everyone works hand in hand, to deliver a successful show, Zhijian says.

Friendship over Competition
We know that it is hard work preparing for the show, but is there anything that most people are not aware of, behind the scenes at SGF?

"People get excited by the competitions and 'rivalries' between the designers, international or local," Zhijian says. "What they don't often see is the many friendships that have been forged. Away from the competition, many designers keep in contact with one another and some have even started businesses in landscaping together."

"Even during the competitions, many designers actually help one another during the setup. To them, it is not just about winning, but elevating the overall quality of art and showmanship. This is the kind of warmth between designers that the public does not necessary see."
Rising to the Challenge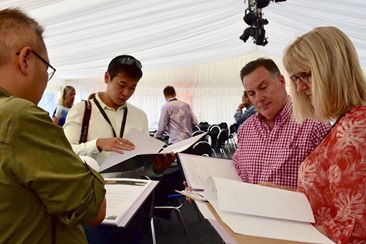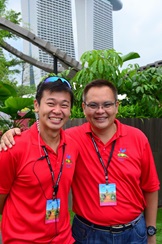 Zhijian (in white shirt) was a 'shadow' judge for the New Zealand Flower and Garden Show 2017 (left), and with Dennis Lim, Director of Festival, Events & Exhibitions, during SGF 2016.
Photo credit: Tan Zhijian

A Business graduate from the Nanyang Technological University, majoring in tourism and hospitality management, Zhijian joined NParks in 2013. Besides working on SGF, he is also involved in key programmes held in the Singapore Botanic Gardens, such as the Children's Festival and Heritage Festival. He also enjoyed working on the Horticultural Expo 2016 in Antalya, Turkey, and was a 'shadow' judge at the New Zealand Flower and Garden Show 2017.

Zhijian says each project has its unique set of challenges where meeting deadlines and expectations can be quite overwhelming. He has some tips on coping with stress: "Working out a timeline and planning your priorities down to the smallest details can help. I also seek to propose alternatives for a win–win solution. And going for a run at the end of the day definitely helps me clear my mind!"

But these challenges also keeps him motivated. He says: "I like meeting new people with interesting ideas and learning from them. The adrenaline rush of managing each event and then seeing the results keeps me going."
All Systems Go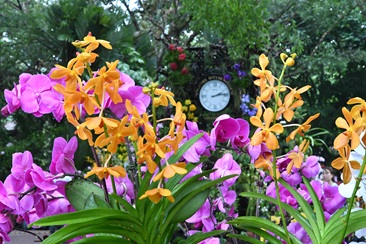 SGF has blossomed into three complementary shows. The SGF Orchid Show (above) was held in April 2018 while the SGF Horticulture Show will take place in 2019.

It is this same 'gung-ho' attitude that Zhijian carries into the planning for SGF 2018. He reveals that initial setup begun in early June and the team expects work to intensify in the days leading up in to the event that will take place at Gardens by the Bay from 21 July to 3 August.

In this home stretch to opening day, Zhijian expects hiccups to occur, but what is more important is to be flexible and agile to react to them and move onto the most logical solution. "I don't believe in 'cannot'. With a positive mindset and determination, you can achieve your goal."

Zhijian pauses for a moment to think about what he has experienced and what new challenges still lie ahead. After all, SGF is becoming bigger. Instead of only one main show, it is now blossoming into three complementary flower and horticultural shows. The SGF Orchid Show was held earlier in April at the Singapore Botanic Gardens while the SGF Horticulture Show will take place at Jurong Lake Garden in 2019.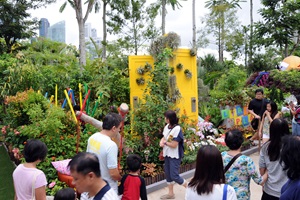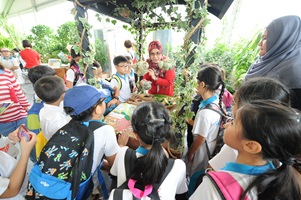 Some 400,000 visitors attended SGF 2016. Zhijian hopes that even more visitors will enjoy the show this year.

There is still much to do, but right now, he is keeping his focus on the mainstay event. Zhijian says, "I'm looking forward to this year's show and I'm excited for everyone to enjoy what we've been planning."

"My wish is that all visitors can leave with good memories of the event, possibly learning something new about plants and flowers and igniting a passion for gardening. This will make our hard work all worthwhile!"

The main SGF at Gardens by the Bay will take place from 21 July to 3 August 2018. For more information, please visit www.singaporegardenfestival.com or Facebook page, www.facebook.com/SGGardenFest.

Text by Felix Siew