Satisfying Every Craving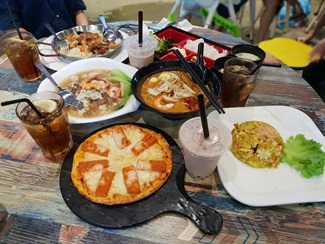 Caption: So many choices, so little time! Fusion Spoon has a menu of nearly 100 dishes!


Have you discovered Fusion Spoon at Botany Centre near Tanglin Gate of the Singapore Botanic Gardens yet? This new eatery serves affordable meals, suitable for the whole family and is sure to satisfy every food craving.

With an extensive menu of nearly 100 dishes inspired by cuisine from many countries, such as Japan, France, India and Italy, it is no wonder that the restaurant is aptly named Fusion Spoon.
Easy and Efficient Ordering
When I first visited the eatery, I was pleasantly surprised that there are no waiters hovering around as I try to decide what to eat. Instead, I could mull over the menu and when I decided, I can just head to one of the three self-ordering and payment kiosks.

After placing my order, the kiosk printed out a queue number, and I returned to my table. When the food is ready, the queue number will be displayed on large television screens hung around the eatery. A clear, automated voice will also read out your number, which is especially helpful if you are too caught up in conversations with friends to notice the screens!
There are two collection points, one for beverages and desserts, and the second for picking up your main course. I went with three friends and faced with so many choices, we took a while to decide on what to eat. In the end, we picked seven dishes to try out the different tastes and to fulfil our cravings. The food came really quickly, all at once, just in time for our rumbling tummies!
Food, glorious food!
We ordered the Otak Otak Pizza, Nyonya Laksa, Chicken Yakiniku, Seafood Hor Fun, Seafood Pineapple Rice, Chicken Baked Rice and for dessert, the Baked Apple-Strudel with Vanilla Ice Cream. While each dish teased my palate differently, the dishes that I enjoyed most were the Seafood Hor Fun and the Nyonya Laksa.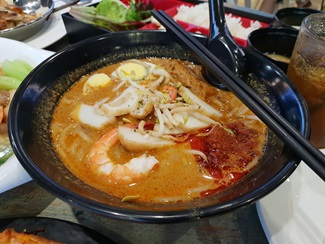 Caption: Thick, rich and absolutely delightful! The Seafood Hor Fun and the Nyonya Laksa really please the palate.
The Seafood Hor Fun ($8) served with shrimp, squid, fish and xiao bai chye, was swimming in flavoursome egg gravy and the wok-fried hor fun was abundant and chewy, exactly how I like it! I was also pleased with its hearty portions that truly satisfied my hunger pangs.

As for the Nyonya Laksa ($7.30), the springy rice vermicelli went well with the perfectly spicy soup. Served with a generous amount of soft fishcakes, fresh prawns, tau pok, bean sprouts and slices of hard-boiled egg, this dish was my favourite of them all.
East meets West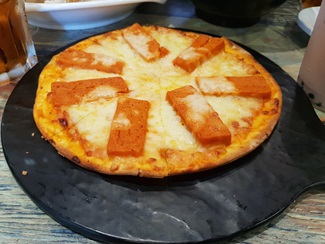 Caption: The Otak Otak Pizza is a good example of fusion food where Eastern flavours meet Western preparation style.

A dish that came recommended was the Otak Otak Pizza ($8). A refreshing take on East- meets-West cuisine, each slice of the pizza was draped in cheesy mozzarella and topped by shredded vegetables, onions and a generous piece of mildly spicy fish otak.

I particularly enjoyed the 'west' half, giving the pizza's crust and cheese – lightly crunchy and satisfyingly stringy respectively – top marks, but was less a fan of the 'east' part, preferring my otak on traditional soft white bread.

I have heard good reviews from friends of the Japanese-inspired dishes, and decided to try the Chicken Yakiniku ($8). Served in a bento box, the grilled chicken chunks were tender and juicy, and went well with both the brown yakiniku sauce as well as the tangy mayonnaise. This was accompanied by a bowl of hot miso soup and a portion of chawan-mushi or steamed egg, and taken together, the portions were very generous.



Caption: It was interesting to see some star anise in the Rosemary Chicken Baked Rice, which added to the flavour of the dish.
The next two dishes are sure to satisfy rice lovers. Packed full of yummy flavours, the wok-fried Seafood Pineapple Fried Rice ($8) is served with prawn, squid and crab bits as well as slices of pineapple and topped with chicken floss. Meanwhile, the hearty Rosemary Chicken Baked Rice ($8) was served in a metal pan and garnished with mushroom, carrots, peas and black pepper sauce gratin with mixed cheese.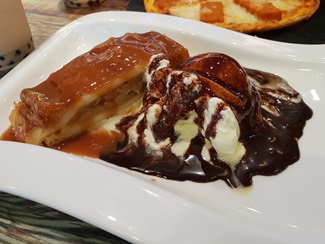 Caption: Everyone with a sweet tooth will appreciate the dessert of Baked Apple-Strudel with Vanilla Ice Cream which is generously drizzled with caramel and chocolate sauce.

For dessert, we ordered a Baked Apple-Strudel with Vanilla Ice Cream ($7.30) to share, and it did not disappoint – the pastry was soft and warm, with a distinctive sweet-sour apple filling. The scoop of ice cream that accompanied the strudel, drizzled with caramel sauce, went well with the warm pastry, not overly sweet, and maintaining a good balance of flavours required of this sweet treat.
Casual and comfortable ambiance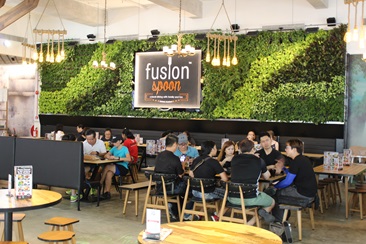 Caption: The eatery is a good place for office lunches or more intimate dinners.

These dishes just represented a small part of the multitude of flavours waiting to be discovered. Moreover, the meal was affordable, with nothing that we ordered over $10 each.
Despite being located in the basement 1 level of the building, the eatery, with its airy high ceiling, warm wooden furniture and pretty green wall, beckons guests with a welcoming embrace. A row of large, full-length windows on one side of the eatery allows natural light to stream in and offers glimpses of the lush greenery outside that the Singapore Botanic Gardens is world famous for.
I like the casual, relaxing and comfortable ambiance of the eatery. Good for large office lunches or dinners with a more intimate group of friends, there is also an indoor and outdoor play area for kids to explore while their parents can rest their tired feet after a day out in the gardens.

I will definitely return – after all there is still Korean bingsu and waffles that I have yet to try!

Find out more about Fusion Spoon, which is Halal-certified, and other food and beverage options you can enjoy at the Singapore Botanic Gardens here.


Text and photos by Tan Yin Qi