What's Your Favourite Tree?
Did you know that there are about 2 million trees planted along Singapore's roadsides, parks and state land? These trees, which are managed by NParks, are not just part of the visual furniture of our city, but living things around which special feelings and memories can be created.
We speak to some park-goers and staff, who share stories about trees that are special to them. We hope you can find a tree which you connect with too!
Bringing Communities Closer

Photo credit: Dion Goh
My favourite tree is the mango tree (Mangifera indica) along the Park Connector near my house in Yishun. When I was young, my parents loved to read storybooks to me, and trees featured in them would always be embellished with fruits. However, when I looked at the trees around my neighbourhood, I was never able to find one that had any. As all curious children do, I asked my parents if trees could really grow fruits. My parents smiled and brought me to a tree no different from any others along the walkway. "This is a mango tree. Look carefully and you will spot some mangoes," they said. I raised my head and after taking a long, hard look, I saw them!
Not long after, the community centre in my neighbourhood held a mango-plucking activity where residents could come together to pluck mangoes. Uncles and aunties brought along a net supported by an extremely long stick, raised it to the tree such that a ripened mango could sit perfectly in it and twisted it suddenly to pull the fruit out. As the stick was heavy for some, we all lent a helping hand. And when a mango dropped onto the ground, we would all clap loudly!
- Dion Goh, student
Roots Of My Childhood

Photo credit: Kwek Ee Chern
This Malayan Teak (Vitex pinnata) tree along Lorong Liew Lian, where I live, holds many fond memories for me, reminding me of my childhood. In those days, my brothers and I would often race each other to this tree from the basketball court where we would play every week.

As I grew older, my brothers and I would jog around our estate every day, and would always pass this tree on the way home. This tree holds many of my cherished memories that I can't help but think back to whenever I walk past it. Do you have a tree that makes you think of the past as well?
- Kwek Ee Chern, student
Lanky Elbows of the Tembusu

Photo credit: Elizabeth Kamaldin
My dad is a huge plant lover, and has always paid special attention to the Tembusu (Fagraea fragrans) for the interesting way its branches grow. First extending horizontally away from the trunk, branches especially in older trees make a sudden sharp turn to grow vertically upwards, somewhat resembling lanky elbows.

Every chance he gets, he reminds me of one Tembusu near the Queenstown Stadium, which is an especially good example of this growth pattern – nearly all its branches form in right angles. I've not seen a more beautiful Tembusu yet.
- Elizabeth Kamaldin, NParks Manager
A Reminder of Strength

Photo credit: Eugene Lim
The Common Bamboo (Bambusa vulgaris) reminds me that despite how fragile and weak something may look, it may still be able to stand up to the wrath of bad weather and take whatever life throws at it. And while it may look different from other trees – strictly speaking, the Bamboo is not a tree – it doesn't mean it's not useful. In fact, Bamboo has a multitude of uses ranging from furniture-making to manufacturing medicinal products. Not to mention, it feeds two of my favourite animals, the panda and the elephant!
- Eugene Lim, park-goer
Days By the Beach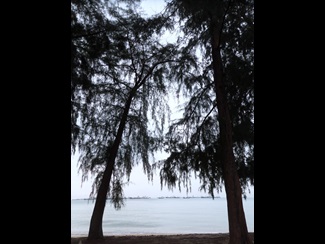 Photo credit: Felix Siew

We all know Singapore as a city in a garden, where we encounter many plant species daily. But trees are especially meaningful as they play such a key role in greening up our city.

To me, a memorable tree would be the Casuarina equisetifolia, also known as the Common Rhu. The tree reminds me of spending many happy days over the weekends playing in and exploring East Coast Park together with my parents. Just thinking back to when we would walk pass groves of these trees along the beach as well as stepping on its fruits in the sand surely brings back a flood of good memories for me!
- Chen En, student
Witness to History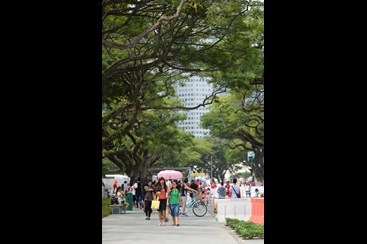 I have always loved big trees – there is something almost transcendental about them, having stood rooted in one location for years upon years, 'seeing' everything around them, yet never 'telling' anyone. This is why my favourite tree is the Rain Tree (Samanea saman), in particular, any of the row of 22 Rain Trees along Connaught Drive.

Here, you can admire the largest number of trees recognised under the NParks Heritage Tree Scheme, in a single avenue. It is believed that some of these majestic trees with beautiful gnarled branches have been around since the mid-1880s. This means that they bear witness to many key events of Singapore's history including World War II, the Japanese occupation, Singapore' independence and our subsequent growth to a modern city state.
Take a few minutes to stand under one of these gentle giants and let the weight of history sink in. And after that, make sure to feel their protective shade and marvel at one of Mother Nature's most wonderful creation.
- Mrs Patricia Goh, mother of three

Reminder of our Flag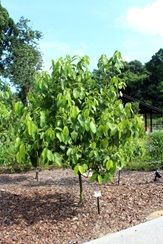 Photo credit: Boo Chih Min and Shi Biying

The Singapore Kopsia (Kopsia singapurensis) is a small tree that produces pretty white flowers with a red tint in the middle. The first time I learnt about this tree, I suspected it had to be somehow related to Singapore because of its name that includes singapurensis.

After seeing the flowers of the tree, I instantly thought of the national flag, with the five stars and striking red and white. After further research, I realised that this species can only be found in Singapore and some parts of Malaysia. I like this tree because its flowers are fragrant and they remind me of our national flag! Beyond how it looks, the tree is also able to thrive well in most of soil conditions, which for me, signifies the resilience of our nation.
- Crystal Chai, student
'Sweet' Memories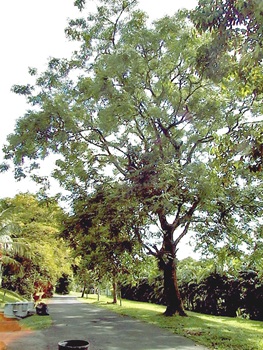 Photo credit: Boo Chih Min

My favourite tree is the Saga tree (Adenanthera pavonina). When I was younger, I would collect its seeds at the playground near my house. The seeds would cover the area around the playground and I would pick as many as I could to keep at home. The seeds reminded me of sweets – like chocolates with a thin coloured sugar coating, which I loved to snack on.

These days, whenever I see a saga seed on the ground, I would be reminded of those times. Sometimes I wish I could go back in time, to relive this part of my childhood.
- Tan Yin Qi, student
A Tree of Many Uses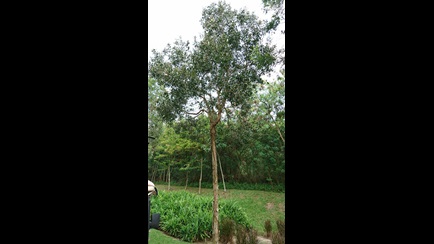 Photo credit: Lai Tianxiong

My favourite tree is the Melaleuca cajuputi, commonly known as the Paper Bark Tree. This tree, located at Punggol Promenade Riverside Walk Park Connector, caught my attention immediately as it looks quite unique compared to the other trees along the Park Connector.

I went online to find out more about this tree and discovered that almost of its parts can be used: its dried fruit can be used as a spice, its leaves can be used to make medical ointments, and its timber is hard and is popular for use in making furniture. Even its bark can be used as a substitute to writing paper. The tree's unique look and its many uses make this my favourite tree!
- Lai Tianxiong, NParks officer
'Christmas' tree in Singapore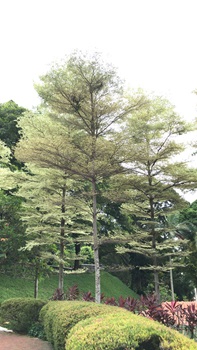 Photo credit: Jason Ooi
I was taking a walk in Fort Canning Park some years ago, and while I was trying to spot some birds, I noticed two lean, beautiful and well-structured trees. I wondered, "Why are there Christmas trees in Singapore? How can they survive in this climate?"

To satisfy my curiosity, I went to ask my colleagues for more information about this tree. I learnt that this is the Terminalia mantaly, a sub-tropical tree, whose common name is the Umbrella Tree! These trees not only look cute but are often planted for landscaping purposes. Its bark and wood also contain tannins which are used for dyeing.
- Enna Lam, NParks Senior Executive
Interested in learning more about trees that make up our urban forest? Check out trees.sg, our online map which shows the locations of over 500,000 trees, features interesting bites of information on unique tree species, and even lets you show some love to your favourite tree by leaving it a treemail and giving it a hug!