Contest Issue 40
In this issue, we are giving away five sets of prizes, each comprising a Tanglin Gate Magnet from the Singapore Botanic Gardens, and an exclusive Sungei Buloh Wetland Reserve tote bag.

Enjoy the beautiful magnet of one of the Singapore Botanic Gardens' most iconic attractions, the Tanglin Gate. It stands at the southeast corner of the Gardens, sporting a modern silver colour with a leaf motif as its main design. Next, be a friend of the environment and carry your books or groceries in an exclusive colourful tote bag depicting the birds you may find in Sungei Buloh Wetland Reserve.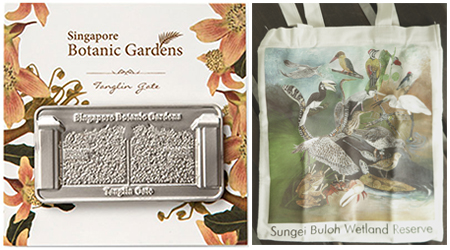 Simply answer the questions below and you could be a lucky winner!
In the article, 'Meet the 'Kings' of Singapore's Skies', we highlight eight kingfishers you can find in Singapore. According to the article,
Which is the largest kingfisher that can be found in Singapore?

What is the colour of the stripe on the back and rump of the Ruddy Kingfisher, generally visible only when the bird is in flight?
Contest closes on 23 February 2019. Email your answers to nparks_communications@nparks.gov.sg with the subject title "My Green Space Contest Jan – Mar 2019", together with your name, e-mail address, IC/Passport number and contact number.
My Green Space Contest Winners: October – December 2018
Congratulations!
Koh Chin Liang
Theresa Banaag
Karen Teh
Wong Lee Chan
Siti Jumaliah