Where The Streets Have Tree Names
We all know Singapore as a City in a Garden where trees line our streets. But did you know that some roads are named after trees? We explore our green city to find eight such streets and the trees they are named after.
1. A Shady Tree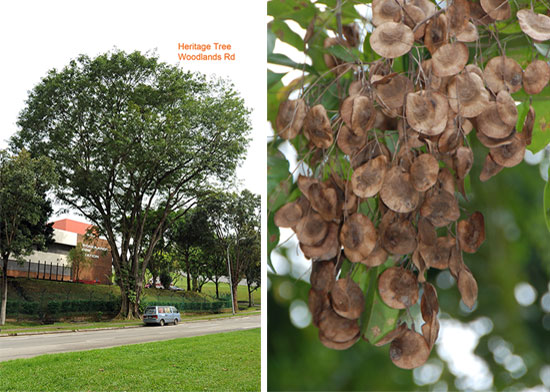 Photo credit: (Right) Tee Swee Ping

Road: Angsana Avenue
Found in Sennett Estate just off MacPherson Road, Angsana Avenue was built in the early 1950s. Several of the neighbouring streets are named after trees, such as Willow Avenue, Belimbing Avenue and Camphor Avenue.

Tree: Angsana (Pterocarpus indicus)
The Angsana is a large deciduous tree that grows up to 40 m tall and can be recognised by its drooping, dome-shaped crown. It has yellow flowers that are faintly fragrant and bloom for only a day, before raining down the next morning, creating yellow carpets on the ground. The fruits are flattened pods with disc-like papery wings.

Providing good shade, the Angsana was extensively planted along our streets in the 1960s and early 1970s. Today, it is still popularly planted along roadsides and parks.
2. Sticks Like Glue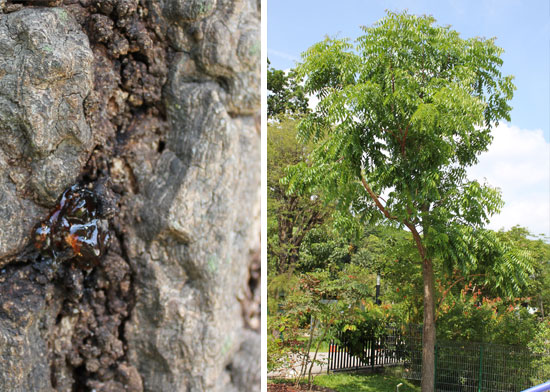 Photo credit: Jennie Tang Yurue

Road: Nim Crescent
Nestled in a residential enclave in peaceful Seletar Hills, Nim Crescent lies next to the similarly-named Nim Green, Nim Road and Nim Drive. Nim Road leads to a cluster of flower-named streets like Mimosa Road and Lilac Road, while Begonia Walk is a short distance away.

Tree: Neem (Azadirachta indica)
This fast-growing species can survive in many different soil types, and is highly drought tolerant. Considered a medium to large tree that can grow up to 30 m tall and 15 m wide, it has a bushy and dense crown. It produces small white, five-petalled flowers that have a light honey-like fragrance, and are pollinated by bees.

Some people eat its fruits, raw or cooked, or make it into a juice. Gum obtained from the trunk is used as a thickening agent in cooking, or as Neem glue. Traditionally, its twigs have been used as toothbrushes and its leaves applied to the skin to treat sores and wounds.
3. Spice Up Your Life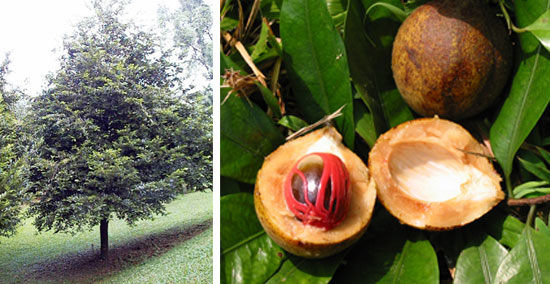 Photo credit: Boo Chih Min

Road: Nutmeg Road
Nutmeg plantations could be found in Singapore in the 1830s, as it was an important agricultural product at that time. Many of these plantations could be found just off present-day Orchard Road where Nutmeg Road is located today.

Tree: Nutmeg (Myristica fragrans)
The Nutmeg is a slow-growing tree that can live for up to 80 years. It has a dense, conical to round-headed crown and its trunk has a smooth, grey-brown bark that exudes a red sap when cut. The tree produces two important spices: nutmeg and mace. Nutmeg is the seed of the fruit while mace is the reddish covering over the seed. Oils can be extracted from nutmeg and were used in medicines while mace is used for cooking.

Originally grown in Eastern Indonesia, Sir Stamford Raffles introduced the tree to Singapore, planting it in the first botanical gardens in Fort Canning Hill. Both spices played important roles in this region's spice trade during the 18th and 19th century.


4. Remembering Kampong Days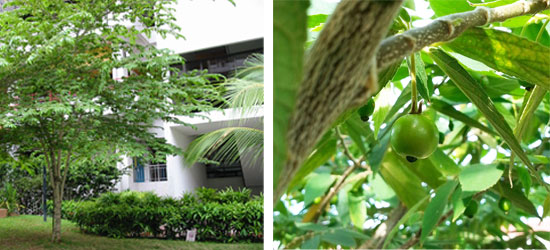 Photo credit: (Left) Boo Chih Min and (right) Pauline Tay

Road: Cherry Avenue
Just off busy Bukit Timah Road, you can find a group of quiet streets leading to homes, named after trees: Fir, Redwood, Elm, Cypress, Oak, Maple and Cherry.
Tree: Cherry Tree (Muntingia calabura)
This tropical American plant has since become naturalised and grows in most parts of Southeast Asia. A small tree, it grows to about 5 m tall and produces small white flowers that bloom all year round. Its fruits are about 1 to 1.5 cm wide, usually light red when ripe.

The Cherry Tree was a relatively common plant in the kampongs of the past. Children would stop under its canopy to look for the ripened fruits. These days, the tree is still planted in many parks, attracting birds and bats with its sweet, juicy fruit.
5. Fragrant Flowers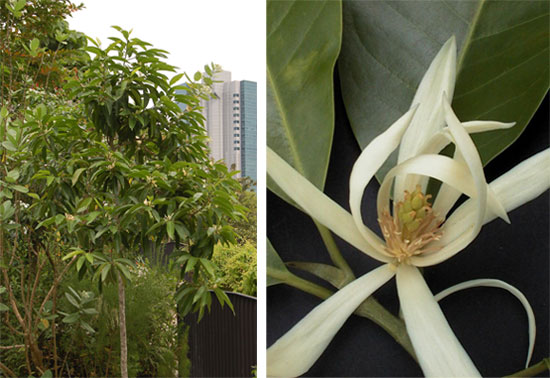 Photo credit: (Left) Joyce Foo Ming Yen and (right) Boo Chih Min

Road: Jalan Chempaka Puteh
You can find Chempaka Kuning Puteh boarded on three sides by Jalan Chempaka Kuning as well as a small playground, just off Upper Changi Road East, close to Tenah Merah MRT station. Chempaka Puteh refers to the White Chempaka, two of which you can see along this street.

Tree: White Chempaka (Michelia alba)
Growing up to 20 m or more in height, the White Chempaka is commonly cultivated for its fragment flowers and can be found in many of our parks and gardens. Its white or cream flowers grow to between 4 to 5 cm while its leaves are elliptical, long and yellowish green.

Oil can be distilled from the flowers to make perfume while in Indonesia, its tan to white medium-hard wood is used for carvings, and to build houses, canoes and furniture.
6. Singapore's Sakura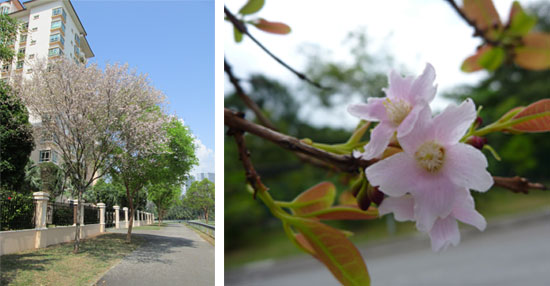 Photo credit: (Left) Lois Yong and (right) Ang Wee Foong

Road: Jalan Derum
Jalan Derum is a short, almost non-descript road in front of a handful of residences in the Semawang area.

Tree: Derum (Cratoxylum formosum)
Similar to the short road, the tree is also somewhat small, reaching about 18 m in height. Known as the Mempat and sometimes nicknamed Singapore Sakura, the tree has a flowering effect similar to that of the cherry blossom, carpeting the ground beneath with its small white to pale pink flowers.

The tree is deciduous, shedding all leaves after dry weather and flowering before new leaves emerge. It produces narrow, elongated dark brown fruits that split into three parts when mature, releasing small, brown winged seeds.
7. Sweet and Aromatic Fruit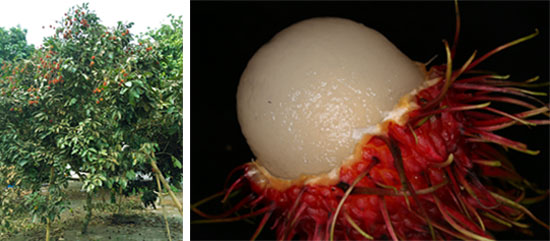 Photo credit: (Left) Jessica Teo and (right) Ang Wee Foong
Road: Rambutan Road
Originally known as Lorong 206, Siglap, this short street was renamed in 1934. Nearby, you can find Chiku Road, Rambai Road and Pulasan Road, all named after fruits, and said to be renamed during the same time.

Tree: Rambutan (Nephelium lappaceum)
A medium-sized evergreen tree with a crown spread of up to 8 m, its fruits are borne after five to six years after germination, or after two to three years if bud-grafted. An average mature tree produces up to 70 kg of fruit annually.

With a translucent white or light-pink flesh and a usually sweet and aromatic smell, the fruit can be eaten fresh, canned, and made into jams and jellies. Its seeds are slightly poisonous when raw, but can be consumed after cooking. High in fats and oils, the seeds can also be used in the manufacture of soap.
8. The Five-dollar Tree
Photo credit: Tee Swee Ping

Road: Tembusu Crescent
Not to be confused with Jalan Tembusu (which can be found in the East Coast area), Tembusu Crescent, and other streets named after trees – Banyan and Meranti – are located among industrial complexes on Jurong Island.


Tree: Tembusu (Fagraea fragrans)
This large evergreen tree can be found throughout the island, in parks and gardens and along roadsides with large grass verges. It produces creamy white flowers that turn yellow with age, blooming twice a year.

Its fruits are round berries containing small seeds. They mature from green, to orange and then red, and are eaten by birds and flying foxes. Its trunk is dark brown with deep fissures, and in older trees, its branches tend to bend upwards at 90 degrees. This beloved native tree is also featured on the back of the $5 currency note in Singapore!
Learn more about our trees
Interested in learning more about trees that make up our urban forest? Check out trees.sg, our online map which shows the locations of over 500,000 trees, features interesting bites of information on unique tree species, and even lets you show some love to your favourite tree by leaving it a treemail and giving it a hug!

Learn more about our flora and fauna here.

Get up close and personal with some of the trees on our island by going on a walking or cycling trail in our parks, gardens and park connectors. Besides admiring the trees, you can also potentially spot biodiversity. Lean more about going on a DIY walk.
Mature trees are part of the natural heritage of Singapore, serving as important green landmarks in our City in a Garden. These trees help us identify with and stay rooted to the place we call home. The Heritage Tree Scheme, started in 2001, advocates the conservation of Singapore's mature trees. Learn more about how you can nominate a tree for this scheme.
Text by Felix Siew