Cultivating A Budding Interest

Interaction with the outdoors is essential in raising awareness of Singapore's biodiversity, and reinforcing values of care, responsibility and civic-mindedness in children.
While most pre-schools and childcare centres are located within a stone's throw away from a community garden or playground, two new pre-schools take it a step further by being located right within parks!

At the Skool4Kidz Campus @ Sengkang Riverside Park, children go outdoors daily, learning about local biodiversity and harvesting food from plants they grow themselves.

And in partnership with the Nature Society (Singapore), children at My First Skool's Segar centre monitor the different species of birds in Zhenghua Nature Park, where the school is located in, as well as the surrounding Central Catchment Nature Reserve, as part of an initiative called Every Singaporean a Naturalist.
(Left) My First Skool at 6 Segar Road features open-air activity spaces, which give children and teachers direct views of Zhenghua Nature Park. (Right) The open foyers and ramp walkways in My First Skool's Segar centre.
Photo credit: NTUC First Campus
Studies have linked greenery to benefits for children such as increased attentiveness, superior memory and improved psychomotor skills. More importantly, educating children about our environment and the role they play in it teaches them to be better people, and paves the way to a brighter and greener tomorrow.
Inculcating Good Values
Teaching children to do their part for the environment reinforces the values of care, responsibility and civic-mindedness.
Ms Gayathri Dharamraj (above), a principal at an early childhood education centre, believes that being around greenery is good for children's learning. At her centre, students are brought outdoors every day for at least 30 minutes, to visit a nearby garden and pond.
"Being around greenery is good for the children's health, and gives them the chance to interact with the plants and animals around them. This enhances their learning and children better understand why they should take care of nature," she said.

Children are also taught basic do's and don'ts when they are in a green space, for example, not to remove any plants or animals from their natural habitat, so that other visitors will be able to learn about them and enjoy their beauty. They are also reminded not to visit nature reserves at night to prevent disturbing nocturnal animals.

Not sure which green space to visit? See www.nparks.gov.sg/gardens-parks-and-nature/walks-and-tours/going-on-a-diy-walk for NParks' DIY trail guides. Difficulty level, distance and walking time vary, but there is something to suit everyone.
Developing A Love for Native Flora and Fauna
If you are a parent of a young one, you would find that the pre-school resources available in bookshops and online often lack local representation, resulting in children being more familiar with giraffes and polar bears compared to local species.

This prompted NParks to develop our own pre-school resources in consultation with the Early Childhood Development Agency (ECDA) and Ministry of Education, to ensure the resources are age-appropriate and aligned with the Kindergarten Curriculum Framework.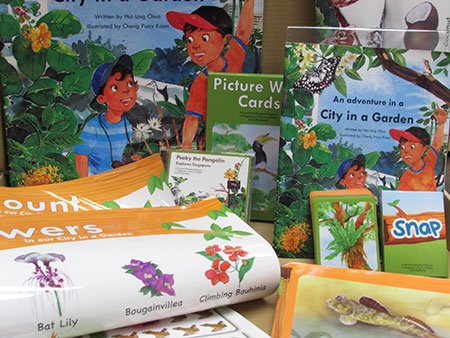 NParks' pre-school educational package includes the An Adventure In A City In A Garden picture book (produced in two sizes), the Peeky the Pangolin Explores Singapore DVD, a set of 30 picture word cards, a snap card game, and four posters on our local biodiversity.
Children are introduced to common plants and animals they can spot in their neighbourhood through eye-catching illustrations and fun rhymes in a picture book, An Adventure In A City In A Garden, while a DVD featuring a character called Peeky the Pangolin teaches children more about Singapore's trees and wildlife.
Posters and picture word cards illustrating native animals and plants are used to teach simple skills like counting, and a snap card game encourages children to learn the names of common plants and animals.
Working With Pre-schools
As part of the ECDA Innovation Guidance Project, NParks works with 20 pre-schools annually to train their teachers on how to incorporate our pre-school resources into their lesson plans and activities.

NParks officers also attend these teachers' training sessions, sharing their expertise and experiences. The resources developed by selected pre-schools are then shared with more than 5,000 other educators at ECDA's Early Childhood Conference usually held at the end of the year.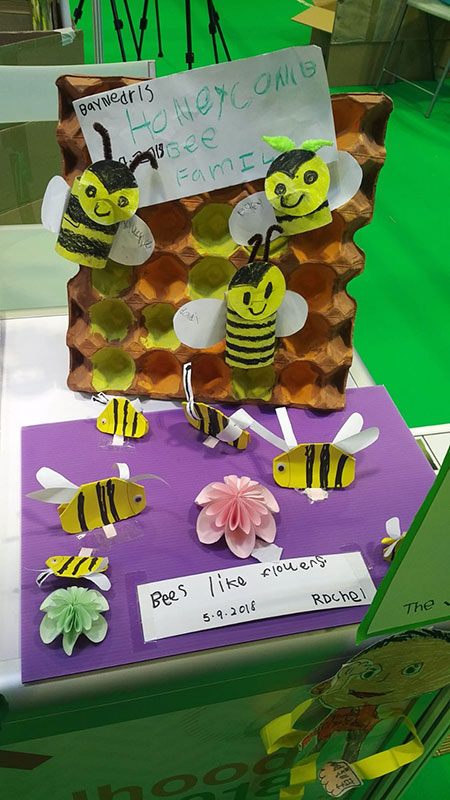 A representation of a honeycomb, bees and flowers, done by a student from My First Skool@Blk 541 Ang Mo Kio.
"The Innovation Guidance Project with NParks helped me to think more critically, to plan activities that are creative, fun, and engaging for children. It encouraged me to be a reflective practitioner and to re-evaluate my teaching approaches and strategies," shared a pre-school educator, Ms Noor Fareehah Binte Mohamed Shariff.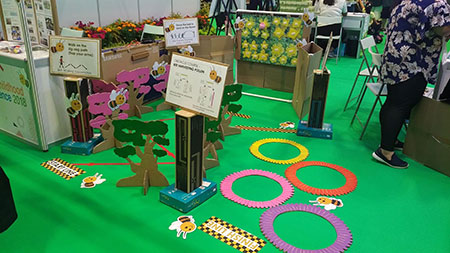 Under the Innovation Guidance Project, educators from PCF Sparkletots@Hougang Blk 328 devised a game where students mimic the accuracy of bees in pollination by hopping into "flowers" and throwing balls to "collect nectar".
These resources are available in all pre-schools and childcare centres licensed under ECDA, but parents can find electronic copies at www.nparks.gov.sg/learning/programmes-for-schools/preschool-educational-resources.
You can also find other resources such as worksheets, videos and a plant and animal directory at www.nparks.gov.sg/learning, to aid you when educating your child on the importance of conserving Singapore's biodiversity.
Engaging The Senses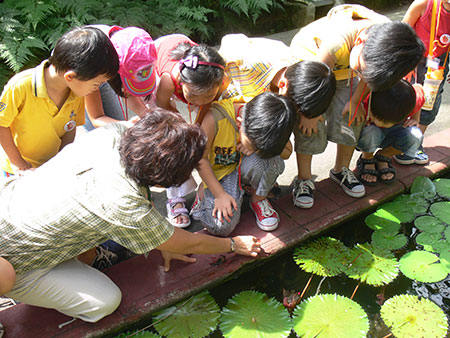 See, touch, smell… Children learn better when their senses are engaged.
The local species of flora and fauna featured in the pre-school educational resources, such as the Rain Tree and Painted Jezebel, were chosen as they are commonly spotted. This enhances the children's learning as they will be able to see real-life examples of what is being taught in the classroom.
During guided walks, trained guides encourage children to use their senses, for example by smelling flowers, crushing leaves or touching tree bark. Children also learn to observe and document nature through drawing, colouring, making bark rubbings and labelling plant parts. Through experiential learning, children are more likely to retain what they have learnt.
Visit www.nparks.gov.sg/gardens-parks-and-nature/walks-and-tours to sign up for one of NParks' guided walks and appreciate nature in all its glory.
Getting the Next Generation On Board
By engaging children from a young age to learn about the importance of conservation, they can grow to become stewards of our biodiversity.
But the whole family can play their part. The actions you take can be as simple as reminding others not to litter, to being more involved such as participating in NParks' programmes such as animal surveys or volunteering.
Visit www.nparks.gov.sg/contribute/volunteer to find out more about NParks' volunteer programmes.
Text by Denise Chen