School's Out, Fun's In!
The year-end vacations are here again! Daddies and mummies, we have some exciting ideas on what you can do with your little ones in our many green spaces.

Flora and Fauna Fun
1. Plan a DIY Walk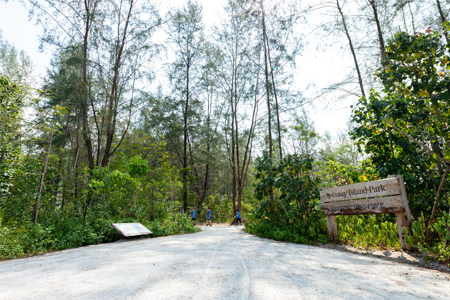 Explore Coney Island Park with one of our DIY guide, for the little ones to get closer to Singapore's flora and fauna.
If you and your kids enjoy soaking in what nature has to offer, planning and going on your own DIY walk is going to be such an accomplishment for everyone.
As a family, browse through the
list
of DIY trails on our website and pick one that fits your interest and is suitable for everyone's fitness level. You may of course choose to tweak it, hence the "DIY" part, to suit different preferences, be it bird watching, cycling or discovering little known flora species!
All you have to do next is to pick a day to visit and… have fun!
2. Coco and Friends Programme

Kids will enjoy learning more about creatures such as the Malayan Colugo and Oriental Whip Snake during the Coco and Friends programme.
Photo credit: Jeanne Tan

Let your kids embark on a nature adventure with Coco, the Malayan Colugo and his friends, as they learn more about the plants in our forests that are useful to both humans and animals. As a family, you can also discover how the Common Flying Dragon glides between trees and why it is so hard to spot the Oriental Whip Snake.
Conducted at Bukit Timah Nature Reserve, part of the Central Catchment Nature Reserve, kids will enjoy filling in a nature journal as well as completing a series of embossing stations during a nature walk and seeing where their discovery takes them. In the process, both young and old should also learn why it is important to observe trail etiquette, particularly in our nature reserves.
This programme is opened to children between 5 and 8 years old (accompanied by a parent/guardian). "Coco and Friends" is a programme by NParks and HSBC Singapore.
For more information, please visit this
link
.
Outdoor Play

1. Hit the Playgrounds

Playgrounds are easily the place to keep children entertained for hours while burning off all that energy that they have. With 350 parks all over Singapore, there are certainly lots of green areas and playgrounds for you to choose from!
If you have some time to spare, why not make a trip to some of these amazing playgrounds that will surely provide some good clean outdoor fun for the young and young at heart:
a) Forest Ramble at Jurong Lake Gardens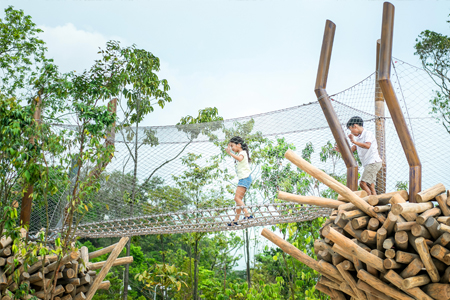 Children will have endless hours of fun at Forest Ramble.
The largest nature playgarden in the heartlands, the Forest Ramble is an inclusive playground inspired by the animals that live in a freshwater swamp forest. Get ready to abseil, scale up a slide (yes!) and bounce around on the trampolines! Do note that the playground closes every Monday for maintenance.
b) Nature Playgarden at HortPark

Besides play, the nature playgarden at HortPark is also a good place for your child to pick up motor, social and communication skills.

Designed with pre-schoolers in mind, this playgarden aims to encourage children to spend more time outdoors and reconnect with nature. Entirely made of what nature has to offer, children have the opportunities to hone some very important skillsets – imaginary play, motor skills, physical fitness, social and communication skills. The playgarden closes every Monday for maintenance unless it is a public holiday.
c) Playground at Admiralty Park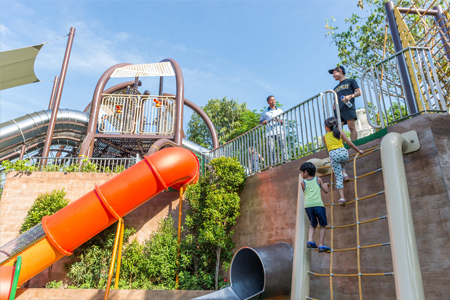 The playground at Admiralty Park has 26 different slides for kids of all ages to enjoy.
This exciting playground in the North offers a whopping 26 different slides – the most number of slides in any park in Singapore! It is divided into three main areas that cater to children of all ages and feature diverse play equipment that encourage group and multi-generation interactions.
Check out the full list of our recommended playgrounds
here
!
2. Dig in the Sand


The beach at Sembawang Park is a lesser-known area for children to run around on.
Photo credit: Felix Siew
It is time to put away the mobile devices and hit the beach! The glorious sun, sand and the sea present a picturesque landscape for a perfect day out with the family.
Put out your picnic mat and enjoy the spread of delicious sandwiches, snacks and juices while the children busy themselves with building sandcastles, burying themselves in sand mounds, or just splashing water in the sea. You can enjoy all of these at the following parks – Pasir Ris Park, West Coast Park, Changi Beach Park, Sembawang Park or East Coast Park.
3. Play by the River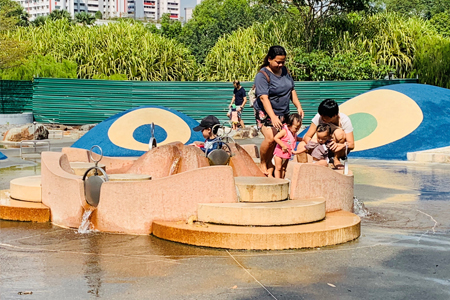 Who can resist some water fun during a hot day?
Photo credit: Chong Poh Choo
There are a total of three playgrounds in Bishan-Ang Mo Kio Park but we are zooming in on the unique water playground at the Pond Gardens (closer to Upper Thomson Road).
Unlike other water playgrounds which usually get kids squealing with crazy water jets and buckets of pouring water, this one features streams of water, gently flowing from the top of a slope – definitely a soothing relief in the scorching sun. This playground is also interactive and encourages children to be observant as they partake in altering the ebb and flow of the water.
The water in this playground is turned on from Thursdays to Sundays at 8 am to 11 am and 4 pm to 8 pm. While there are no shower facilities, there are toilets nearby for changing.
"Leaf" Your Mark
1. Have your Greens and Plant Them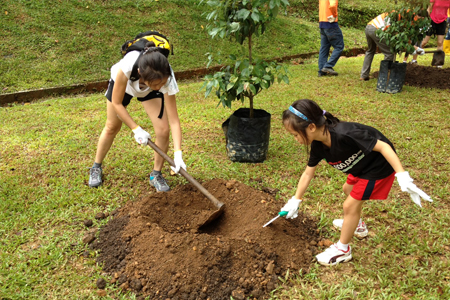 Looking for something memorable to do as a family? How about planting a young tree together and literally leaving a green legacy for your child?
There are so many benefits to having more trees around us, particularly in the face of climate change – cleaner air, increased biodiversity, prevention of soil erosion and they provide much-needed shade and help lower the atmospheric temperature.
The Plant-A-Tree programme, managed by
Garden City Fund
, is a platform for organisations and individuals to actively participate in the greening of our City in a Garden by planting trees. There are limited spots that fill up quickly. For more information, please visit this
webpage
.
2. Be a Green Family

Love spending time surrounded by nature and with your family? Want to inculcate the value of conservation of our flora and fauna within the young? Why not volunteer with us as a family? Learn more about volunteering opportunities
here
.
Yummy In My Tummy

The best way to round off a great day in any of our parks would be to feast on yummy food. There are so many delectable food places in our green spaces and here are three we would like to share with you:

1. Food For Tots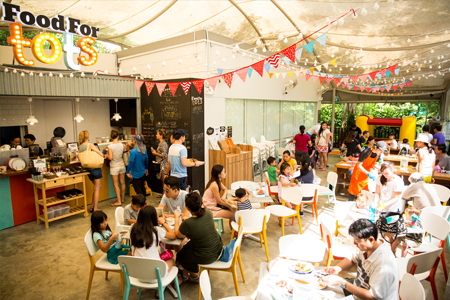 Photo credit: Food For Tots
Food For Tots at the Jacob Ballas Children's Garden is a family-friendly café which aims to instill an appreciation for the environment in children. Little ones can sip on a babyccino and indulge in Food For Tots' all-day brunch items. There are also various parent-child activities held each quarter to encourage families to learn from, and with, one another.
2. Grub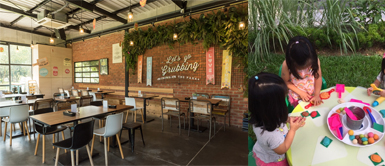 Photo credit: Grub
Grub at Bishan-Ang Mo Kio Park is a popular eatery offering wholesome meals that are also highly Instagrammable. Five minutes away from the playground, they offer hungry families a place to cool down and fill up their tummies. There are regular kids' activities like burger colouring sheets and playdates for children every second and last Saturdays of the month.
3. Babalicious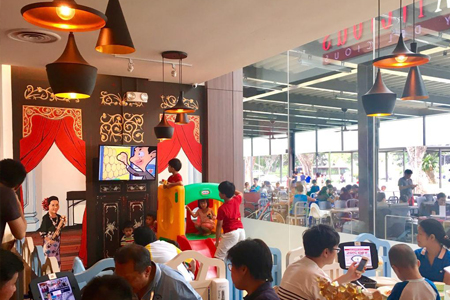 Photo credit: Babalicious
Go local with Babalicious at Marine Cove in East Coast Park! Their extensive menu offers tasty and authentic Peranakan cuisine and Singapore's all-time favourite – Hainanese chicken rice. Parents will be happy to know that there is a little play corner for kids in the restaurant which can keep them occupied while waiting for dinner to be served.
Check out which eateries you can visit when you are in our parks
here
.
Do also check out this
page
for a list of upcoming programmes and activities for your child or something you can do as a family.