Just Can't Get "Enak"
Out for a walk by East Coast Park and feeling peckish? Stop by Enak Enak's Hong Kong Tea House located at the East Coast Seafood Centre to satisfy your hunger pangs.
I met a friend for lunch there over one weekend. When we arrived, we were promptly greeted by friendly waiters before being seated and handed thick menus. I discovered that the halal-certified eatery serves a wide array of food options: tim sum, western, local delights, seafood, desserts and of course beverages!
We were clearly spoilt for choice, it was only after careful deliberation that we ordered our food.
Hearty Mains

The Enak Volcanic Chicken with Creamy Coleslaw and XO Sauce Beef Fried Rice are hearty main courses that will fill up hungry tummies
.
Our first main course was the XO Sauce Beef Fried Rice. Although the plating was rather simple with the dome of rice topped with an omelette and a few vegetables on the side accompanied by some sambal chilli, I found the umami rice fluffy and tasty. I was also surprised at how tender the beef slices were. The sambal chili packed quite a punch though I have to admit my tolerance for spice has always been rather low.
Next, we were wowed by the Enak Volcanic Chicken with a Creamy Coleslaw that lived up to its name. The generous chunky chicken pieces did indeed look like a chaotic eruption happening! If you are worried about the meat being soggy then your worries would be for naught, as the chicken skin was extremely crispy and paired well with the tangy coleslaw.
Taste and Texture
We decided to try some of the tim sum as well. We ordered the "classic" choices of siew mai and pan fried chicken dumplings. Though the siew mai may appear quite ordinary, don't be fooled – each morsel of ground meat wrapped in wonton skin was yummy and satisfying.
My favourite were the chicken dumplings – I found the meat filling well marinated and savoury with a tinge of sweetness. The combination of the textures and tastes of the lightly-charred yet slightly chewy dough matched with the flavoursome filling was a sure winner for me!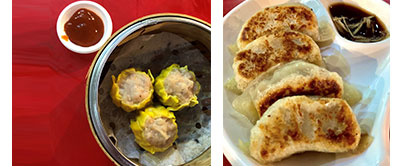 With so many tim sum options, the "classics" of siew mai and pan fried chicken dumplings were easy winners for me.
Insta-worthy Drinks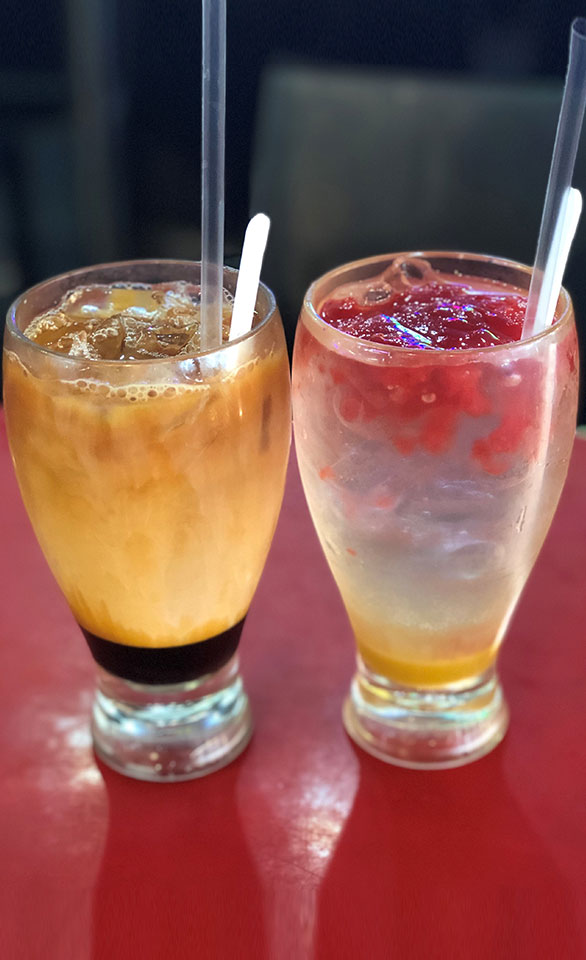 How pretty do these glasses of Teh C Special with Three Colours and Lemonade Berry look?
If you are one to feed your phones first, you are in luck! The Teh C Special with Three Colours and Lemonade Berry are insta-worthy with their pretty colour gradients served in wide-rimmed glasses.
The Teh C Special has a unique mix of gula melaka which gives what would normally be a usual drink of iced tea a distinct and pleasant flavour that you cannot get enough of. The Lemonade Berry on the other hand was refreshing with a piquant taste that will satisfy any berry cravings. It is the perfect drink to clear your palate with!
Sweets by the Beach

After a good meal, the Longan Grass Jelly With Sea Coconut and Sago in Mango left a sweet aftertaste in our mouths.
Though I was already feeling full, there will always be more space for desserts! We each ordered a dessert to 'tao bao' or for takeaway and strolled over to the nearby beach to enjoy our after-meal treats.
The Sago in Mango was refreshing and pleasantly sweet. Each spoonful was like a treasure trove of juicy fresh mango pieces and balls of sago mixed in with jelly bits. The Longan Grass Jelly with Sea Coconut was similarly invigorating, with a good plethora of textures thanks to the generous serving of grass jelly, sea coconut and longans.
It was a good decision to end our meal by the water's edge. With the waves gently lapping onto the shore and a serene surrounding, I was slowly lulled into a food coma!
Food, Fun and Activities in the Sun
Enak Enak is a great place for family and friends as there is a wide array of food at affordable prices.
East Coast Park
is also a good place to stroll and immerse yourself in the tranquil environment listening to the waves or for the young ones to play in the sand.
Fitness enthusiasts will also be excited to know that there is a variety of sporting activities such as beach volleyball, cycling, and cable skiing as well as an Xtreme SkatePark.
The recently opened
Cyclist Park
located at Area D of East Coast Park is also a place to go to challenge your limits. The park caters to cyclists of different capabilities, with a beginner circuit suited for newbies to increase their stamina and practice their balance while an advance circuit is for those daunting enough to take on the undulating pump track and bridge, zig-zag columns and more obstacles.
Visitors may remember Big Splash at East Coast Park. This water play area is being revamped with new features to raise the fun level. The site, expected to be ready later this year, will also offer new amenities, such as a sand pit and an expansive multi-purpose lawn to support sports activities and large-scale events.
So, wait no more and come enjoy the food, fun and many activities at East Coast Park!
Text and photos by Jade Er

About the writer

Jade Er is a Third Year Mass Communications student from the School of Republic Polytechnic. As part of her school's Industry Immersion Programme (Internship), she was attached to the NParks' Communications and Community Engagement department for five months. During this time, she contributed ideas towards social media posts, produced videos and wrote articles for My Green Space.
Please email
wong_yeang_cherng@nparks.gov.sg
for more information on our internship programme.