Peek Into Singapore's Past
One of the last frontiers of a pre-urbanised world, Pulau Ubin presents a unique opportunity to study a past that is increasingly scarce in today's highly developed Singapore.

From December 2017 to February 2019, a team from ISEAS-Yusof Ishak Institute (ISEAS) conducted a three-season archaeological survey at Pulau Ubin. The team explored several of the island's historical themes to identify archaeological remains and sites, and brought back some exciting findings!

Investigation 1: Village Households and their Practices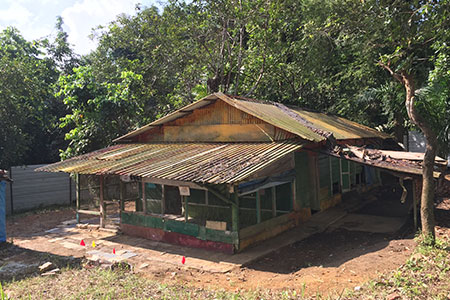 The team wanted to explore the interactions between homeowners and the environment on the island, so it picked an abandoned single-storey timber residence – No. 846P in Kampong
Melayu.

The study included a detailed recording of the homestead and the area around it, and the patterns in domestic refuse disposal and food remains. Several kitchen refuse discovered provided a glimpse into the diets of the residents.

Investigation 2: WWII Coastal Artillery Weapons and Equipment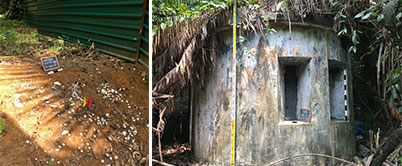 During World War II, Pulau Ubin played an important part in military defence. As part of a chain of fortifications surrounding Singapore, an Anti-Motor Torpedo Boat (AMTB) gun battery was constructed on the northern coast of Pulau Ubin overlooking the Straits of Johor.

Located within the National Police Cadet Corps' Camp Resilience, the site comprised two gun positions, fire direction towers, ammunition stores, searchlight posts and a power generator room. The team surveyed the boundaries of the AMTB battery and its relationship with the nearby village of Kampong Bahru.

Investigation 3: A 19th Century Municipal Granite Quarry

Pulau Ubin is also known as Granite Island, as Ubin is old Malay for hard stone or granite. Back in the day, granite extraction, along with agriculture and fishery, was one of the island's principal industries.

The history of the granite extraction industry goes back to as early as the 1840s, where the East India Company began operating government quarries. The locations of these early municipal quarries are not entirely clear, and most of them would likely been subsumed into the larger operations of the 20th century. A former quarry site located to the east of Sungei Ubin may be a remnant from the 19th century – the site was a small-scale quarry that was abandoned prior to 1940, or possibly as early as 1900.

To uncover more information, the team went onsite to survey and map evidence demonstrating various stages of granite processing.

What's in the Works
While fieldwork was completed earlier in the year, the team is still busy researching and interpreting the findings. A broad range of work is underway, from archival research, to searching for more clues on past site usage in historical records and documents, and studying artefacts collected from the field. The surveys so far have demonstrated that
Pulau Ubin is a treasure trove of archaeological remains and sites, and much of the island remains unexplored.

About the Archaeological Survey
Starting December 2017, NParks and ISEAS started in-depth archaeological surveys on Pulau Ubin. As part of an initiative of The Ubin Project, these surveys will complement ongoing cultural heritage and biodiversity research on the island. The findings from ISEAS will add to information about the island's cultural heritage, serving as a guide for NParks to develop management strategies for these areas to conserve Ubin's heritage.

Be an Ubin Volunteer
Looking for a new kind of fun and experience? The Ubin Volunteer Programme offers opportunities to share your knowledge, skills and time, to care for our natural heritage. Sign up now and you may be on your way to become a nature guide, habitat restorer, wildlife researcher, gardener, photographer, designer or more!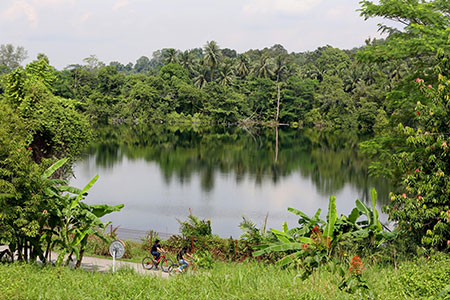 Embark on a trip to Pulau Ubin and be transported back in time to 1960s Singapore. Home to one of Singapore's last villages or kampungs, the island still retains the rustic beauty and simplicity of a bygone era. Learn more about Pulau Ubin
here
.
Text contributed by Lim Chen Sian, an Archaeologist at ISEAS-Yusof Ishak Institute
This is adapted from an article that ran originally in
Ubin Tides
issue 3, first published in late 2019.