Contest Apr 2021
In this issue, we are giving away three Singapore Botanic Gardens' "Learning Forest Motif" Cutlery-on-the-go sets.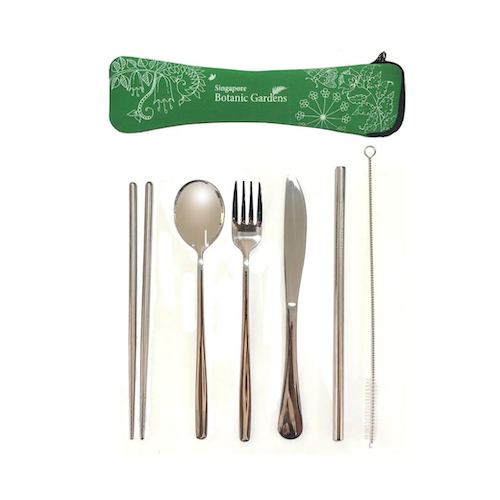 Bring this handy cutlery set wherever you go, for whenever you need to eat. Spoon, fork, knife or chopsticks – take your pick! Enjoy your drinks with the metal straw that comes with a handy cleaning brush. Made of stainless steel yet lightweight, this cutlery set is encased in a pouch that features motifs inspired by the Learning Forest in the Singapore Botanic Gardens.

Simply answer the questions below and you could be a lucky winner!

In the article, "The Gift of Trees", we share about the benefits of trees in our City in Nature. According to the article,
What colour is the natural dye produced from the bark of the Yellow Flame (Peltophorum pterocarpum)?

What is the common name of the native tree that produces latex which is durable, mouldable, waterproof, and non-conductive for electricity and heat?


Contest closes on 23 Apr 2021. Provide your answers to this link, together with your name, e-mail address, mailing address and contact number.

NParks Buzz Feb 2021 Contest Winners:
Sia Sin Wei
Chia Seok Han
Kam Lai Han

NParks Buzz Mar 2021 Contest Winners:

Will be announced next month