Save Seeds Today, Sow Them Tomorrow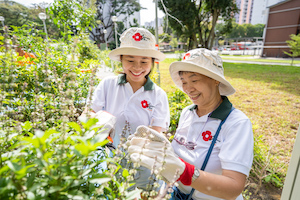 Good job on successfully growing your vegetables and harvesting the fruits! But how do you ensure that you have a constant supply of them?

You can harvest the excess seeds and keep them in your refrigerator for growing in future. The dry condition and low temperatures in the refrigerator can ensure the seeds' longevity over a few months. Follow this step-by-step guide to store the seeds from your fruiting vegetables.
1. Collect the fruits when they are mature.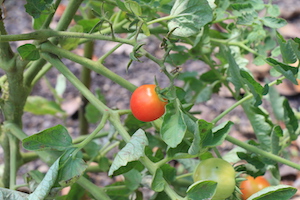 Mature ripe tomato fruits are red and soft.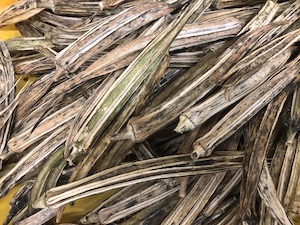 Mature Lady's Finger fruit pods are brown and dried.
2. Remove the seeds and wash them in a kitchen sieve. Discard any seeds that are soft and mushy or mouldy. Leave the seeds to dry overnight on a clean paper towel.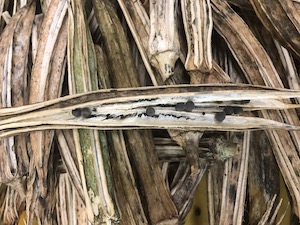 Look for the black seeds of the Lady's Finger.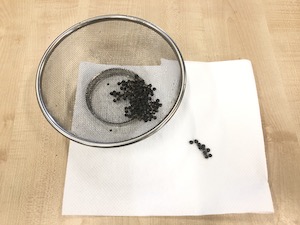 Dry the seeds on a clean paper towel.
3. Keep the dried seeds in a clean zip-lock bag. Label the bag with the type of seeds and their harvesting date.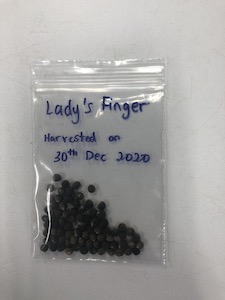 Seeds should be properly labelled with the plant name and harvesting date.
4. Place the seed pack in the fridge at 4 °C. Ensure that the seeds are always kept in cool and dry conditions.
5. Make sure the seeds are planted within three to six months of their harvest to ensure a higher chance of them germinating.
This process of harvesting and storing seeds can be repeated for commonly grown edibles such as Chilli, Tomato, Long Bean and Cucumber. By doing this, you can enjoy a continuous cycle of growing and gathering from your garden of edibles!

Gardening with Edibles
The City in Nature vision seeks to bring greenery closer to all residents. The community plays a key role in the ownership and stewardship for nature which will benefit our health and well-being.

NParks is partnering residents to make Singapore our City in Nature and spark a love for community gardening through the Gardening with Edibles initiative launched in June 2020. Under this programme, some 400,000 free seed packets have been distributed to interested members of the public. Relevant resources are also available online, to guide gardeners along the way.

Also, NParks is expanding the allotment gardening scheme and the Community in Bloom programme, to welcome even more residents into the gardening family.

The Gardening with Edibles initiative is aligned with Singapore's national strategy to strengthen our food resilience. The "30 by 30" goal, led by the Singapore Food Agency, aims to produce 30% of Singapore's nutritional needs locally by the year 2030. The programme is jointly funded by founding partners DBS Bank and Tote Board through the Garden City Fund.
Learning More
If you are a gardening newbie, visit NParksSG, our refreshed YouTube Channel that serves as a one-stop repository for close to 300 video resources. It covers topics ranging from types of soil needed for your garden and how to plant, harvest and even cook your edibles.
For more information about the flora and fauna found in Singapore, please visit Flora and Fauna Web.

If you like what you read, follow us on Facebook, Instagram and Telegram to get the latest updates.

Text by Ng Xin Yi
Photos by Ng Xin Yi and Low Wei Teng
About the writer
Ng Xin Yi is a Native Plant Centre Manager with the Horticulture and Community Gardening Division. Her daily work includes weekly field trips to various nature reserves to monitor native plants for signs of flowering and fruiting as well as to collect and propagate critically endangered species for the Species Recovery programme.