The Gift of Trees
Celebrate Earth Day this April by pledging to restore nature by planting trees into our surroundings. Here are six reasons why trees are the gifts that keep giving to our City in Nature!

1. Increased well-being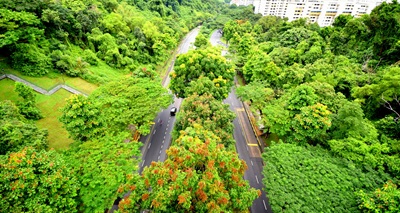 Our trees provide many intangible gifts. Walking under the shade of trees makes us feel cooler and more relaxed, and even just looking at them can help us to recover from physical ailments!

In medical institutions, views of trees and other greenery have been shown to help patients recover faster. On a bigger scale, trees all over our City in Nature provide many important services – they act as natural "air conditioning" to remove heat, double up as giant air filters to improve air quality, and also absorb rainfall to reduce flooding.
Find out more about what our trees do: www.nparks.gov.sg/treessg/learn

2. Snacks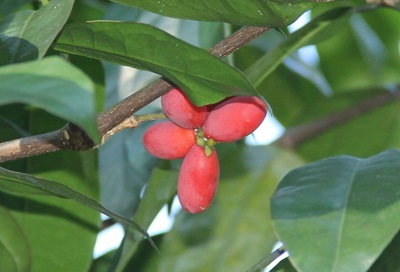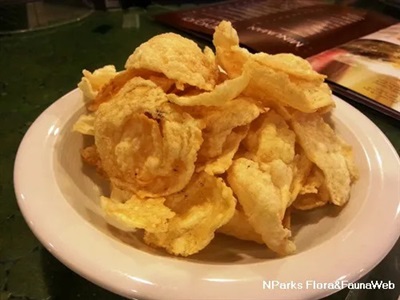 Photo credit: Ang Wee Foong and Goh Gan Khing

Feeling peckish?

That pack of belinjau crackers actually comes from the seeds of the Belinjau (Gnetum gnemon), a native tree that is Critically Endangered in Singapore! The seed kernels are flattened, dried, and fried to produce the crackers with the distinctive slight bitter taste.

This cone-producing tree grows naturally in our rainforests and coastal forests, reaching up to heights of more than 20 m. Its young leaves, flowering shoots and fruits are also edible when cooked!

3. Dye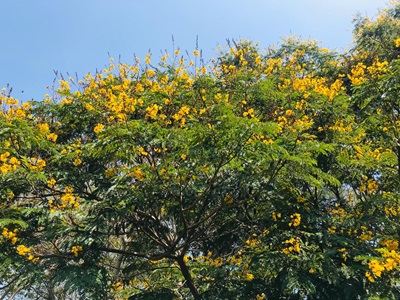 Photo credit: Kalthom binte Abdul Latiff
You may have seen this Critically Endangered tree blooming along our streets, but did you know that it can be used to produce dye?
Rich in tannins, the bark of the Yellow Flame (Peltophorum pterocarpum) produces a natural yellowish-brown dye, which is used in the traditional batik industry in Java, Indonesia. Other than batik, the dye is also used to give a light yellow colour to leather during tanning.
4. Dental fillings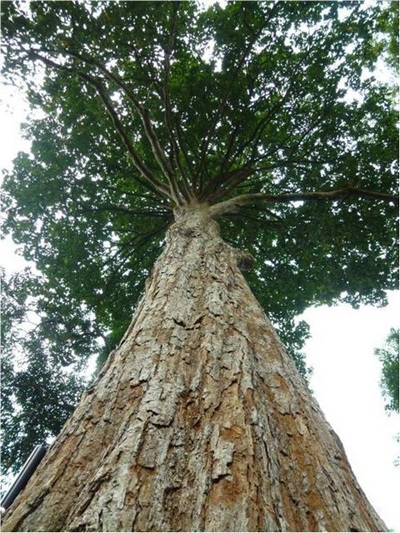 Photo credit: Ang Wee Foong
A Critically Endangered native tree, the Gutta Percha (Palaquium gutta) produces latex which is durable, mouldable, waterproof, and non-conductive for electricity and heat.
This makes it extremely useful for a variety of purposes – insulating submarine and underground cables, making handles for tools and medical instruments, and of course, filling in root canals. It is used as a non-toxic dental filling for patients allergic to synthetic fillings.

5. Medicine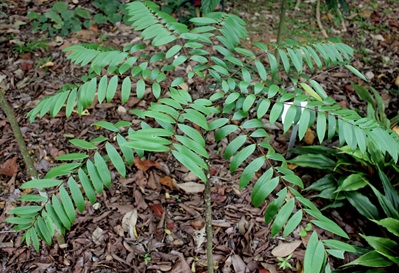 Photo credit: Jane Li
Various parts of the critically endangered Tongkat Ali (Eurycoma longifolia) are said to have medicinal properties.
While it may be most known for its use as an aphrodisiac, the roots have also been used in indigenous medicine to treat fevers and high blood pressure, as well as in poultices for ulcers and wounds.
Other than the roots, the young leaves and bark of this native tree have also been used in general tonics and treatment for stomach pains.

6. Dessert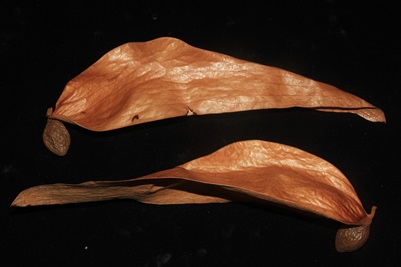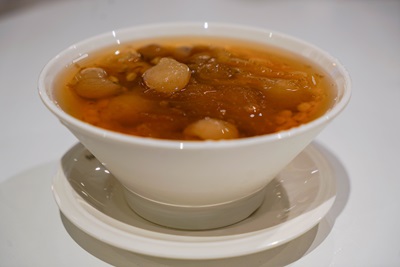 Photo credit: Ang Wee Foong & Pedro Shiu

Here's another gift of trees for the foodies! The fruits of the Cheng Tng Tree (Scaphium macropodum) are what produce the jelly-like substance in the popular local dessert cheng tng.
When soaked in water, brown, spongy fibres around the seeds absorb water and expand, forming a nutrient matrix for them to germinate (or in the case of cheng tng, eaten by us)!
This native Endangered tree can be found growing naturally in the inland forests in our nature reserves, such as Bukit Timah Nature Reserve and Central Catchment Nature Reserve.

Love Trees?
Interested in learning more about trees that make up our urban forest? Check out trees.sg, our online map which shows the locations of over 500,000 trees, features interesting bites of information on unique tree species, and even lets you show some love to your favourite tree by leaving it a treemail and giving it a hug!

As Singapore moves towards becoming a City in Nature, we will safeguard and extend Singapore's natural capital island-wide. This will be the next bound of our urban planning to create a liveable Singapore for all.

Are you part of our movement to plant a million trees across Singapore over the next 10 years. The OneMillionTrees movement will take place throughout the island, including streetscapes, gardens, parks and park connectors, nature reserves and nature parks. The community is key to the success of this movement. Click here to learn how you can contribute to the movement.

Mature trees are part of the natural heritage of Singapore, serving as important green landmarks in our City in a Garden. These trees help us identify with and stay rooted to the place we call home. The Heritage Tree Scheme, started in 2001, advocates the conservation of Singapore's mature trees. Learn more about how you can nominate a tree for this scheme.

Learning More
If you are heading to our green spaces, do the right thing and be socially responsible. Maintain a safe distance from other park goers and keep to not more than eight persons in a group, with no intermixing between groups. Always wear a mask except when you are engaged in strenuous exercise or when consuming food, drink or medication.

Do check out the visitorship levels of our parks using our safe distancing portal before you head down and avoid the ones with high visitorship. Learn about some simple do's and don'ts when visiting our Nature Reserve and Nature Parks here.

Visit NParksSG, our refreshed YouTube Channel that serves as a one-stop repository for close to 300 video resources. It also provides you a platform for existing and future digital outreach including DIY gardening and related crafts, virtual tours of our green spaces, and livestream events.
For more information about the flora and fauna found in Singapore, please visit NParks Flora and Fauna Web.
If you like what you read, follow us on Facebook, Instagram and Telegram to get the latest updates.

Text by Jolyn Tan