New Greens for Your Plate
Tired of eating your usual greens and want to try something new? Try growing perennial vegetables that you can add to your diet.

Perennial vegetables refer to edibles that have a life span of more than two years and are generally less demanding compared to common leafy greens as they do not require frequent replanting and are not so bothered by pests and diseases under local conditions.


Agathi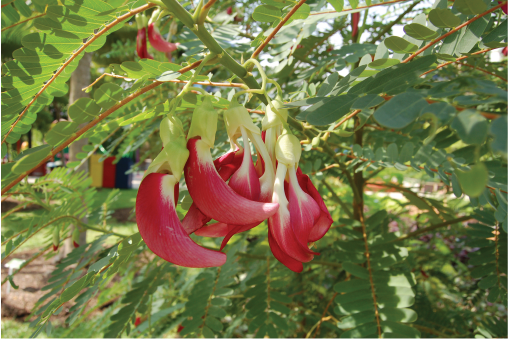 Photo credit: Jennie Tang Yurue
The Agathi (Sesbania grandiflora) is often pollarded (a form of pruning) to encourage the growth of young tender shoots and leaves. The young leaves and flower buds are consumed as a vegetable, and the white flowered version is preferred for its edible flowers.
It can be propagated from seeds and is best grown under full outdoor sun and well-drained soil. It does not tolerate shade and waterlogging.
Jewels-Of-Opar
Although the Jewels-Of-Opar (Talinum paniculatum) can be grown as an ornamental plant for its brightly-coloured flowers, its young tender leaves can also be eaten and have a mucilaginous (gelatinous) texture.
This herbaceous shrub is propagated easily from stem cuttings and best grown under direct sunlight and well-drained soil. Variegated cultivars can also be planted to add colour to vegetable gardens.
Drumstick Tree
The Drumstick Tree (Moringa oleifera), otherwise known as the Horse-radish Tree, is often pollarded to encourage the growth of young tender shoots and leaves. The young leaves and mature seeds are edible, as well as its immature pods which are often used in curries.
It can be propagated from seeds and stem cuttings. It prefers full outdoor sun and well-drained soil. It does not tolerate shade and waterlogging.
Red Ceylon Spinach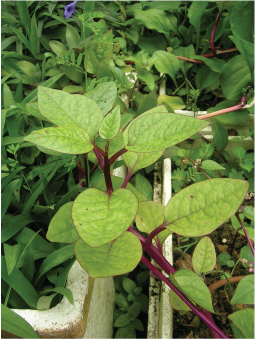 Did you know that the Red Ceylon Spinach (Basella alba 'Rubra') is not a true spinach, but a perennial herbaceous vine? Its leaves and young tips can be eaten raw, stir-fried or added to soups. The cooked leaves taste mildly similar to spinach, but with a mucilaginous, slightly slippery texture.
This vining plant needs climbing support and can be grown in either direct or filtered sunlight, in well-draining and fertile soil.
Velvet Plant
Photo credit: Joyce Foo Ming Yen

The Velvet Plant (Gynura bicolor), also known as Okinawan Spinach, has reddish purple undersides. Its young leaves can be eaten fresh or mixed in salads, as well as cooked in stews, soups and stir-fries. Rich in iron, beta carotene, and calcium, it is believed to help relieve hypertension and high blood sugar.
It grows easily from stem cuttings, in well-draining and fertile soil. In Singapore, it needs protection from the hot afternoon sun and should be grown under a shade cloth.
Gardening with Edibles
The City in Nature vision seeks to bring greenery closer to all residents. The community plays a key role in the ownership and stewardship for nature which will benefit our health and well-being.

NParks is partnering residents to make Singapore our City in Nature and spark a love for community gardening through the Gardening with Edibles initiative launched in June 2020. Relevant resources are also available online, to guide gardeners along the way.

Also, NParks is expanding the allotment gardening scheme and the Community in Bloom programme, to welcome even more residents into the gardening family.

The Gardening with Edibles initiative is aligned with Singapore's national strategy to strengthen our food resilience. The "30 by 30" goal, led by the Singapore Food Agency, aims to produce 30% of Singapore's nutritional needs locally by the year 2030. The programme is jointly funded by founding partners DBS Bank and Tote Board through the Garden City Fund.

Gardeners' Day Out
Participate from the comfort of your home with online activities such as talks and demonstrations, video tutorials of activities and promotions offered. Enjoy Gardeners' Day Out online at www.nparks.gov.sg/GDO.

You can also enjoy videos of our Gardening With Edibles Masterclass Series. They are conducted by NParks horticulturists, focusing on unique and challenging edibles across different plant families.


Learning More
If you are a gardening newbie, visit NParksSG, our refreshed YouTube Channel that serves as a one-stop repository for close to 300 video resources. It covers topics ranging from types of soil needed for your garden and how to plant, harvest and even cook your edibles.
Keep your garden safe from attack by insect pests. Learn more about five such common pests of edible plants here. How can you make your garden more welcoming to bees? Learn more here.

For more information about the flora and fauna found in Singapore, please visit Flora and Fauna Web.
If you like what you read, follow us on Facebook, Instagram and Telegram to get the latest updates.