Contest Dec 2020
In this issue, we are giving away three Singapore Botanic Gardens' "Learning Forest Motif" Cutlery-on-the-go sets.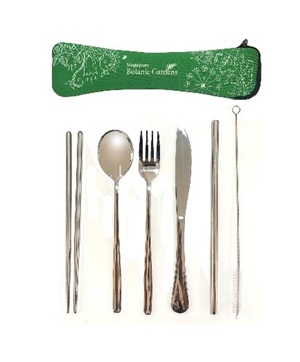 Bring this handy cutlery wherever you go. Choose to use the spoon, fork or the chopsticks. Drinks will also be enjoyed with the metal straw that comes with a handy cleaning brush. Made of stainless steel yet lightweight, this cutlery set is encased in a pouch that features design motfis inspired by the Learning Forest in the Singapore Botanic Gardens.

Simply answer the questions below and you could be a lucky winner!

In the article, "Native or Not? we introduce you to some native and non-native species of the flora and fauna we have in Singapore. According to the article,
● If unmonitored, the fast-growing Zanzibar Yam is able to spiral up tall trees and smother the entire canopy with its foliage. What is the shape of this foilage?
● The Leopard Cat been recorded in the Central Catchment Nature Reserve, Pulau Tekong and which other island?


Contest closes on 24 Dec 2020. Provide your answers to this link, together with your name, e-mail address, mailing address and contact number.

NParks Buzz Nov 2020 Contest Winners:

Will be announced next month.