Marvel the Wonders of Nature
As the year winds down and we look ahead to 2021, why not spend December being thankful for the wonderful natural heritage all around us? Celebrate the successes we have had in conserving our flora and fauna and pick up some meaningful gifts that also support the work being done in the Singapore Botanic Gardens.
Learning Forest Merchandise
Discover a range of functional yet aesthetically pleasing items such as tumblers, mugs and placemats at the Gardens Shop. Each is decorated with designs of magnificent giant trees and plants and inspired by the Learning Forest of the Singapore Botanic Gardens.
So snuggle up at home with a comforting cuppa in a mug adorned with these designs or present these pretty gifts to family and friends during the festive occasion. It is always a good time to celebrate our wonderful natural heritage!
Elephant Parade: A Singapore Botanic Gardens Exclusive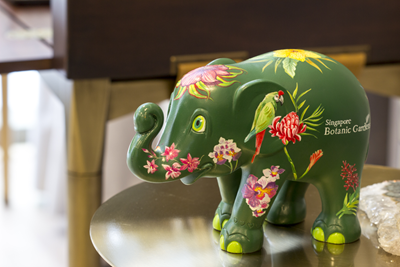 Looking for a fun and unique gift? Grab the Elephant Parade statue available exclusively at the Gardens Shop!
Run by a social enterprise known as The Elephant Parade, each statute is painstakingly hand-painted and crafted with care. This makes them a one-of-a-kind gift that celebrates art while raising awareness of the need for elephant conservation.

You may check these items out at The Gardens Shop in the Singapore Botanic Gardens or view these products on www.botanicgardensshop.sg.