From Backyard to A Garden Kitchen
It's always teatime in My Backyard Kitchen!

My Backyard Kitchen is a new thematic garden in HortPark that features plants that can be used specifically to make teatime beverages and snacks. It comprises of five landscaped plots, each curated to provide visitors with inspiration on how backyard kitchen gardens can be designed as well as the types of plants that they can try growing in their own homes.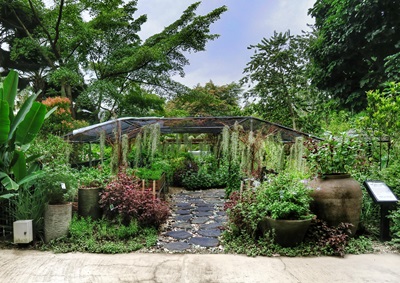 Enter My Backyard Kitchen in HortPark for ideas and inspiration to create your own backyard space filled with edible plants that can be used to create teatime snacks and beverages.
In My Backyard
Backyards in Singapore are mostly associated with places where kids play games, dogs run about or where outdoor barbeques are held. For those of us who live in a high-rise residential apartments, the "backyard" would be the service yard to hang wet clothes to dry, or even just a corridor space directly outside your house with some potted plants.

Why not transform this void into a "kitchen" instead? A backyard kitchen garden is where you can forage for ingredients from plants grown in this space, to flavour dishes or beverages.
The convenience of having fresh ingredients without having to leave the house is especially timely with many of us working from home or opting to stay largely indoors these few months.

Do learn more about good gardening practices first here before you start using a common corridor space.

Ideas and Inspirations
Here are some ideas from My Backyard Kitchen you may want to adopt.


If you are an avid tea drinker, why not design a tea-inspired garden with plants that can be used for making and flavouring tea? These plants include the Roselle (Hibiscus sabdariffa), Indian Borage (Plectranthus amboinicus), Cat's Whiskers (Orthosiphon aristatus), Clove (Syzygium aromaticum), Japanese Honeysuckle (Lonicera japonica), Tumeric (Curcuma longa), and a variety of mints.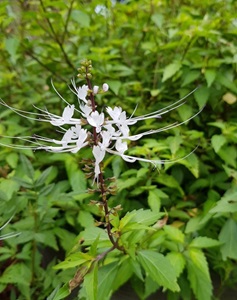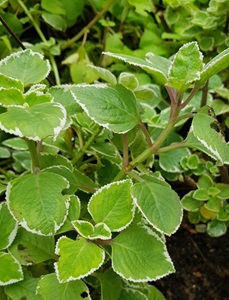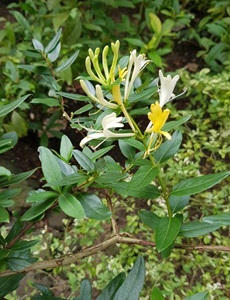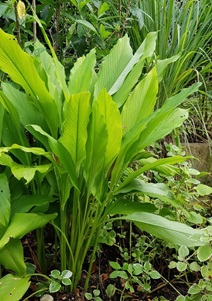 (From left) Cat's Whiskers, Indian Borage (variegated), Japanese Honeysuckle and Tumeric

Teatime would not be complete without some snacks and desserts, so why not consider growing plants that are used in Asian and Western desserts. For example, Ramie (Boehemeria nivea), Cincau cina (Cocculus orbiculatus), Golden Papaya (Carica papaya L.), Aiyu jelly (Ficus pumilla (Makino) Corner var. awkeotsang) and Sweet Potato (Ipomoea batatas).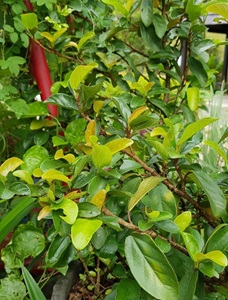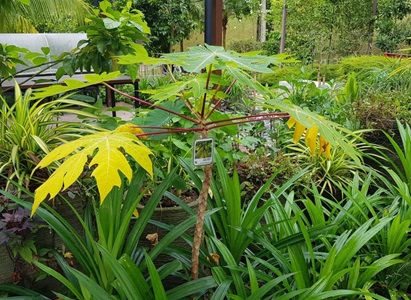 (From left) Ramie, Aiyu Jelly and Golden Papaya
For those who prefer making blended smoothies and fruit juices for a quick mid-day pick-me-up, My Backyard Kitchen features various fruit trees such as Bael (Aegle marmelos), Lemon (Citrus limon), and Starfruit (Averrhoa carambola). They all produce fruits that make yummy and healthy beverages.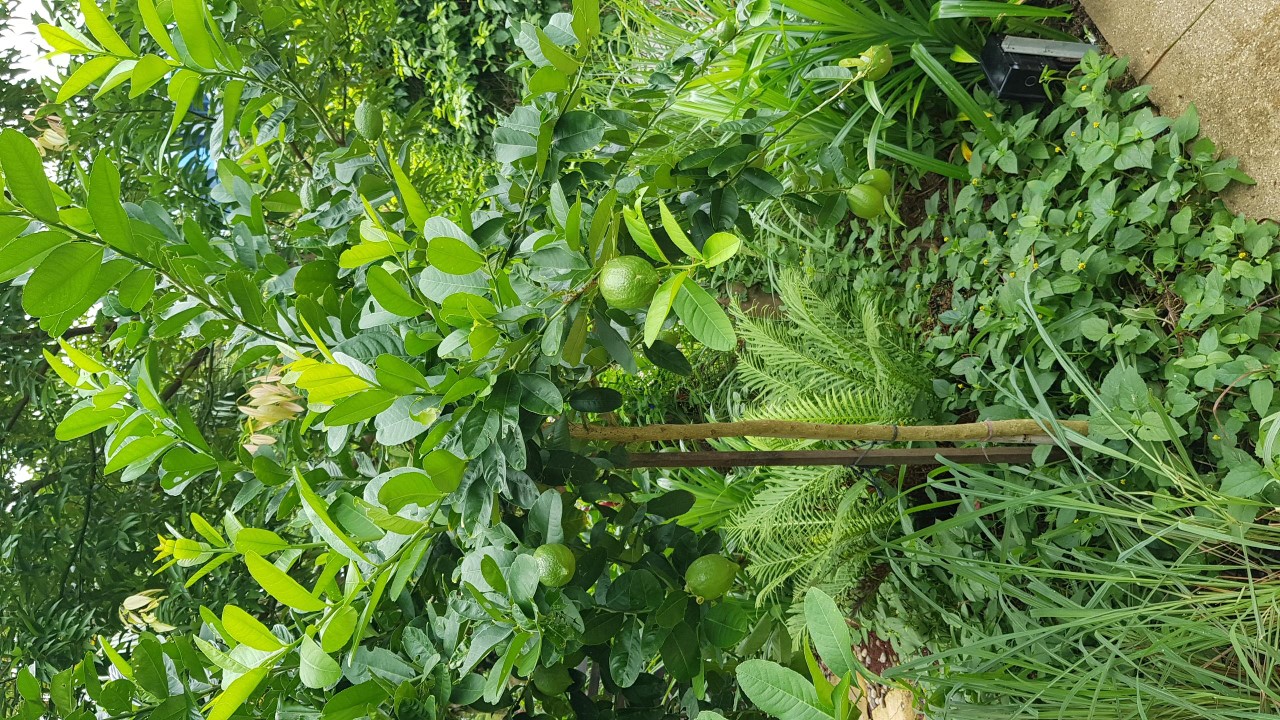 Lemon tree and Starfruit
Edible flowers that can be used as garnishes, flavouring or colouring for beverages and desserts. Discover some of these in My Backyard Kitchen, such as edible roses (Rosa sp.), Blue Pea (Clitoria ternatea L.), and Mexican Tarragon (Tagetes lucida).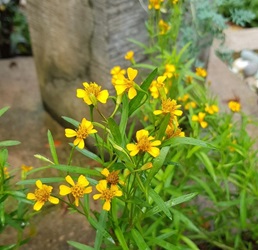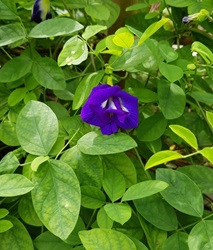 Mexican Tarragon and Blue Pea
Designing Your Backyard Kitchen
When designing your own backyard kitchen garden, you can consider reusing organic materials to create garden structures. Materials obtained from the trimming of plant parts in your own garden can be upcycled to create interesting garden features. In My Backyard Kitchen, bamboos and tree branches are used to create fences as well as supporting structures for edible climbers such as Blue Pea (Clitoria ternatea L.) to latch on and climb up.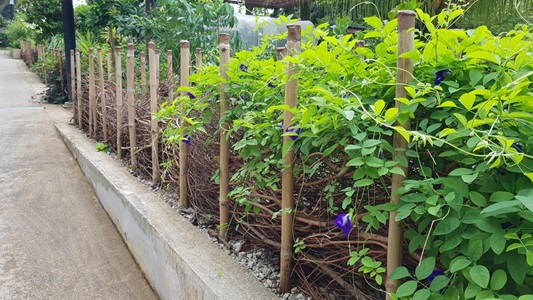 Understanding growth habits of edibles will also help you curate the placement of plants within your garden. For example, the growth habit of sweet potatoes is to spread along the ground and produce fruits underground. It would be good to grow them in a long planter or in true ground.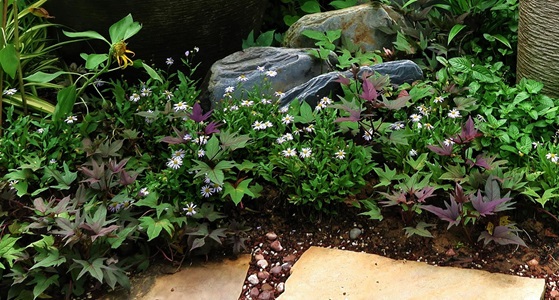 Sweet potato planted alongside other groundcovers helps add texture to the understorey.

Passionfruits, on the other hand, require structures to climb onto and produce hanging fruits. Therefore you would need to place a supporting structure, like a vertical trellis or a mesh netting, next to the plant for it to latch on and grow upwards.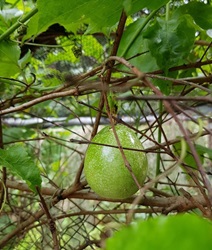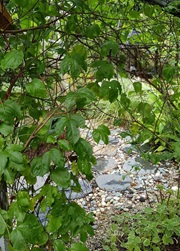 Passionfruit and (right) the plant climbing up the branches
In addition, My Backyard Kitchen includes a corridor gardening showcase for those who wish to garden in their high-rise apartments. This area demonstrates the use of hanging planters and pots with stands. It also features a selection of edible plants you can grow even in a limited area. This includes mints (Mentha spicata), Basil (Ocimum basilicum 'Genovese') and Bay Laurel (Laurus nobilis L.).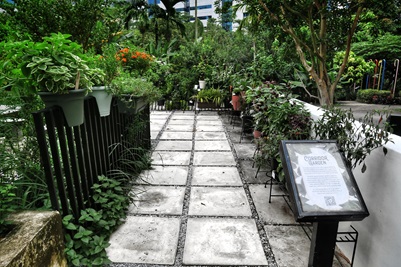 Live in an apartment? Check out the corridor garden showcase at My Backyard Kitchen that demonstrates good planting practices as well as edible plants that can be grown in small spaces.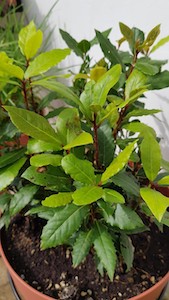 Mints and Bay Laurel
If you are plan to visit HortPark or any of our green spaces, do the right thing and be socially responsible. Maintain a safe distance from other park goers and keep to not more than eight persons in a group, with no intermixing between groups. Always wear a mask except when you are engaged in strenuous exercise or when consuming food, drink or medication.

Do check out the visitorship levels of our parks using our safe distancing portal before you head down and avoid the ones with high visitorship.

You can also enjoy a virtual tour of My Backyard Kitchen here.

Gardeners' Day Out is back!
Participate from the comfort of your home with online activities such as talks and demonstrations, video tutorials of activities and promotions offered. Free guided tours will also be offered on site (with safe management measures). Enjoy Gardeners' Day Out online at www.nparks.gov.sg/GDO.

Whether you are an amateur gardener or a seasoned horticulturist, starting a home garden or a community garden, there are plenty of useful information and guides here for your gardening hobby.

Visit NParksSG, our refreshed YouTube Channel that serves as a one-stop repository for close to 300 video resources. It also provides you a platform for existing and future digital outreach including DIY gardening and related crafts, virtual tours of our green spaces, and livestream events.
For more information about the flora and fauna found in Singapore, please visit NParks Flora and Fauna Web.
If you like what you read, follow us on Facebook, Instagram and Telegram to get the latest updates.


Text and photos by Lok Yan Ling