Planting the Seeds of Friendship
Almost every morning, 54-year-old Kamisah Bte Atan travels from home in Bukit Panjang to Jurong East to roll up her sleevesand tend to the plants in her community garden.
Kamisah, a mother of two teenagers, is passionate about gardening. She said, "I used to live in this area before I moved to Bukit Panjang. This is where my heart is."
Kamisah, along with her neighbours, are part of the Jurong Central Zone G Residents' Committee (RC) gardening club. Their community garden is home to a myriad of colourful flowers, herbs, vegetables and fruit trees cultivated by the gardeners. Some of these gardeners are octogenarians.
Kamisah is reminiscent of the good old days living in the kampong. She finds solace and joy in growing plants with her friends.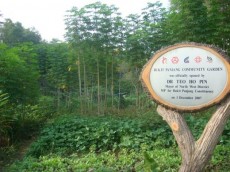 Richard Ashworth, a 56-year-old retiree from Ivory Heights Condominium, galvanised his neighbours to plan and plant their community garden. He commented, "There is so much unused land in our estate. We have always wanted to create our own garden. When the opportunity came, everyone chipped in and co-operated to get this project started". The garden has grown into a favourite spot in the estate where neighbours would hang out and take turns to water the plants and fertilize the soil.
"...everyone chipped in and co-operated to get this project started..."
- Richard Ashworth, 56-year-old retiree
Gardeners like Kamisah and Richard swear by the therapeutic effects and health benefits of growing plants in their community gardens. They get satisfaction from tilling the land, watching the seeds germinate and bloom. Others find it a great way to make new friends and strengthen existing ties. To help gardeners plan and prepare for the long-term sustenance of their community gardens, NParks initiated 'Community In Bloom' (CIB) in 2005, as a national community gardening programme. Under the CIB framework, NParks, Residents'/Neighbourhood Committees, Town Councils and other supporting bodies collaborate to facilitate community gardening efforts.
If you are keen to find out more info about 'Community In Bloom' or to volunteer, please visit www.nparks.gov.sg/cib, email communityinbloom@nparks.gov.sg or call 64717808.
By Mohamad Azmi bin Shahbudin