Exploring the Southern Ridges
Joining the National Parks Board has broadened my appreciation for greenery overnight. Now I look forward to every working trip to visit our parks and nature reserves, just to experience a world beyond the concrete jungle. That's why I jumped at the chance to explore the Southern Ridges with two friends, on the pretext of writing this article for you, my dear readers.
The start of our journey did not disappoint. The tree-lined flight of steps at the beginning of the Marang Trail beckoned to us, and a few minutes of stair-climbing was enough for us to be immersed in the sights and sounds of the secondary forest that the Trail cuts across.
The brochure in my hand says the Trail covers an elevation of 70 metres, or the equivalent of a 24-storey building, but the journey felt shorter as we were enthralled by the flora and fauna along the way. From ferns that look like dreadlocks to beautiful white flowers surrounded by red buds, we were at a loss for words (literally, as we didn't know what they were called!)
"...The unique wave-form structure was a sight to behold..."
- Chen Hsin Yeow
At the apex of the Trail was the Jewel Box (an F&B establishment offering a variety of bars, restaurants and entertainment options) on Mount Faber. We spent quite a long time taking photographs of the panoramic city skyline.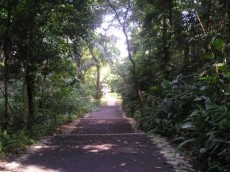 Refreshed and energised, we began on the Faber Walk, which meanders through Mount Faber Park and ends at the Henderson Waves. Some parts of the Walk were sheltered, which we were very thankful for.
As we neared the Henderson Waves, we became as excited as kids hearing the bell of the ice-cream truck. The unique wave-form structure was a sight to behold. Made up of undulating steel "ribs", the curved "ribs" actually form alcoves within.
"You could hold a concert here!" One of my female friends exclaimed. "Yes, or a wedding!" Another friend imagined.
While we were marveling at the splendid structure of the bridge, we heard the pitter patter of feet as two little kids raced across the bridge to join their grandfather who pointed to an object nearly 40m below along Henderson Road. Whatever the object was, all three were looking intently at it. Then they continued on their way, exploring the rest of the Southern Ridges.
I knew they would have a great time, just as I had.
By Chen Hsin Yeow