Fort Canning Park
Given Singapore's renowned status for being an urban jungle, Fort Canning Park is a welcome respite from the concrete surroundings within the central area of the business district.
Located at the heart of commercial prime land, it can be easily accessed from Dhoby Ghaut, Clarke Quay, and City Hall MRT stations. The sound of insects humming and the cool gentle breeze amidst the lush greenery stands in stark contrast to the hustle and bustle of urban life.
Not that it has always been this welcoming. Its early history portrayed it to be both a foreboding and formidable presence among the locals.
Once revered as Bukit Larangan, or "Forbidden Hill" in Malay by local settlers back in the 19th century, Fort Canning was believed to be a site of palaces built by ancestral kings from bygone eras. Unauthorised trespassing by the locals was considered taboo.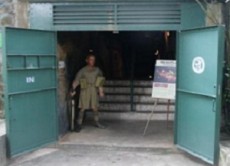 Only with the arrival of the British colonialists was the hill occupied and converted into a fortress (perhaps to the chagrin of the locals). This was to protect Singapore from attack by sea. It also gave the European population a refuge in case of local disturbances.
Parts of the fortress erected during the British colonial era are still standing. One such remnant that occupied Fort Canning Hill from 1861 to 1926 is the Fort Gate.
Another structure is the Sally Port, a narrow sheltered flight of stairs leading in and out of the fort beside The Battle Box that has been preserved with its chipped steps and walls that are weather beaten and overgrown with moss.
However, these residual artefacts are part of an astonishing variety of well-documented factual history and enigmatic myths that beset Fort Canning Park. Some of its older history, dating back to as far as 700 years ago, includes mention of Majapahit kings and Malayan princesses who regarded the hill as private residences. This place also became the final resting place of at least one revered ruler of Temasek.
These days, Fort Canning Park has been bestowed a new leash of life. It encapsulates the verve of modernity by being a concert and exhibition venue that draws international acts and music festivals. Outdoor family picnics during the weekends on the grassy field of Fort Canning Green are also common.
For more information on Fort Canning Park, visit www.nparks.gov.sg/fortcanning