Saturday Night Rollin'
It's always hard to decide what to do on Saturday evenings. The choice of dinner, shopping, drinks or movies can present baffling options.
But instead of the usual evening out in town, a bunch of adrenaline junkies gather every last Saturday night of the month for a good time in an inexpensive way: nightskating through the Park Connector network.
One such skate session was an exciting journey through the Ulu Pandan Park Connector Network.
"...The terrain is made for skating and easily accessible to skaters of all levels..."
- Jon, Organiser of Nightskate
Despite the monsoon, that Saturday evening saw no sign of rain and a group of about sixty met up at Buona Vista MRT Station for their monthly skating fix.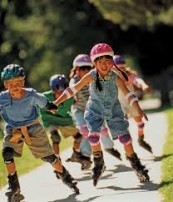 Though the majority of the skaters were in their teens or mid-twenties, kids as young as three and seniors at sixty also came for the night adventure. Gear-clad, the participants gathered for a short briefing and soon, they were well on their way to a smooth skate down the Park Connector Highway.
"Park connectors are a blessing to skaters," said Jon, organiser of Nightskate and a veteran urban skater himself. "The terrain is made for skating and easily accessible to skaters of all levels," he added.
All thanks to newly-paved roads within the connectors, skaters could satisfy their need for speed. Some bumps and slopes in breaks between the network proved challenging, but these were mostly manageable with the help of safety assistants present throughout the trip.
The park connector journey was also an intimate time for families as parents skated in tandem with their children. Periodic stops were made so that skaters could catch their breath. And in the midst of sweat-filled brows and fatigued thighs, skaters found friends while stopping for sips of water under the stars.
And not only did the group get a good workout, the 9km blade fest ended in a sense of achievement for some, such as three year old Ernest. This was the first time the young blading enthusiast completed such a long journey on skates.
Looks like there are many ways to spend a Saturday night, but going by the response of skaters that evening, nightskating through the park connector network certainly deserves a place on that list!
When: Every last Saturday of the month
Where: Venue changes each session
Requirements: Be proficient in turning and braking; protective gear and torchlights are advised.
For more information, email Jon at jon@skateline.com.sg