A Park for Everyone
Life on the suspension bridge brings nothing but thrills to the Tan family.
The suspension bridge at the Jacob Ballas Children's Garden, that is.
Ian and Patty Tan frequently take their children Raphael and Arielle to the garden to play. The children are fond of the garden -- favourite spots include the treehouse, suspension bridge and water play area.
The family also visits a park twice a week on average. The Singapore Botanic Gardens is Ian and Patty's top choice for parks in Singapore as it has safe and large open spaces for their children to run in. Other parks that the family frequents include Bishan Park, East Coast Park and Upper and Lower Pierce Reservoirs. Despite his busy schedule as a civil servant, Ian makes it a point to join the family on these outings as much as possible.
The Tans strongly believe that parks have enhanced the quality of life for the family. Patty, a Life Planner with Great Eastern, comments that "the children eat and sleep better, and are always looking forward to the next outing". As the family spends a lot of time playing together in parks, the children are also very close to their parents.
"The children eat and sleep better, and are always looking forward to the next outing..."
- Patty Tan/Mother of Two
While the Tans are generally pleased with what Singapore's parks have to offer, they are hoping for even better facilities. Top of their wishlist are more baby and child-friendly facilities such as changing tables, children's toilet seats in toilets, more water coolers, and more washing areas in which families and kids can clean up after they play.
The Tans also hope for more activities that cater to children of different age groups, such as wall climbing facilities, giant treehouses and rope obstacle courses.
The Tans are part of an increasingly cosmopolitan and sophisticated population who make a beeline for Singapore's parks and green spaces for rest and recreation.
Over the past few years, NParks' surveys show that more than 80% of respondents were generally satisfied with parks in Singapore, and viewed parks as important spaces for recreation and relaxation.
Parks have come a long way since the '70s - parks then were purely functional venues for residents seeking respite from the harsh urban landscape.
Today, parks play a critical role in residents' well-being. These public spaces bring communities together through physical activities and games. They are also perfect venues for stretching, reading, or simply appreciating Singapore's rich biodiversity. Parks are not only ideal locations for rest and relaxation, they cater to different lifestyle aspirations.
The park user is spoilt for choice. A fine spread of activities – be it meditating in idyllic green spaces and nature areas, enjoying fine-dining in lush romantic settings, or thriving on adrenaline-pumping water sports such as cable-skiing and dragonboating – means rich pickings for those seeking unique experiences in parks.
In short, there is a park for everyone.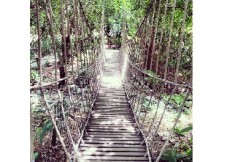 By Tan Mitina