About Birds and Their Bands
On your next visit to Pulau Ubin, look out for birds "wearing" bands! These birds, which have been trapped, have a metal ring or band placed on their legs. Some of the bands are coloured, to help identify a particular bird and enable us to monitor their movements.
Bird banding has been carried out in Pulau Ubin since 1998 as part of ongoing wildlife surveys. But it was only in 2006 that a regular quarterly Bird Banding Programme was started with the help of staff from Sungei Buloh Wetland Reserve. Bird banding sessions are now held once every two months. Five officers have been trained to carry out bird banding, with another five completing their training this September.
This important monitoring programme provides valuable information on the types of birds found on Pulau Ubin, as well as data on their longevity, distribution, ranging patterns, habitats and activity periods. Such information is useful in assessing the biodiversity richness and health of different areas on the island. We also collaborate with the Agri-Food & Veterinary Authority to screen these birds for avian influenza, as part of the national surveillance programme against the disease.
So far, close to 500 birds of over 60 species have been banded, including one that was previously unrecorded on the island – the Lanceolated Warbler. The most commonly caught bird was the Yellow-vented Bulbul (155 captures), while some of the rarities include the Black-naped Monarch, Chestnut-winged Cuckoo and Ruddy Kingfisher.
By Robert Teo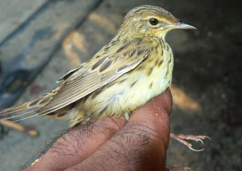 The Lanceolated Warbler – a new record for Ubin in April 2006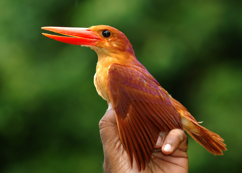 The beautiful Ruddy Kingfisher, a rare catch indeed!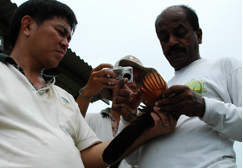 Bird banders at work