Sand-sational Fun
My daughter, Aerin, is part of the younger generation who is so used to playgrounds having soft rubber flooring that the first time she came in contact with sand, she kept grousing about it getting into her shoes.
So it was with some apprehension that my husband and I decided to bring her to Castle Beach. After all, Castle Beach is all about sand play.
Situated in East Coast Park, Castle Beach is a social enterprise that promotes family bonding through sandcastle building. It also reaches out to children from underprivileged backgrounds, high-risk families and physically challenged conditions.
When we arrived at the place, there was already a group of kids standing around a heap of sand, watching and listening attentively as a female staff demonstrated how to build a sandcastle. Using the patented sandcastle building kit, she scooped, patted and moulded damp sand into beautiful medieval structures. It made sandcastle building seem like, well, child's play!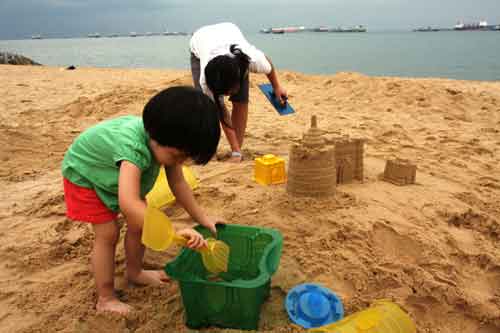 All you need is sand, water … and your imagination!
By the time the demonstration ended, my daughter had taken off her shoes and was raring to go, much to our surprise and delight! First, we dampened the sand by adding seawater to it. Once that was done, it was just a matter of filling the moulds with sand, flipping them over and voila! You can also create battlements and staircases using the tools provided in the kit. By the time we finished, we had built a sandcastle complete with two watchtowers and a high wall encircling it. Not bad for a first-timer.
What I liked about the whole experience was that it enabled us to do something as a family and it brought back wonderful childhood memories for my husband and me.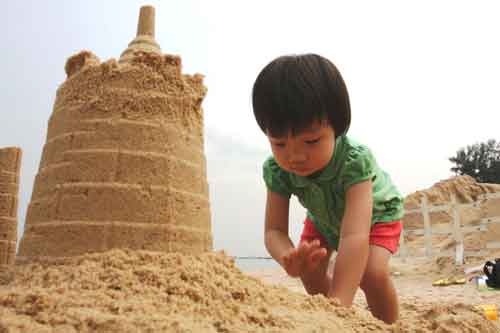 Putting the finishing touches
Castle Beach is located near the East Coast Food Village and Car Park E2. Look out for the office that is shaped like a grey castle. Free lessons on sandcastle building are held on weekends from 3pm to 7pm. All you need to do is purchase the kit ($30 for a basic kit), which you get to take home with you, so that you can come back anytime you want. Judging by my daughter's enthusiasm, I've got a feeling we will be back pretty soon!
For enquiries, contact Castle Beach at tel: 6346 2252 or visit www.castlebeach.org.
By Adeline Chong

Our humble castle and trusted watchman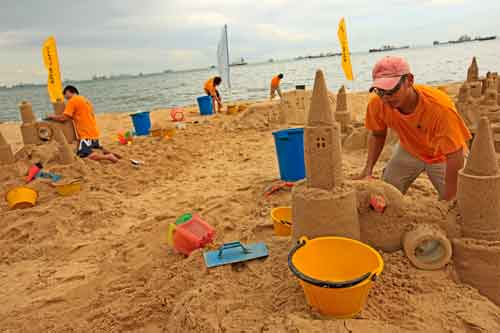 This could inspire a career in architecture