Making a Splash!
It is a Saturday afternoon and ten-year-old Mustafa Sabbagh is making a splash at East Coast Park. But he isn't having a dip in the sea or building a sandcastle on the beach. Instead, he is practicing his stunts at Ski 360, a cable ski park near the East Coast food centre.
Cable skiing is similar to waterskiing or wakeboarding, except that participants are pulled by an overhead cable instead of a boat. Up to eight people can be in the lagoon at any one time. Cables run at speeds varying between 24 and 58kmh, and ramps are in place for those who want to do stunts, making it a thrill for those seeking adventure.
Mustafa, who has been cable skiing for two years now, declares, "I love it! It is exhilarating to feel the wind in my face and the water spraying all around me."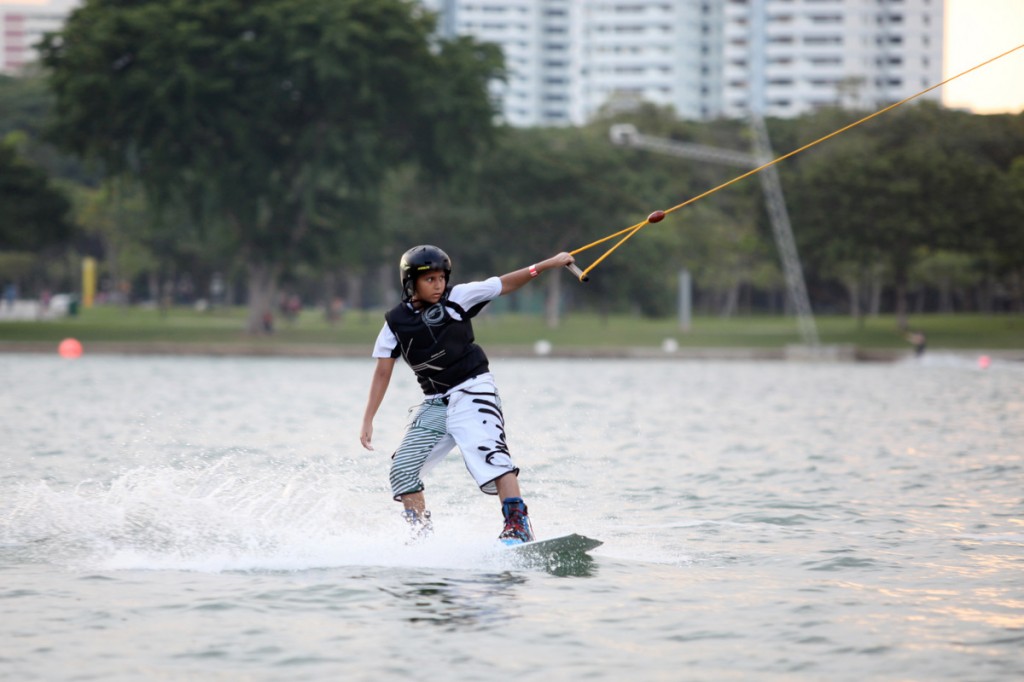 Ten-year-old Mustafa Khan makes a splash in the cable ski park
He skis at least once a week, and up to five times a week during the school holidays. He credits his uncle Asaf Khan for introducing him to the sport, and for sponsoring his practice sessions every weekend. Cable skiing costs $32 an hour on weekdays and $48 for two hours on weekends.
"...exhilarating to feel the wind in my face and the water spraying all around me..."
- Mustafa Sabbagh, Ten-year-old cable skiier
Hope Seong, a Korean expatriate working in Singapore, has also made East Coast Park her regular weekend haunt. She has cable skied in the Philippines and Batam, and finds the cable ski park at East Coast Lagoon comparable to those she has tried overseas. "The ambience at the East Coast ski park is very good. You can see the ocean, there are nice restaurants, and you can easily hop over to try out the other activities. I love it here!"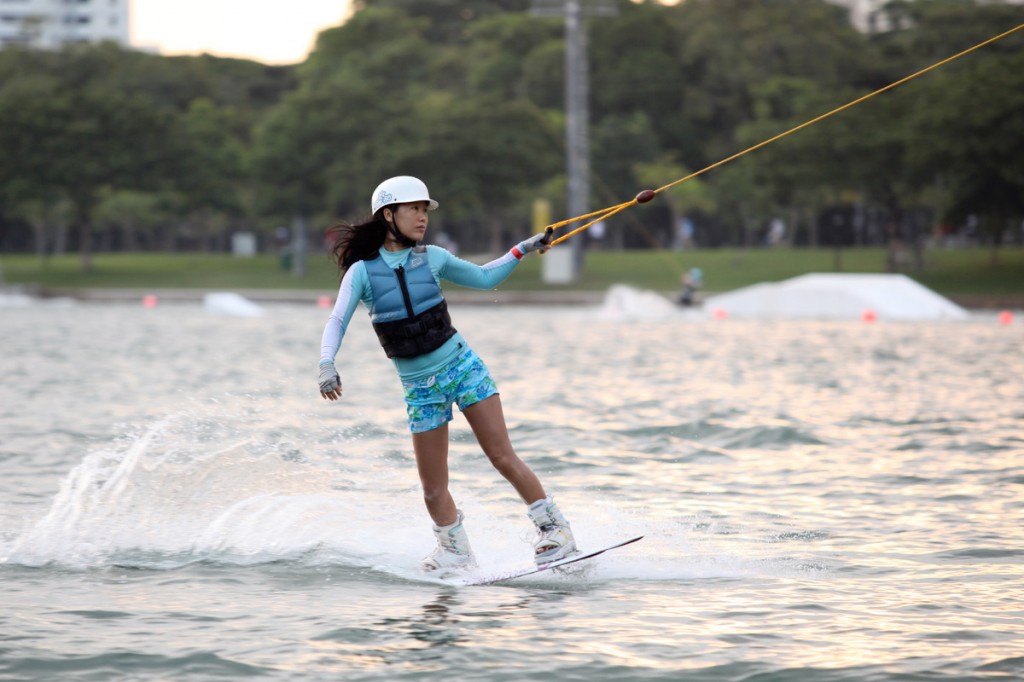 Korean expatriate Hope Seong gets into the thick of the action.

Water-sports enthusiasts can also have a go at windsurfing at East Coast Park. Water-Venture, run by the People's Association, caters to both beginners and veterans. There are lessons for novices and anyone who is comfortable in the water is welcome to join. A three-hour orientation course in windsurfing costs $35.
Water-Venture also provides kayaking, dragon-boating and sailing. Its beachside bar, Myra's Beach Club, has a pool table and serves finger foods as well.
Former national windsurfer Tim Khoo, who rides the waves at Water-Venture regularly, says he now sees more beginners than before, as more people are taking an interest in water-sports. "Windsurfing is gaining popularity again, and we are definitely seeing more beginners these days," observes the sportsman who represented Singapore at the Asian Sailing Championships.
Photographer Law Kian Yan, who started lessons at Water-Venture last year, found the experience fun, and the instructors attentive. "It was a great introduction to water sports," she says.
But the East Coast Park isn't just for high-speed water-sports. Those who want a quick dip or a slow delicious suntan will find their sweet spot along the beach. "I absolutely love being at the beach," enthuses PR executive Sharon Lim.
There's a park for everyone, and for those who want to make a splash, East Coast Park is a great place to start making those waves.
Ski 360 at East Coast Lagoon is open 10am-10pm on weekdays. Opens 9am on weekends, and up to midnight on Friday and Saturday nights. Call 6442-7318 or visit www.ski360degree.com
Water-Venture at East Coast Park is open 9.30am-6pm everyday except Mondays and major public holidays. Call 6340-5335 or visit www.water-venture.org.sg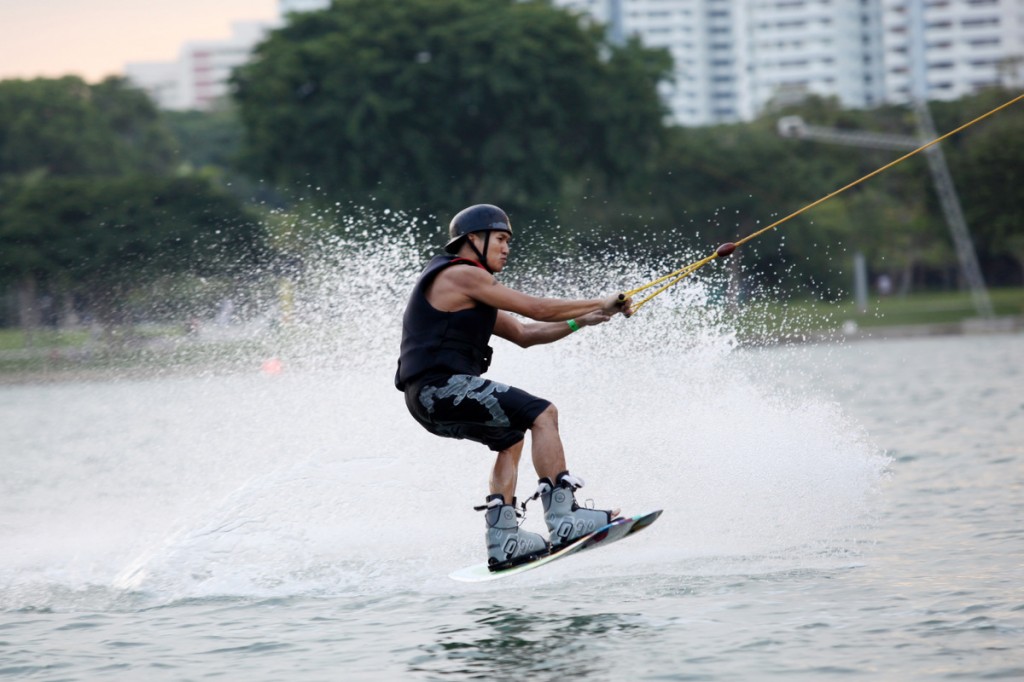 A cable skier makes waves.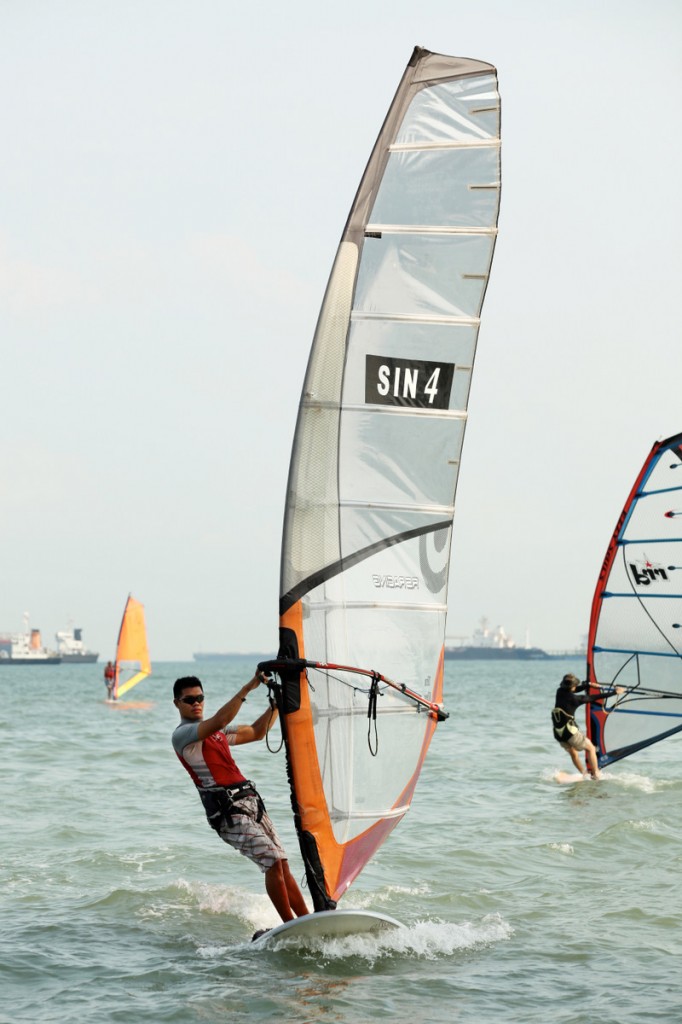 Former national windsurfer Tim Khoo rides the waves.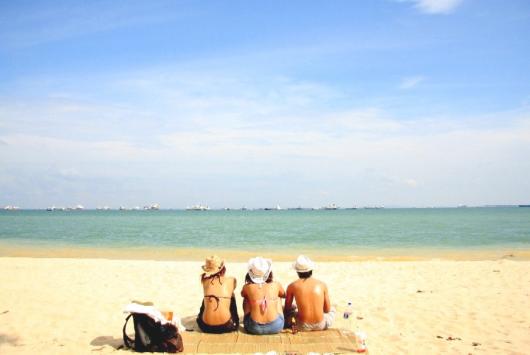 Grab a friend or two, and work on your suntans by the beach