Spice Up Your Life!
"My apron, my frying pan, my ladle, my chef's hat… now I'm ready for my Kitchen Garden stretch!"The gleeful voices of children echo down the pathway of Pasir Ris Park, towards the Kitchen Garden – the park's little plot of homegrown spices.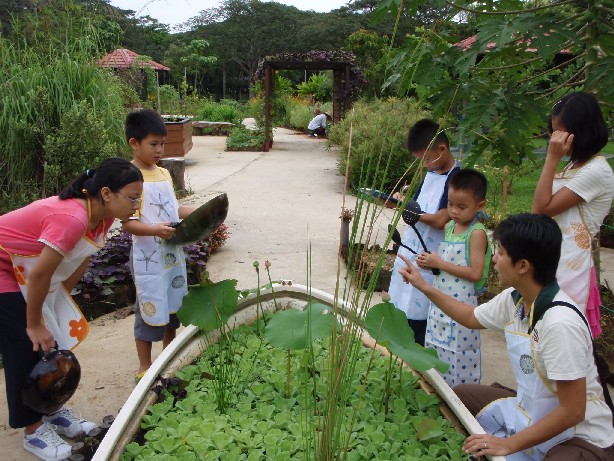 Kitchen Garden tour guide Yvonne shares a little background to each of the herbs and spices found at Pasir Ris Park.
At a glance, passersby are bemused and confused at the odd sight of children clothed as miniature chefs, prancing through the park. Surely there can't be a cooking school in a park!
"Well, of course there isn't a culinary school here," quipped Yvonne Chee, an events officer at NParks. Yvonne is one of the regular guides of Pasir Ris Park's Kitchen Garden tour for children aged six to 12. "What we offer is an opportunity for the little kids to find out more about how vegetables are grown, up to the point that they eat them for dinner!"
Through an engaging hands-on play session, the young participants are treated to a walking tour of the various herbs and spices grown at Pasir Ris Park. As Yvonne describes it: "A dash of ground black pepper, a stalk of basil leaves, a sprinkling of freshly cut coriander – these are some of the usual condiments that go into a sumptuous, mouth-watering, aromatic meal."
At a recent Kitchen Garden tour, a bevy of excited children bustled excitedly around like so many ingredients in a wok full of stir-fry. Many of them were brimming with questions about the fragrant-smelling plants, herbs and spices.
"Wow, these smell like lemons. And that's like chilli!" exclaimed six-year old Cherie, while sniffing the different varieties of basil leaves. Like other Kitchen Garden tour participants, Cherie thoroughly enjoyed the chance to play dress-up in her child-sized apron.
Before visiting the Kitchen Garden, many of the young participants would never have seen the wide botanical display of herbs and spices in their natural state. The Kitchen Garden tour provides this experience, and even shares with them some natural home remedies used for treating common ailments. For example, thyme can be made into a herbal tea with honey, and used as a remedy for sore throats scratchy coughs. A herbal tea made from sweet basil leaves also helps with indigestion.
You too can enjoy this sweet and savoury educational experience with the little ones in your life. Just come down to Pasir Ris Park for your own Kitchen Garden tour!
The Kitchen Garden tour is conducted on the 1st Saturday of every month at 9:00 am
Duration: 45 minutes
Fees: $4 per child
To register, please email Lili at lin_lili@nparks.gov.sg
By Ashley Chong
Changi Beach Park, East Coast Park, Pasir Ris Park and West Coast Park are part of the Coastal Parks Cluster of the National Parks Board. To find out more about activities in Coastal Parks, click here.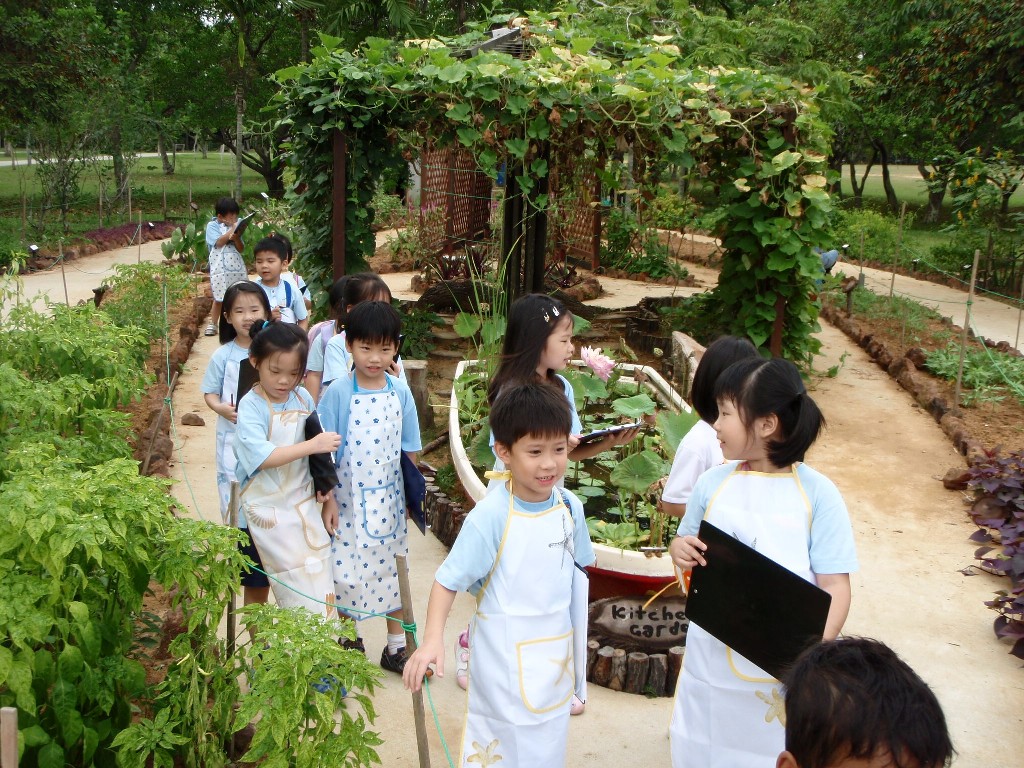 Little chefs-in-trainng gear up for their tour of the Kitchen Garden.