Laughter In The Park
If you think of our parks and green spaces as quiet, relaxing environments, you are quite right.
Well, almost.
An exception takes place every Tuesday evening. As if on cue, a green patch at HortPark erupts weekly with boisterous laughter. Regular park-goers will know that laughter yoga is in session, from the sounds of mirth ringing through the crisp, clear air.
On a recent Tuesday, I joined a merry band of about twenty folks in breaking into lively 'hahaha's and 'hohoho's, with accompanying actions. Led by Ms Zaibun Siraj, we tried out various laughs. Laughing took on a whole new dimension for me that day, as I learnt to strike humorous poses to accompany my laughter.
There was the Tarzan laugh, which involved beating of chests and a good, uproarious chortle. Then there was the shy laugh, where we covered our faces and peeked out coyly with accompanying giggles. And to pay tribute to the Year of the Tiger, we all chortled along to Ms Siraj's narration of a couple's adventures in Chinatown. "Do the Lucky Cat wave!" she would say, and we joined in with our chorus of laughter.
Like the other newcomers, I found it a little awkward at first to laugh on command. How strange it was to laugh, when there was nothing really funny to laugh at!
The regulars, however, were guffawing away naturally. Mr Hayakeawa, who frequently joins the laughter yoga group, declared that the relaxing atmosphere and fresh air helps him to laugh easily.
And sure enough, the greenery around us lent a sense of soothing calm. Evidently, the green surroundings do help to enhance the exercise. The open space dissipated the group's laughter into the wind as I shed my apprehensions, and I started to laugh. I chuckled softly at first, gradually picking up volume, and then finally, let loose like a hysterical hyena. As the sun sank gently behind us, I finally understood how relaxing such 'noise' could be.
That is, in effect, how to reap the most benefits from laughter yoga. Laughing helps to expand your diaphragm and exercise your stomach muscles, explained Ms Siraj. Laughter also helps you to relax and release tension. In fact, people who spend 15 minutes laughing in the morning have reported a greater sense of well-being throughout the rest of the day.
So, next Tuesday, should you hear strange noises over at HortPark, join right in for your dose of laughter.
Laughter Yoga takes place at HortPark, every Tuesday evening at 6.30 pm at the HortLawn. Each session lasts 20 - 30 minutes. No prior registration, exercise attire or equipment is necessary.
By Chen Jinwen
The writer is an NParks volunteer. If you love all things green and would like to write for My Green Space, contact us here.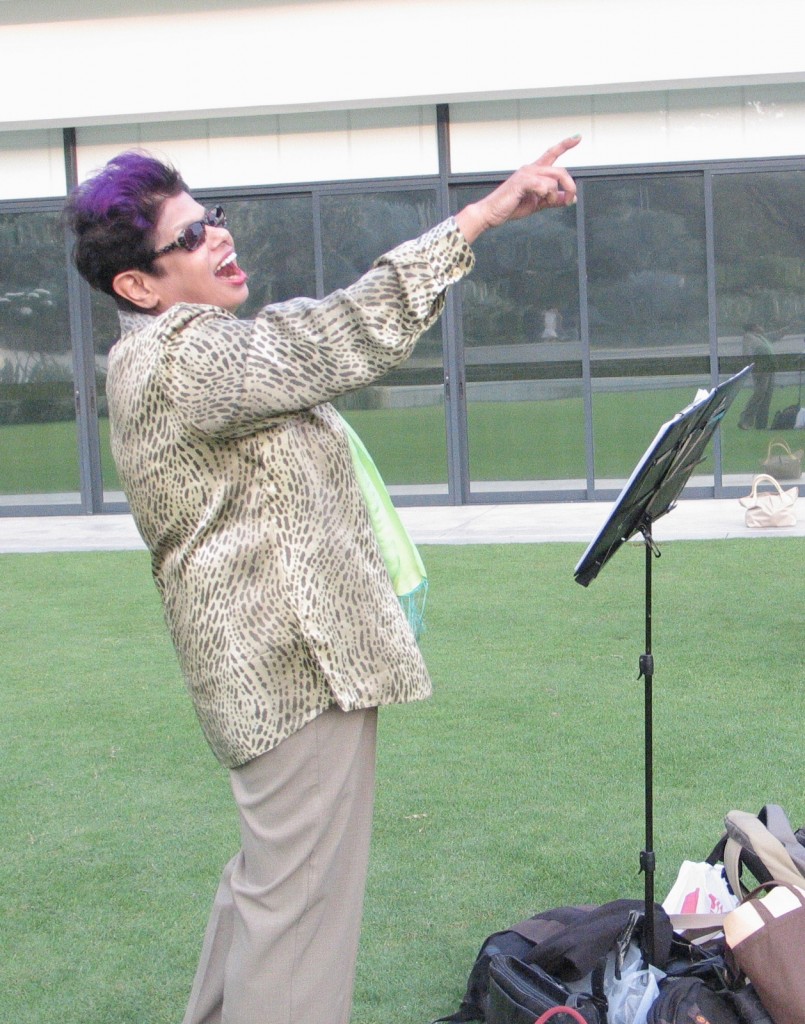 The leader of the Laughter Yoga group, Ms Zaibun Siraj, was previously voted one of Singapore's happiest people.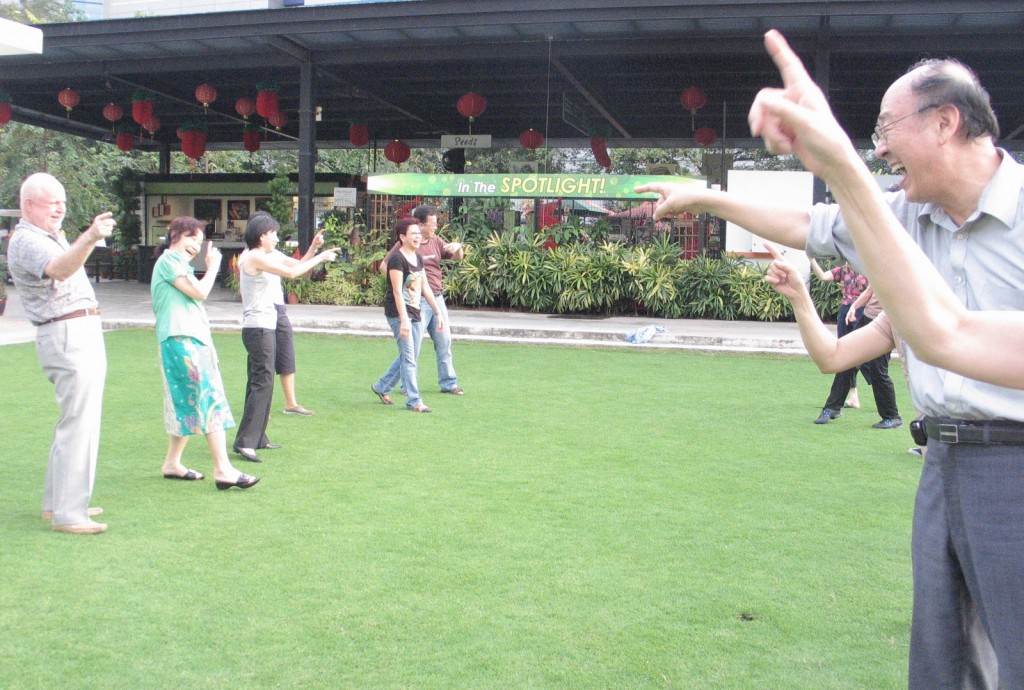 At Laughter Yoga, participants are expected and encouraged to laugh at themselves, and with each other.

Participants of Laughter Yoga, reaching up into the sky as they guffaw.