Community Gardens In Luxury Lodgings
Visitors to a typical five-star hotel wouldn't usually concern themselves with the basil, mint, or fragrant pandan found in the hotel's kitchens. But ask the guests at Fairmont Singapore or InterContinental Singapore and they will tell you a different story. Many of them will be able to enlighten you about the origin of the herbs used in their meals, and perhaps, may even teach you a thing or two about the herbs' unusually short journey from soil to table.
Both these hotels are involved in the evolution of the community gardening movement. In fact, Fairmont Singapore and InterContinental Singapore are both Silver Award winners in the Community In Bloom Awards 2010! The hotels' staff cultivate various herbs and spices in their rooftop community gardens, growing pesticide-free produce which can be readily served fresh to diners.
The gardening teams – comprising full-time gardeners as well as volunteers from among the hotel staff – tend to the gardens daily. They carry out manual pest control, and make use of other non-chemical methods of managing pests to ensure the vegetation remain healthy. In addition, all biodegradable garden waste is recycled in a worm-composting bin, which supplies the garden with a continuous source of liquid fertiliser and compost.
The 'fruits' of the community gardeners' labour are then nurtured, selected and handpicked by the respective hotels' culinary teams to be used in meal preparation. This guarantees a high standard of quality in the food, and also ensures that just enough fresh produce is picked so that none is wasted.
Gardening In Your Workplace
If you and your colleagues are interested in gardening, how about setting up your own community garden too?
For more information on how you can get started, visit the Community In Bloom website at http://www.nparks.gov.sg/cib
At Fairmont Singapore, plants in the community garden, namely lemongrass, basil and rosemary, are grown in rectangular earthen pots arranged in a radial pattern made to resemble a traditional English herb garden. Located at the 5th floor and overlooking the Marina Bay area, the garden provides a homely feel to hotel guests.
And over at InterContinental Singapore, guests have the freedom to stroll through the hotel's garden and enjoy the variety it has to offer. Its offerings include evergreen herbs like lemongrass and pandan, key ingredients present in many of the hotel's signature savoury dishes. Situated at near the pool area on the 3rd floor, the garden also features colourful and unconventional use of greenery, such as the passion fruit used in the creation of sheltered walkways.
Beyond their uses as food and as decoration, the hotels' community gardens also offer an educational element. Hotel guests can learn, through the gardens, the value of home-grown herbs in enhancing the flavour of culinary dishes. Fairmont Singapore conducts apprenticeship programmes especially for guests who are keen on horticulture. Guided by the hotel's executive sous chef, the guests learn about the herbs in the garden, and how they feature in a number of the hotel's culinary masterpieces.
Now that community gardening has taken root among their staff of Fairmont Singapore and InterContinental Singapore, plans are underway for the hotels to share their gardening expertise with other organisations keen to get involved.
These rooftop community gardens, with their fresh aroma of naturally grown herbs, certainly add a sense of wonder and discovery to an already luxurious hotel experience. Don't forget to check them out the next time you visit either of these hotels!
Herb-Inspired Eats And Drinks
Check out these delectable yet easy recipes, concocted by the chefs of Fairmont Singapore and InterContinental Singapore using the herbs in their community gardens!
Fairmont Singapore
Lemon Balm Lemonade

60ml fresh lemon juice
30ml simple syrup
10 lemon balm sprigs
30ml soda water

Muddle lemon balm with simple syrup, combine with lemon juice and soda water. Add ice and enjoy.

Chocolate Mint and Stevia Mojito

60ml fresh lime juice
30ml simple syrup
10 stevia leaves
10 chocolate mint leaves
30ml soda water

Muddle stevia, chocolate mint and simple syrup. Mix in lime juice and soda water. Add ice and enjoy.
InterContinental Singapore
New Zealand Stir Fried Beef Tenderloin flavor with Hot Vietnamese Basil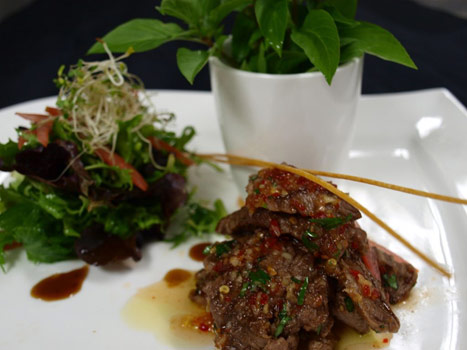 Ingredients (serves 4)
Garlic, peeled – 6 cloves
Shallots, peeled – 5 pcs
Cooking oil – 2 tbsp
Beef tenderloin cut in strip – 400 gram
Fish sauce – 2 tbsp
Palm sugar – 1 tbsp
Green and red chillies, sliced – 5
Vietnamese basil leaves – 1 cup
Place the garlic and shallot in a mortar, and pound with pestle to make a paste.
Place oil in the wok over medium beat, stir fry the garlic and shallot paste for 3 to 4 minutes or until fragrant.
Add the beef and stir fry for a few minutes. Add the fish sauce and palm sugar, and cook until the liquid has reduced by half.
Add the chilies and Vietnamese basil leaves
Serve hot with mixed green salad and fresh herbs
By Maxel Ng