A Belly Good Dance Class at Pasir Ris Park
Regular visitors to Pasir Ris Park are familiar with the sight of belly-dancers gathered near the Gallop Stable every Friday morning. Bedecked in colourful, tinkling coin belts and armed with their sexy moves, these confident, active ladies liven up the park with their unique and exotic exercise routine.
Raqs sharqi, or belly dance, is fast becoming the exercise of choice for many. You may have seen pop stars like Shakira incorporating this Oriental dance into their performances and music videos. But beyond its sensual appeal, belly dance is also a fabulous way to keep fit. As a non-impact and non-weight bearing exercise, it is suitable for all ages. It has even been said to prevent osteoporosis!
When I first took part in this belly dancing session, I was pleasantly surprised at the group's energy and warmth. Frankly, I had been a little intimidated at the idea of boogieing down in the outdoors. But it was easy to forget my inhibitions. The atmosphere was perfect: I was surrounded by nature, and by a huge circle of women who shared a common passion for dance and for health.
The group's leader, who goes by the moniker of Ms B, quickly put newcomers like myself at ease. Both vivacious and patient by nature, her instructions made the session easy to follow, even for first-timers. Throughout the session, she constantly encouraged us with her chirpy voice, dishing out dance tips or simply making us laugh with her witty remarks.
At this outdoor 'dance studio', there was no fancy equipment or elaborate setup. Our only accompaniment was a small audio system (comprising an iPod and portable speakers), pulsing with lively Arabic music. But this was more than enough to keep me shimmying and dancing for a full 90 minutes, in the good company of my 'classmates'. And, boy what a workout it was! Most important of all, it was great fun.
For a workout that will boost your confidence and provide great cardio exercise, check out this free belly dancing session at Pasir Ris Park. It will be an absolute delight – I promise you!
The belly dancing session takes place at Pasir Ris Park, every Friday morning from 7.45 am to 9 am, at the Courtyard near Gallop Stable. It is free for all to attend. For more details, contact Ms B at 90235983.
By Sharifah Shahirah Jasni
The writer is an NParks volunteer. If you are interested in volunteering, visit this page for more information on how you can help to make Singapore our garden.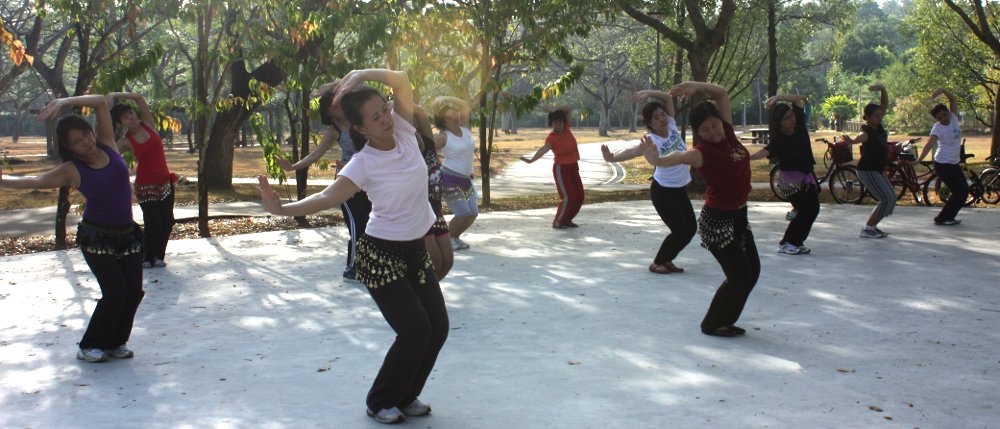 Striking a pose in the morning sunshine.

Shimmying and shaking, to the sounds of pulsating Arabian beats.