Earth Day – With A Touch Of Kindness
Earth Day, which falls on 22 April every year, is an occasion when we are reminded to appreciate the environment. On the 4th anniversary of Earth Day, Pasir Ris Park celebrated by showing a little kindness to its mangroves – as well as to some special friends of NParks.
Members of the Handicaps Welfare Association (HWA), guided by volunteers from NParks, spent the morning of Earth Day exploring the mangrove forest and Kitchen Garden of Pasir Ris Park. As the adopted charity of NParks' Kindness Sub-Committee, HWA's members enjoy several nature walks each year, and have previously visited the Southern Ridges and Labrador Park.
Pasir Ris Park, a disabled-friendly park, was a natural venue choice for this walk. Its mangrove boardwalk allows wheelchair-bound park users to move around with ease, and their experience of nature would be free from unnecessary concerns about steps and uneven footpaths.
The 17 HWA members who attended this nature walk enjoyed it immensely, especially the ones who were visiting the park for the first time. Mr Goh Kim Guan, who was one of the first to arrive, commented: "I've always wanted to come to Pasir Ris Park since I live nearby. And now I have the chance to do so!"
The walk's other participants helped to add a touch of glamour to the event. The newly crowned Miss Earth Singapore 2009/2010, Valerie Lim, took part in the nature walk with the pageant's runners-up.
Valerie said, "This is the most special Earth Day for me. Being in nature parks allows us to see a different side of urbanised Singapore." She commented also that greenery is just like a 'rainbow' which adds colour and vibrancy to our city.
Besides encouraging others to appreciate the park, NParks also took extra efforts to care for the greenery itself. A group of volunteers from among NParks' staff pitched in for a mangrove clean-up session in the afternoon. Armed with black garbage bags and knee-high boots, they ventured into the mangrove and collected nearly 30 large bags of rubbish, from an area about half the size of a soccer field!
Earth Day may be over for this year, but appreciation of our environment is an ongoing process. In fact, NParks' volunteers play a big role in caring for the environment – whether they are students, homemakers, or just anyone who's interested to lend a hand. This means you can also play a part in protecting and maintaining our precious flora and fauna. And psst, not just on Earth Day!
If you are interested in becoming an NParks volunteer, visit this page for more information on how you can help to make Singapore our garden.
By Chew Wen Jing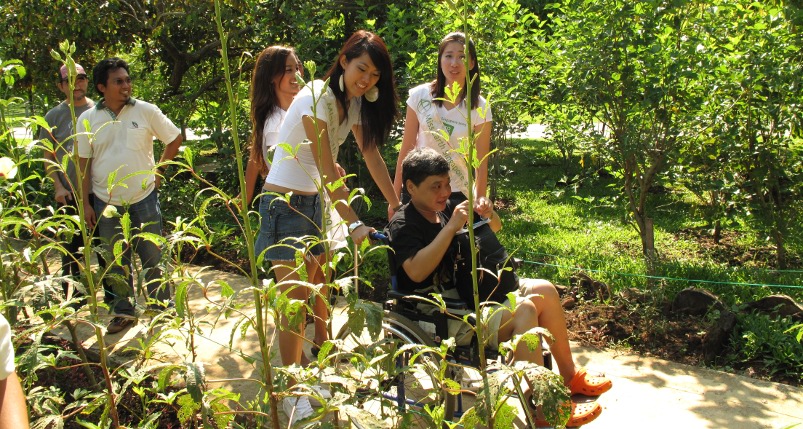 The winner and runner-ups of Miss Earth Singapore 2009/2010, exploring the Kitchen Garden with a new friend from the HWA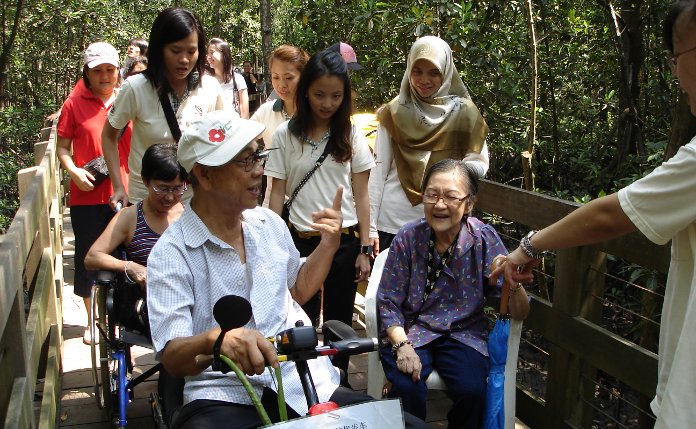 Madam Cheng from the HWA, who managed the entire walk on foot, was glad to take the occasional rest on a plastic chair which NParks volunteers helped her bring along.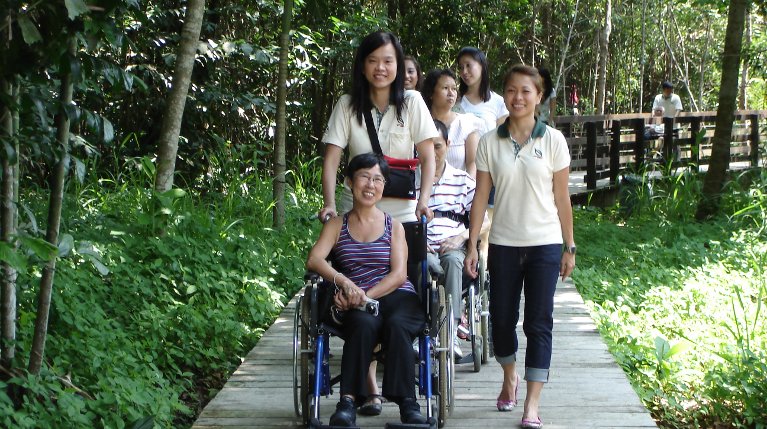 The mangrove boardwalk provided easy access for all participants, including those on wheelchairs and motorised scooters.
Volunteers from NParks picking up rubbish from the mangroves, while being extremely careful not to step on the delicate plants.