Backyard Biodiversity: The Wildlife Of Park Connectors
For 2010, the International Year of Biodiversity, My Green Space will feature different perspectives on local biodiversity. This article is part of a year-long series.
Besides providing tracks for cycling and jogging, our park connectors are also important habitats to an unexpected diversity of wildlife. If you take a moment to look around, you will find all types of biodiversity living practically in your backyard.
Forested areas
Some park connectors, such as Ulu Pandan and Simpang Kiri, are adjacent to lengths of lush secondary forest vegetation, home to numerous forest species.
The Common Flameback can be seen – and heard – while foraging for food in forested areas.
Birds make up a great number of these species. The Greater Racket-tailed Drongo, with its beautiful trailing tail 'racket' feathers and metallic call, has been likened to a bird of paradise. Striped Tit Babblers are small, lively birds found in gregarious groups – you can hear their characteristic 'chonk chonk chonk' territorial calls and the 'chik-chak' call used to communicate with each other.
Blue-tailed Bee-eaters perch on open branches and take flight after insect prey, displaying graceful aerial acrobatics. Laced Woodpeckers and Common Flamebacks forage for insects along the trunks of mature trees, their striking calls giving away their presence before you can sight these beautiful woodpeckers.
You may also be able to spot butterfly species such as the delicately patterned Commander, striking Horsfield's Baron and the oft-overlooked Common Five-Ring.
Waterbodies
Along the ubiquitous 'longkang' that runs parallel to many park connectors, you can see dragonflies glinting under the sun, patrolling the water's edge to seek out prey. The aggressive and striking green-and-black Variegated Green Skimmer Orthetrum sabina and brilliant red Common Scarlet Crocothemis servilia are common residents here. The delicate Blue Sprite Pseudagrion microcephalumhas also been spotted along the canals.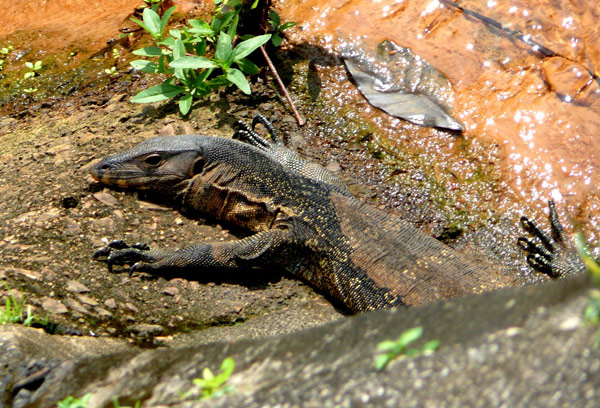 The Malayan Water Monitor can be commonly seen along the waterbodies that run parallel to the park connectors.
Water-associated birds are plentiful here too. Striated Herons can be seen alongside their more elegant relatives Grey Herons and Purple Herons, stalking the banks looking for fish. Collared and White-throated Kingfishers are much-loved canal residents, with their brilliant colours and laughing calls. Little Terns, normally associated with the sea, travel upstream to feed; you can witness their spectacular dives into the water along Sungei Kallang and Sungei Ulu Pandan.
The Common Sandpiper is a migratory bird that hails from North Asia and travels to warmer climes every winter, and can frequently be seen foraging in our 'longkangs'. Besides birds, Water Monitor Lizards are also a common sight as they bask along the canal banks.
Urban areas
Urban dwellers may be astonished to discover find many species of birds, besides mynas and crows, in their neighbourhoods.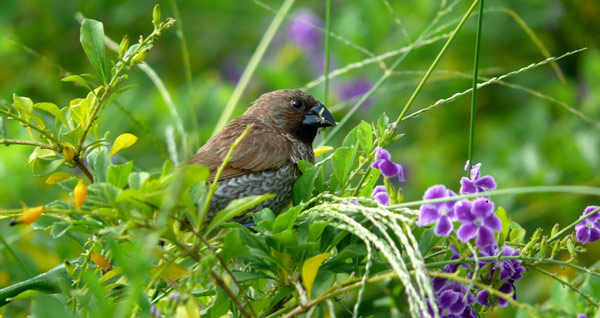 To spot the Scaly-breasted Munia, look no further than the tall, uncut grasses that grow along the park connectors.
Common Ioras and Black-naped Orioles sing melodiously from the tree canopies along urban park connectors, while sunbirds feed on nectar from the flowers. Pink-necked Green Pigeons and Yellow-vented Bulbuls can be heard burbling as they feed on fruits and figs.
Look down, and you may see Scaly-breasted Munias, which are attracted to grass seeds in uncut grasses along the park connectors. Look up to the skies, where the majestic Brahminy Kite and White-bellied Sea Eagle can be seen soaring high above.
The flowering plants along the urban park connectors also attract a bevy of butterflies. These include the Plain Tiger, Common Mime, Leopard Lacewing, Lime Butterfly, Striped Albatross and Painted Jezebel. When you spot humble caterpillars on plants along the park connectors, remember: it is they that undergo metamorphosis into these beautiful butterflies.
Reptiles such as the Oriental Whipsnake and Sun Skink can be seen soaking up the sun too.
All this biodiversity – and more – can be encountered just moments from your doorstep. By observing them quietly and providing them with undisturbed habitats, we can ensure that they continue to visit and share our green spaces.
Visit http://www.nparks.gov.sg/pcn for more information on the Park Connector Network. You can also read up about our local fauna at NParks FaunaWeb.
By Serene Chng
Photographs by Sek Jun-Yan, Toh Yuet Hsin, Mirza Rifqi Ismail and Serene Chng.