Guiding The Next Generation Of Nature Lovers
A Day With: Ms Ling Chai Joo, Nature Guide at Zhonghua Primary School
Experiencing nature doesn't have to involve trekking into dense forests in khakis and boots. In fact, Ms Ling Chai Joo, a parent volunteer at Zhonghua Primary School, firmly believes nature can be enjoyed in the urban environment.
On certain schooldays, Chai Joo leads 15 to 20 boisterous children around the school's two gardens. Her keen awareness of nature makes these sessions interesting for the young participants. Gesturing to a tangle of leaves, she reveals a well-hidden bottle gourd. And when the children exclaim excitedly – "Look! A water spider!" – she patiently tells them that it is called a pond skater.
Chai Joo's interest in guiding was sparked by Zhonghua Primary School's passion for all things green. The school, a Gold award recipient at the Community in Bloom Awards 2010, has initiated many nature projects with the support of its principal, Mr Bucktha Seelan. Its nature trail programme, appropriately titled Nature@Our Doorstep, began in 2008 when Chai Joo was already a parent volunteer. She started nature guiding then, and has never looked back since.
The texture of the leaves, the scent of nature's fragrance and the transient moment captured in a flowering bud --- all these take the children far beyond what textbooks can achieve.
"It is not enough to just read from the textbooks," she says. "The children should observe the nature that is around them, in their own time."
Chai Joo finds it heartening that the students get all fired up after their first-hand encounter with the plants and creatures in the school gardens. Their enthusiasm extends even beyond classroom hours. At the first nature sharing session held after the guided walk, many students spent half of their recess time listening to Chai Joo's introduction of the dragonfly nymph. They were rapt with attention as she described its characteristics, habitat and life cycle, and jostled for a better view of the nymphs that she had brought along in a Petri dish.
Through the enthusiasm of Chai Joo and the other parents and teachers, many of the school's students have cultivated a growing appreciation of the biodiversity around them. Who knows – they might just grow up to be the next generation of nature guides and conservationists!
By Chen Jinwen
Photos by Chen Jinwen, Joyce Lim and Zurairi Samsuddin
Creating A Dragonfly Habitat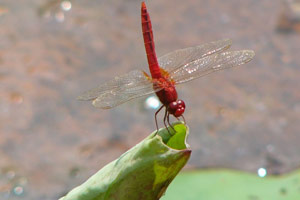 Crocothemis servilia
There are many ways of attracting biodiversity to your home, school or workplace. For instance, you can transform an existing pond or water feature into a thriving dragonfly habitat. NParks' dragonfly expert, Robin Ngiam, shares some tips on how to attract dragonflies:
Ensure that water is unpolluted. Pollutants like pesticides, rubbish and industrial run-offs are harmful to all pond life.
Plant a variety of water plants in the pond. Include submerged, floating and tall emergent water plants. Adult dragonflies use water plants as resting spots while their larvae live among the plants in the water.
Leave an area of open water in the pond center to allow dragonflies space to fly.
Put in a layer of leaf litter at the pond bottom for dragonfly larvae. Place dead branches or logs at the water's edge to create additional resting space for dragonflies. Branches sticking out of the water allow dragonflies larvae to climb out of the water and transform into adults.
Choose a sunny spot when creating a new pond, as dragonflies love bright sunshine.
Interested in dragonflies? Visit Toa Payoh Town Park, and get up close with these beautiful winged creatures! You can find out more in this article .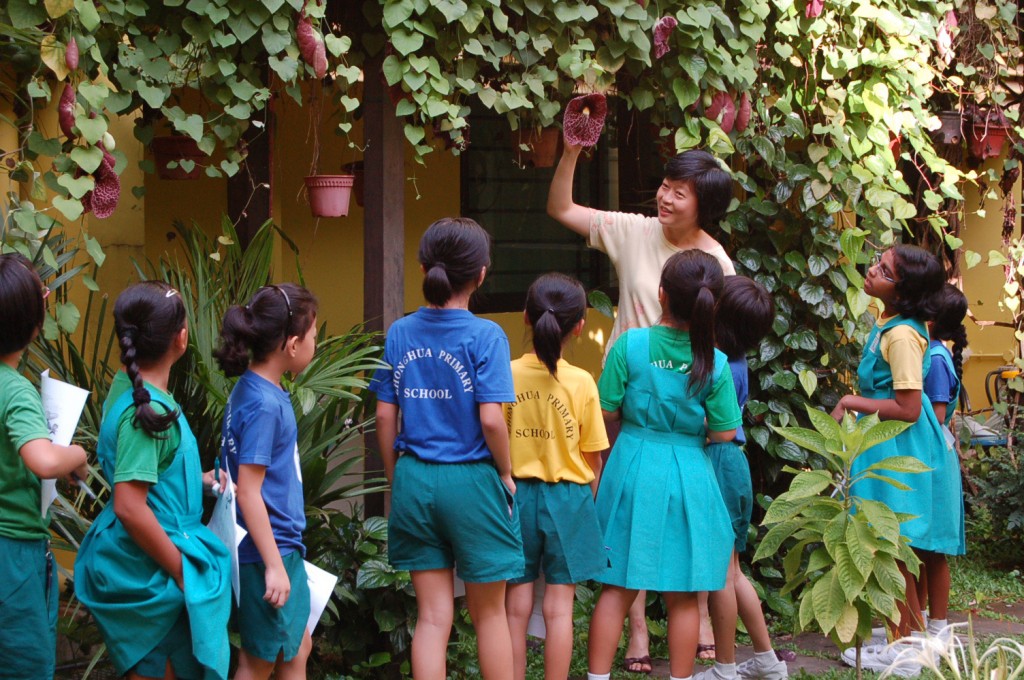 Through the guided walks of the school gardens, Chai Joo instills in Zhonghua Primary's students a deeper appreciation of the flora and fauna all around them.

The school's gardens help to complement classroom learning. Here, a teacher conducts a science lesson amid the planter boxes.

A view from Zhonghua Primary's lushly-planted Eco Garden.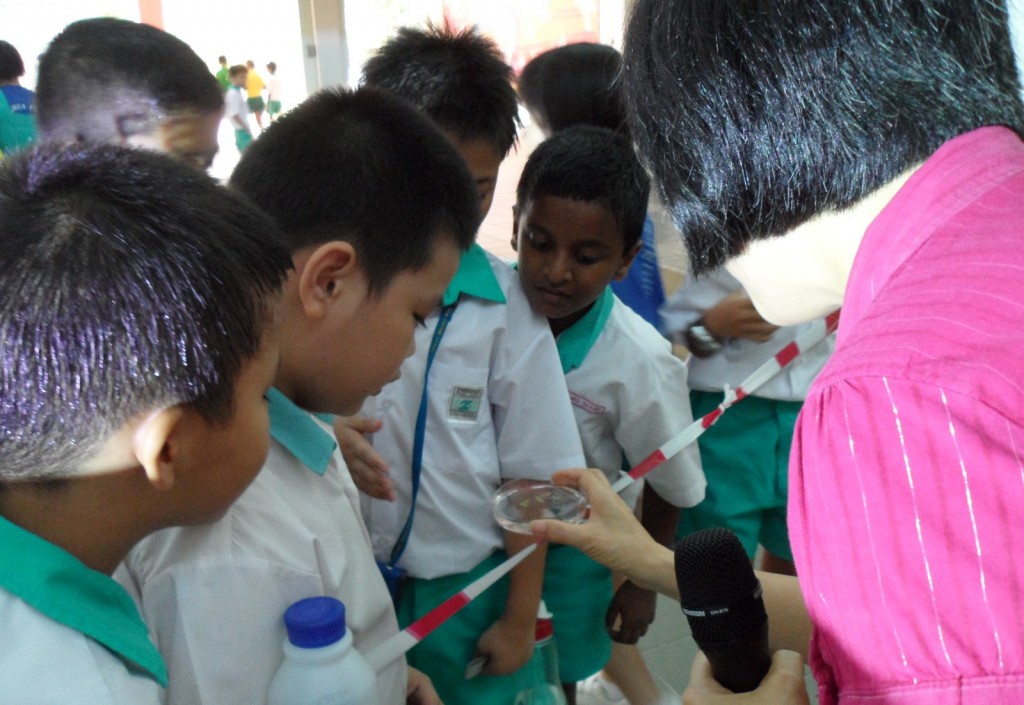 These students put aside all squeamishness about 'creepy crawlies' to satisfy their curiosity about the dragonfly nymphs in Chai Joo's Petri dish.