A Feast Fit for Kings, in the Heart of the City
The next time hunger pangs strike while you're shopping in town, skip the crowded cafes in the malls and head for Dhoby Ghaut Green instead.
This one-year-old park, located just above the Dhoby Ghaut MRT station, is a welcome oasis in the busy commercial area. Weary shoppers find this a perfect spot to rest their tired feet in the quietness of the park. We were there for a different reason - to dine at the popular Sakura International Buffet Restaurant, situated in the middle of Dhoby Ghaut Green.
The restaurant's indoor seating was full even before 7pm, so we were shown to an outdoor table with a sweeping view of the park. Our table's proximity to the buffet spread was unbeatable - a door just two steps away brought us face to face with the dessert counter. How's that for a sweet start to the meal?
We resisted the temptation to begin with dessert, filling our plates instead from the daily selection of seafood on ice - mussels, prawns and scallops. At the teppanyaki section, where a friendly chef whipped up grilled saba, salmon, shishamo, lamb chops, beef ribeye and chicken sausages. The lamb was tender and juicy, unlike the tough, gamey versions often found in other restaurants. In between, we chomped on sushi and maki, as well as salads that included unusual ingredients such as lotus root and lady's fingers.
Already half-full by then, we moved on to the extensive range of cooked food, featuring sea cucumber with duck, teriyaki chicken skewers, mutton rendang and ebi tempura, amongst others. Also on the yet-to-eat list were kueh pie tee, shark's fin soup with crabmeat, and pizzas. We sampled these in small servings, and I managed to try a little crayfish laksa, which was part of the restaurant's seafood promotion. It was a worthy version of one of Singapore's favourite dishes. The gravy was rich and flavourful, and the noodles were topped with half a crayfish, bean sprouts, fishcake and cockles.
It was a good thing we still had room for dessert, because the durian pengat was absolutely delicious. Thick, creamy and chock-full of durian pulp, the smooth, mousse-like creation was every durian lover's dream. I took a second helping and had a difficult time resisting a third. Tarts, cakes and fruits were also on offer, along with a range of tasty, bite-sized fruit jellies, and 12 ice cream flavours.
Two hours later, we wobbled out of the restaurant, distinctly fuller than when we had first arrived. Night had fallen, and the lights of the buildings around the park were twinkling above us. The evening had been a satisfying one - good food (plenty of it!) at a reasonable price, in a beautiful garden setting. I couldn't have asked for more.
Sakura International Buffet Restaurant at Dhoby Ghaut Green is halal-certified, with a daily rotating menu.
Prices start from $23+ (adults), $12+ (children) and $19.90 (senior citizens). For more information, call 63348197 or visit www.sukigroup.com.sg/suki/sakura.htm
By Melanie Wee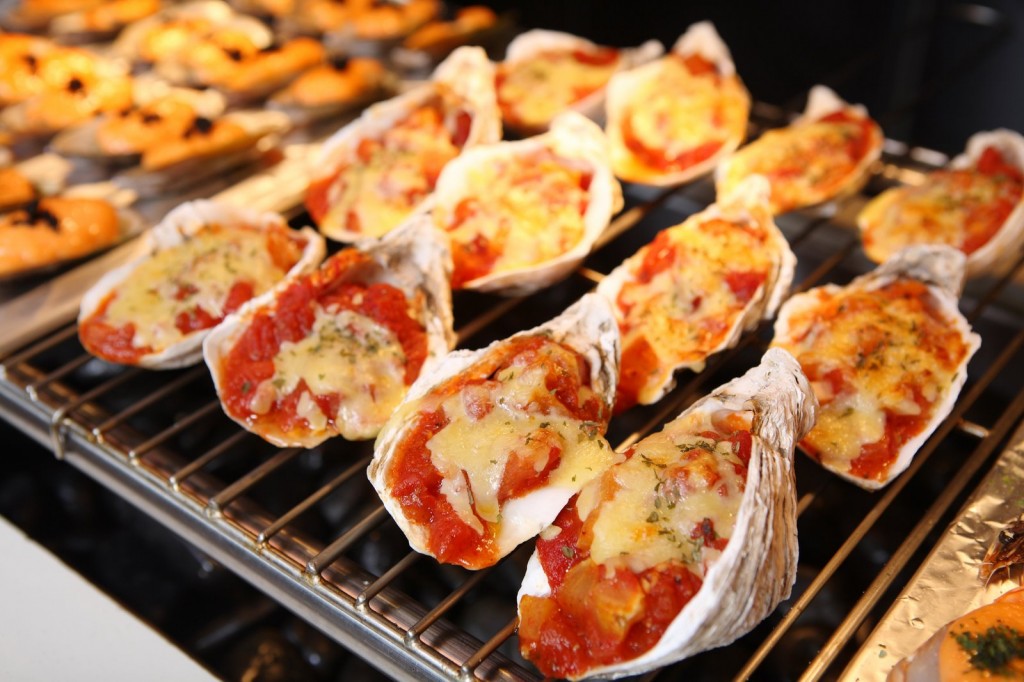 Baked oysters topped with cheese and tomato sauce – just one of the many tempting cooked dishes on the buffet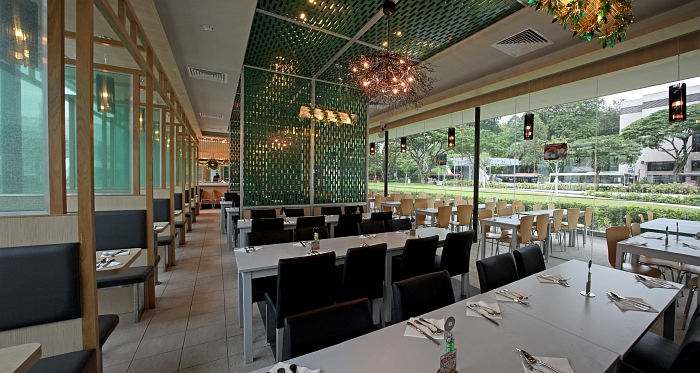 Located in the middle of scenic Dhoby Ghaut Green, Sakura is the perfect place to unwind and tuck into a feast with family and friends.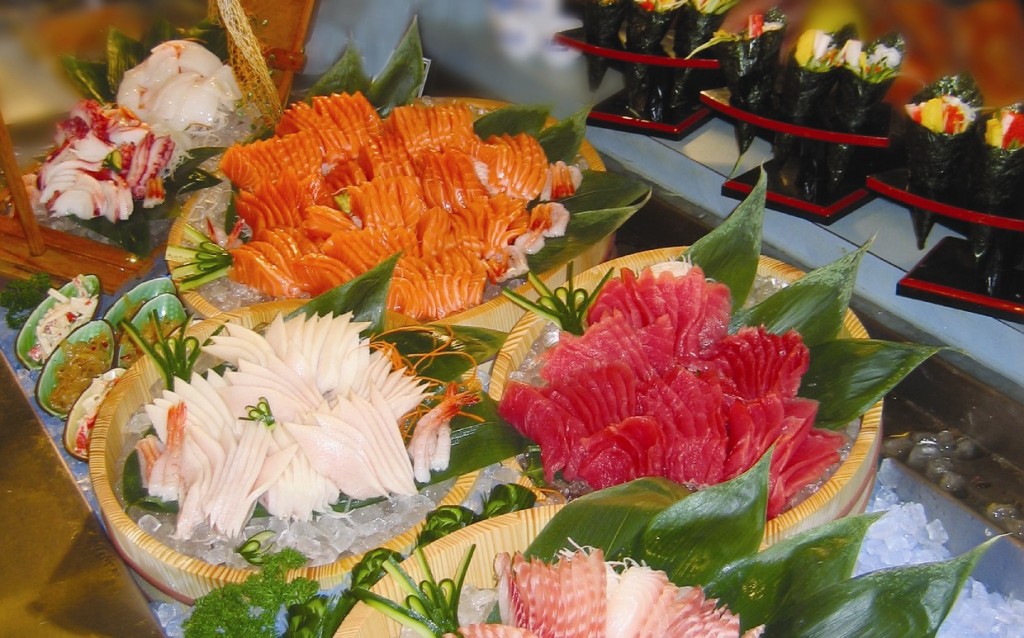 Japanese food lovers will enjoy the variety of fresh sashimi, sushi and maki.

Seafood and satay skewers await diners at the teppanyaki station.