Zooming in on Safety with Skateline
In a particularly quiet corner of Bishan Park, you can often observe groups of adults on inline skates, taking small, deliberate movements within an enclosed rink. Some seem to be trying hard not to flail their outstretched arms while keeping their balance. Others appear to be in deep concentration, controlling their less-than-steady gait.
This controlled environment, a stark contrast to the sight of other inline skaters whizzing freely through the park, is where beginner inline skaters receive their first lesson on wheels. Without any prior experience on inline skates, they are starting from scratch in learning how to balance, and at the same time, learning how to fall 'correctly' – which most of them certainly did, shrieking in panic and glee.
The lessons are organised by Skateline, an inline skate retailer which conducts such sessions for skaters of all proficiency levels. New skaters of all ages can pick up basic techniques on wheels, within this enclosed skating rink in Bishan Park. Here, beginner skaters can practice their budding skills safely under the guidance of trained instructors. This builds their confidence more quickly than if they were let loose in the park at large, where they could be hazards to themselves and other park users.
Skateline's lessons are unique in that beginners are taught safe skating procedures even before they learn how to move on skates. Much like an infant learning to take its first steps, a novice inline skater will experience how to stand, fall, balance and stop in inline skates.
"Our main concern has always been about safety," says Edmund, marketing director for Skateline, "We need to ensure that anyone who is interested in picking up skating is equipped with the necessary safety knowledge in order to avoid getting injured".
Skateline's focus on safe skating goes beyond lessons, and extends to promoting safe skating to the wider community through various initiatives and programs. One of these is the Skate Assist Volunteers (SAV) program, a volunteer group sponsored by Skateline which spreads the message of safe, responsible park usage while skating or cycling. Members of SAV actively reach out to other inline skaters at East Coast Park, where Skateline has another store. Their role is to educate them about the risks they pose when they fail to follow basic safety rules.
This active patrolling in the parks does not mean that the volunteers come across as hardened enforcers of the law. In fact, participation in the SAV program is often a lively affair – volunteers get to mingle with other skaters, making friends and discussing skating techniques. This way, they can reach out to their peers in the growing skating community, with opportunities for expanding their social circles along the way. Taking up inline skating is definitely not without the occasional tumble and uncoordinated body movements. But at Skateline, your embarrassing moments will be easily forgotten amid the good company of trainers and fellow beginner skaters. And as an added bonus, you can be assured of learning how to skate – and fall – safely!
Skateline has outlets in Bishan Park and East Coast Park, as well as in shopping centres.
For contact details and more information on Skateline's classes and programmes, visit www.skateline.com.sg
Business As Usual!

You might have noticed that parts of Bishan Park are currently boarded up with hoardings. That's because the park is being redeveloped to serve you better!

In the meantime, all the retail outlets in the park – including Skateline – remain open for business as usual. Do check them out the next time you visit Bishan Park.

Aramsa – The Garden Spa
http://www.aramsaspas.com
Includes The Green Room Café, Canopy Garden Dining & Bar, and PowerMoves

Acacia Restaurant
http://restaurantacacia.com
By Adam Rahman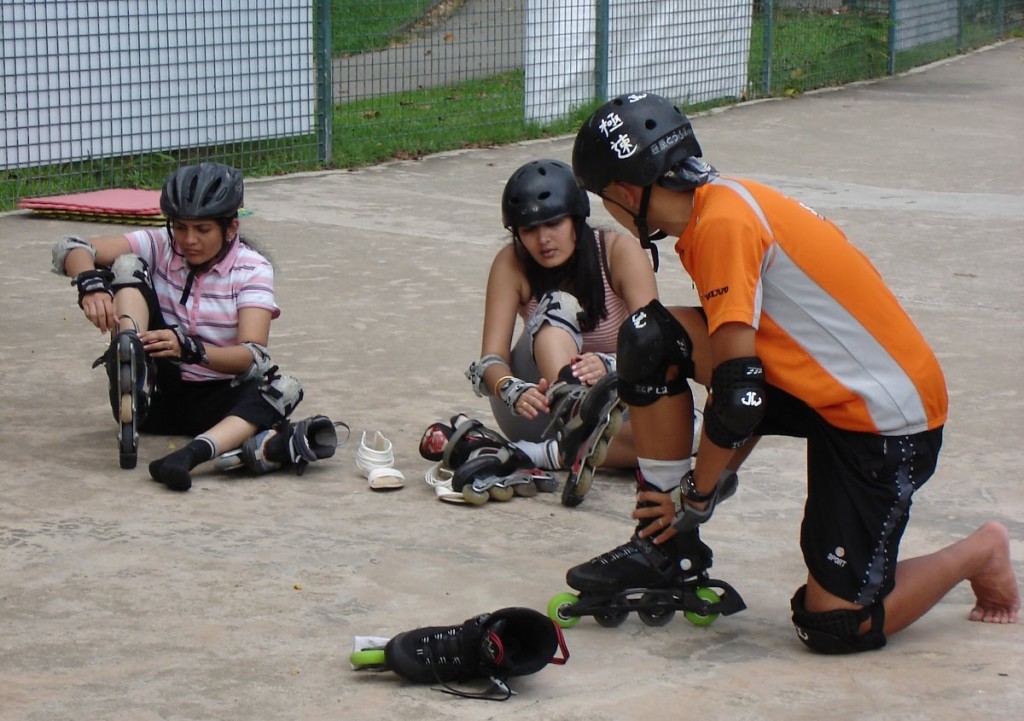 A Skateline instructor helps new skaters with the correct way of strapping on their inline skates. This ensures that their ankles stay secure while they are learning to skate.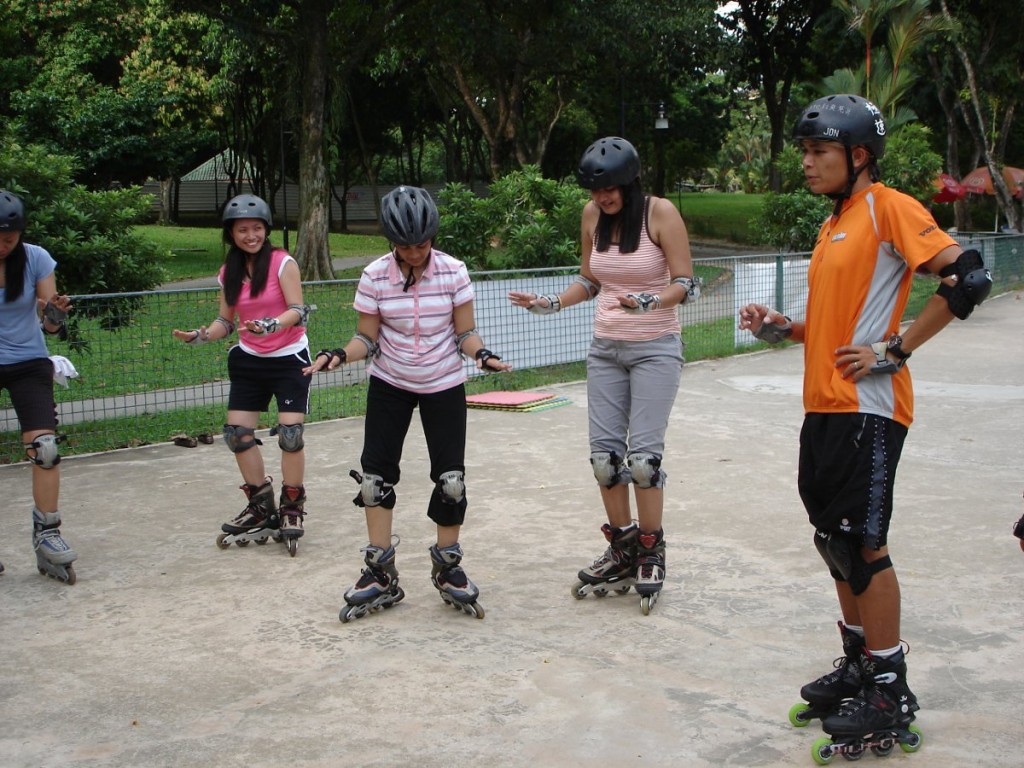 Balancing on skates is no mean feat for anyone who hasn't tried it before – but can be much easier when accompanied by others who're equally inexperienced.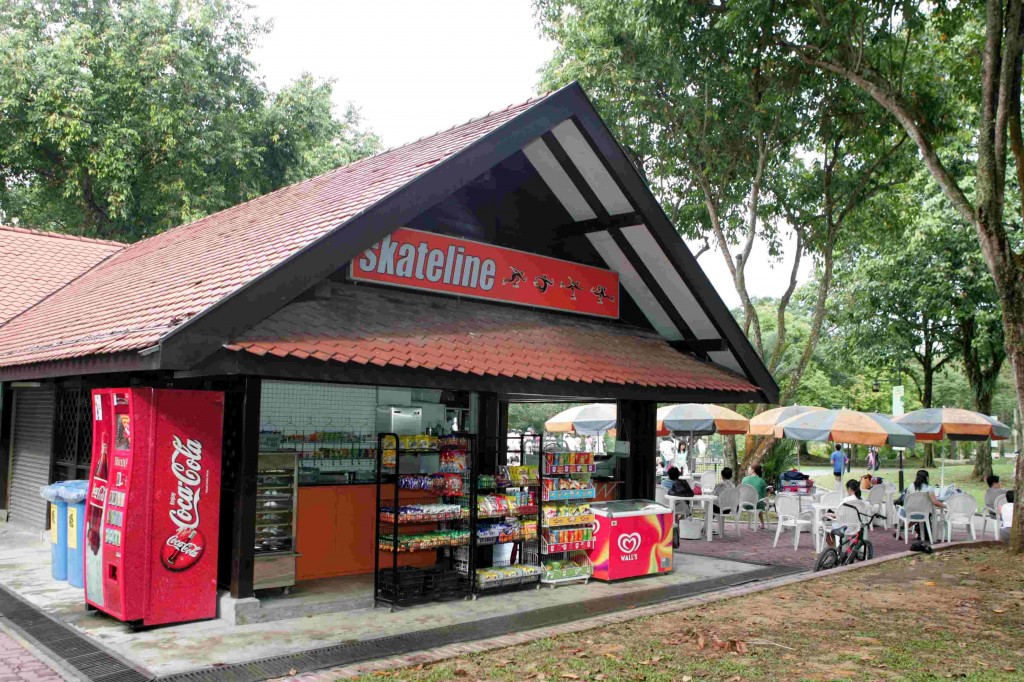 At Skateline's outlet in Bishan Park, you can also stop for a snack and a drink before continuing on your way.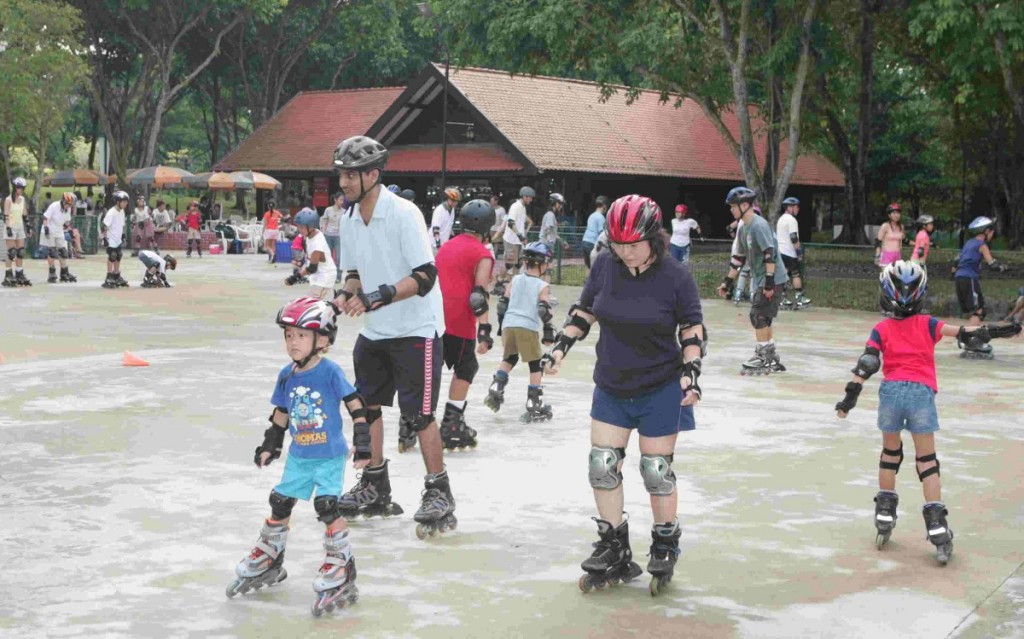 You're never too young or old to pick up a new sport. Beginners of all ages can practice their inline skating skills within the safe confines of Skateline's rink.