A Fruiting Garden at Serangoon North
The garden at the Al-Istiqamah Mosque at Serangoon North Road is as fruitful as it is beautiful. Visitors are greeted by colourful flowering plants andkampong fruit trees in a well-planned, harmonious landscape design. To think that this lush garden was but a vacant grass plot just five years ago!
This award-winning Community in Bloom garden boasts a unique design feature that caters to the mosque's needs. Most of the landscape comprises potted plants, which can be moved around to create more free space during the festive Hari Raya periods, when congregation numbers can be overwhelming.
The concept of moveable landscape elements is as practical as it is unique. It helps the gardeners to easily isolate plants that are infected by diseases, and to replace plants that are not thriving. The versatility of the garden's design also helps to encourage the gardeners' creativity in landscaping.
Sharif Bin Ahmad Yusuf (also known as Abang Sharif), together with his wife, leads a team of volunteer gardeners in weekly gardening activities at the mosque. Every weekend, they work with volunteers comprising the mosque's staff and residents of the nearby housing estates to manually weed the ground, prune the shrubs and trees, and propagate new plants. Their fruit trees receive special care and attention. The gardeners personally wrap each individual fruit with recycled cloth or plastic film, and regularly check them for pests. These trees also provide great educational opportunities for the children at the mosque's kindergarten and nursery.
At the garden, they learn about the shapes and tastes of common kampong fruits such as guava, kedong-dong fruits and chiku. And when the fruits are ripe, the entire community comes together for harvesting day. From those who worked on the garden, to others who contributed donations, and even visitors – all are welcome to enjoy the garden's luscious fruits.
Together with the support of the mosque's management, the seeds of interest sown by the community gardeners have thus borne fruit by bringing the wider community together.
By Muhammad Haidir Bin Aman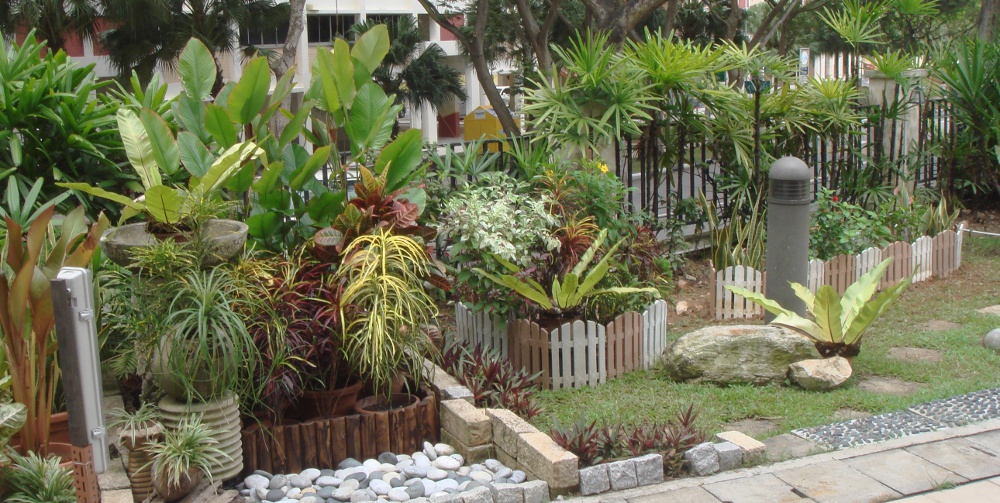 The mosque's garden is uniquely laid out with potted plants, pebbles and rocks that can be moved, which helps to create more free space during festive occasions.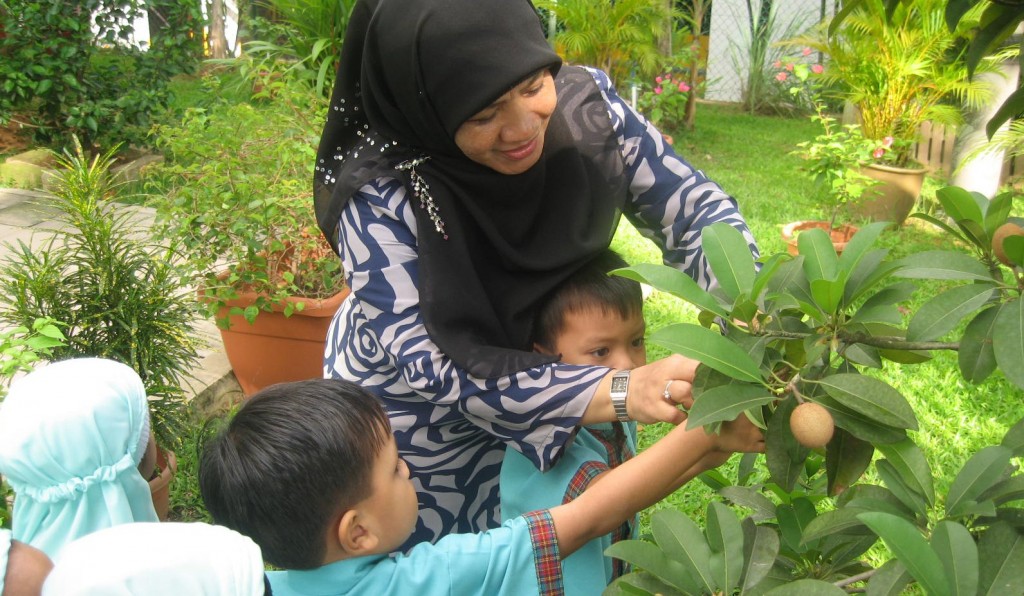 Students at the mosque's nursery get to go hands-on with the kampong fruits grown in the garden.

Come harvesting day, all are welcome to enjoy the fruits of the community gardeners' labour.