A Garden Proposal – She Said Yes!
My girlfriend Jamie and I love all things rustic. So the time came to propose to her after six years of dating, I knew I didn't want to go down the tried-and-tested route of a restaurant proposal. And since she had always wanted to have a picnic at the Singapore Botanic Gardens, I thought the proposal would be the best time to fulfill this long overdue dream.
Both Jamie and I are journalists for a local newspaper. With the help of a friend, I devised a plan to trick her to the Gardens on the pretext of covering a story. I created a fake press event and release, and collaborated with Jamie's editor to send her on this assignment.
I set the scene with homemade sandwiches, muffins, salad and juice, and even sourced for items to create a rustic look. I also made several trips to the Gardens to pick the perfect spot, and finally decided on having the picnic under the iconic Tembusu tree. It had a long charming branch that served as a seat, and a lush canopy that would provide us adequate shade.
The big day finally arrived on March 14. I turned up early to set up the picnic and to wait for Jamie's arrival. A friend from NParks met her at the Visitor's Centre, pretending to show her to the press event. As it was drizzling, a buggy was arranged to take them to the spot where I was hiding.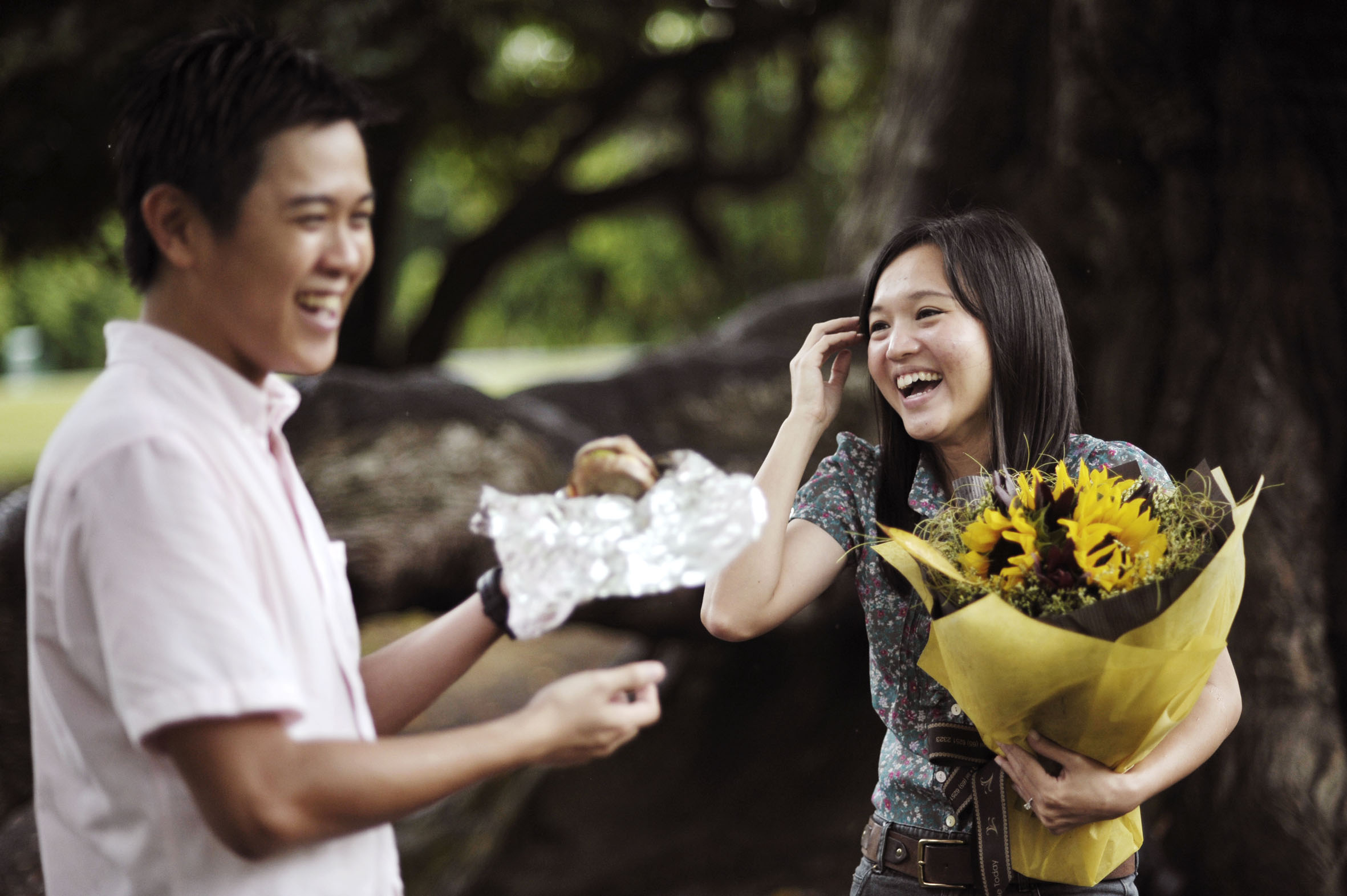 Surprise! Jamie arrived expecting to attend a media event, and was stunned to find her boyfriend lying in wait with flowers, a picnic, and more.
When Jamie arrived, she was puzzled by what she saw. Laid out under the Tembusu tree was a blue checked mat, a picnic basket, some fluffy pillows, and a bouquet of flowers. Before she could figure out what was happening, I popped out from behind her. I whipped out the ring, went down on one knee and asked the ultimate question, "Will you marry me?" Jamie was overwhelmed by the surprise, but thankfully, she was still in the right frame of mind to say yes!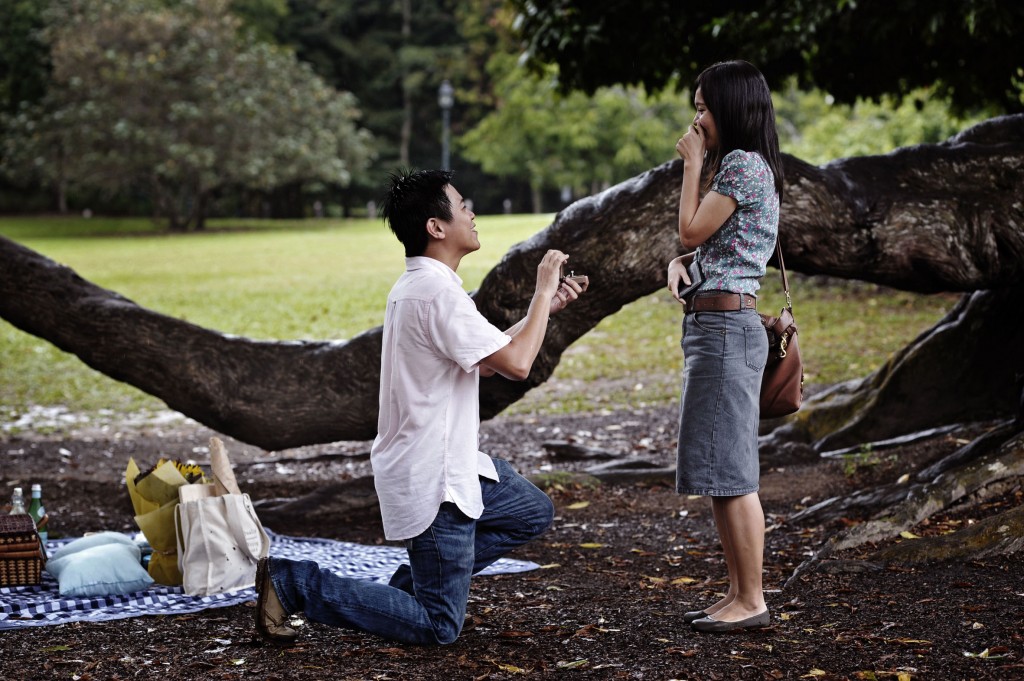 We were so dizzy from our engagement that we didn't quite mind the rain that was falling on us.
We ate, laughed, and just enjoyed the moment of being engaged. I had brought a colleague along, who helped us to take photos by the tree for keepsakes. Later on, we found out that the Tembusu tree was very special for its resilience. We hope that our marriage years will be, like the iconic Tembusu tree, strong and flourishing always.

Desmond and Jamie's hope is that their marriage will flourish like this Tembusu tree – which is said to be over 150 years old.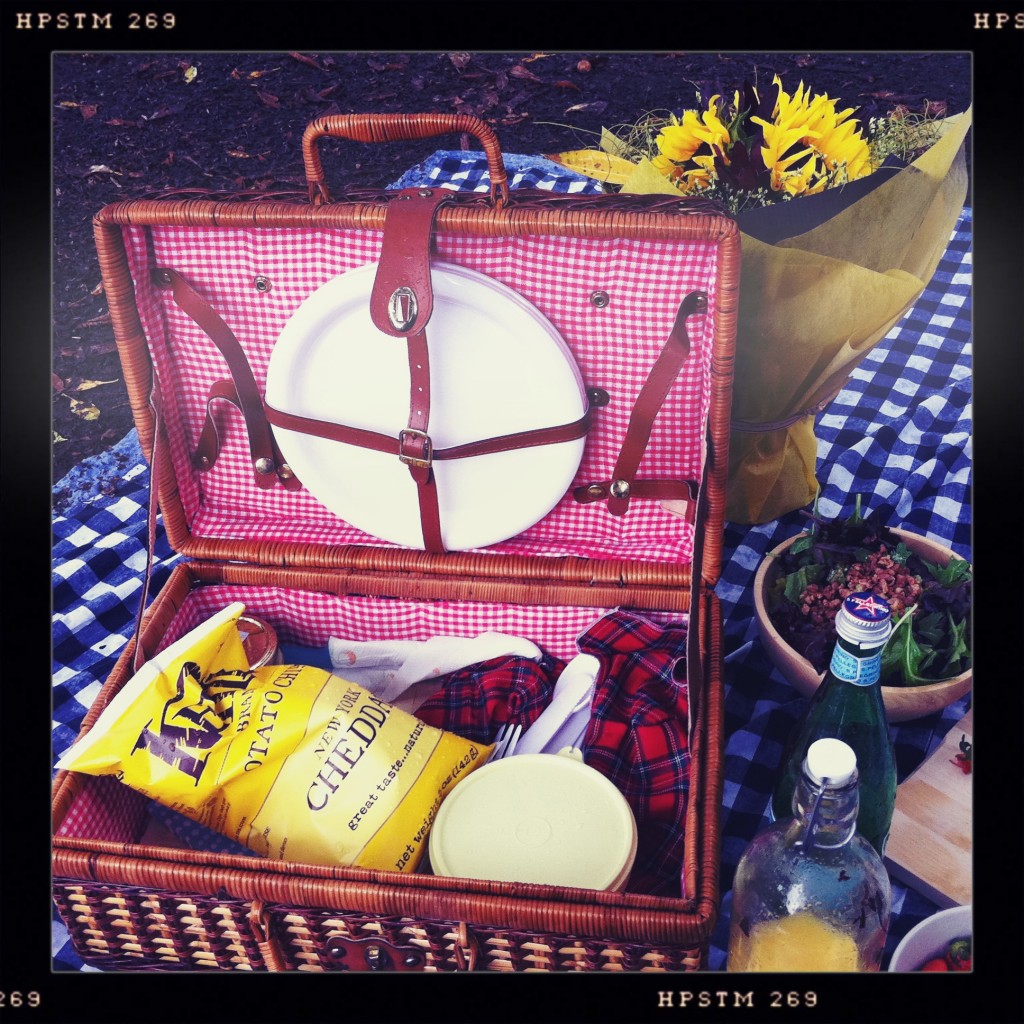 The proposal picnic was worth of the Persian poet Omar Khayyam, who famously described a lover's meeting in a garden: "A loaf of bread, a jug of wine, and thou."
By Desmond Lim