Rui En, The Reel-Life Arborist
You've watched this star's on-screen adventures in a variety of exciting drama serials. Most recently, she played a hard-boiled police officer inUnriddle, and a trendy girl-about-town in A Tale of 2 Cities. But have you ever seen Rui En climb a tree? In her latest drama,The In-Laws, this princess of Caldecott Hill plays an NParks arborist. Her character, Jiazhen, is a girl-next-door whose passion for nature provides respite from the drama she faces at home.
Calling All Rui En Fans!
Here's your chance to win an exclusive behind-the-scenes souvenir from The In-Laws!
We have two 'wedding invitations' used as filming props, for the wedding of Jiazhen and Jianhai. Just email us at nparks_mailbox@nparks.gov.sg with the subject "My Green Space - Rui En", and tell us in 150 words or less: What do you think of Rui En's role as an arborist?
The two most creative answers will receive one 'wedding invitation' each, along with other NParks souvenirs. Send in your entries by 30 May!
As part of her preparations for her role, Rui En watched a documentary which featured NParks' arborists. "It was quite an eye-opener, because I never knew that there were people being paid to actually take care of the trees on a daily basis," she said. "I always took it for granted that our trees and gardens just took care of themselves!"
Rui En's tree climbing scenes took place under the guidance and watchful eye of NParks' real-life tree climbers. Although it was an entirely new experience, she enjoyed it: "It was easier than I thought it would be, and it was actually quite fun. I'm not scared of heights, so it was exciting."
Rui En's 'body double', Ow Siew Ngim, is a certified arborist and experienced tree climber. She was impressed by Rui En's willingness to climb a tree for the shoot, even though the scene could also have been staged with the use of a ladder. "I thought she was quite adventurous," commented Siew Ngim. "She's also really cool in person – just like on TV."
Siew Ngim also shared that the down-to-earth actress had no qualms about sharing the sweaty climbing equipment. Because she plays an environmentally-conscious character, Rui En incorporated some of her own eco-friendly habits into the drama. For instance, 'Jiazhen' carries the same recycled tote bag in every single episode.
"The wardrobe [department] prepared a few bags for me, but I thought it might not be that realistic if Jiazhen kept changing bags. My own recyclable bag was the only thing I found suitable, and it's probably going to have a hole in it very soon because of all the use," she quipped. Rui En's co-star and on-screen love interest, Pierre Png, also filmed some scenes at the Singapore Botanic Gardens, where the arborists' offices are located.
He enjoyed the location shoot's unique setting: "The lush, green open space gave me a sense of freedom and peacefulness. Great for anyone who wants to clear their mind, anytime!" In particular, the '$5 Tembusu tree' evoked fond childhood memories for both Pierre and Rui En.
So while you're catchingThe In-Laws, keep your eyes peeled for the exciting scenes of Rui En tackling tree climbing. And if you're inspired by her to do the same, why not check out a recreational tree climbing course – or even consider a career with NParks! The In-Laws airs on Mediacorp Channel 8 from 12 April, weekdays at 9 pm.

Behind the scenes: Rui En and her on-screen 'colleagues' discuss lunch at their office in the Singapore Botanic Gardens.

Rui En had no qualms about sharing the climbing equipment belonging to her 'body double', Ow Siew Ngim (on left).

Behind the scenes: Chan Chung Leong, a certified arborist and tree climber, coaches Rui En on the finer points of handling her tree climbing equipment.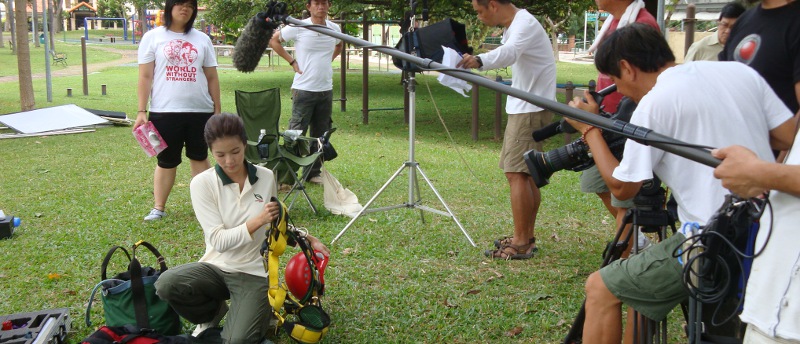 Behind the scenes: On location with Rui En and the production crew.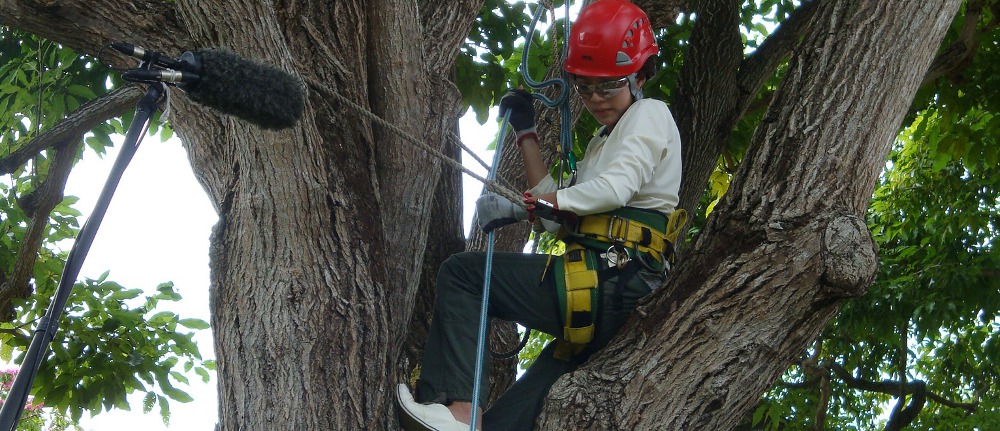 Behind the scenes: High up in the branches of a tree, Rui En looks every bit like a bona-fide arborist.
By Germaine Ong
Additional reporting by Jezialle Wang
Photos by Fauzana Syazwani & Jezialle Wang