Aiding Conservation With A Remote-Controlled Helicopter
Many of us are familiar with the rate of change in urban Singapore, where the cityscape evolves regularly. The natural landscape, too, can change significantly over short periods. And it is the job of conservationists to keep up with these changes.
Although satellite imaging is popularly used for monitoring habitat changes, it can be too expensive for use in short- to medium-term monitoring of specific sites like Chek Jawa and Pulau Semakau, over periods of less than three years. In response to this problem, NParks' National Biodiversity Centre and Singapore Polytechnic's Centre of Application in Environmental Technology developed an innovative solution – using a humble remote-controlled helicopter to carry out surveys.
Using the remote-controlled helicopter, a low altitude aerial survey system was adapted from a similar system used in the military to carry out surveillance. To capture the aerial images, the helicopter is mounted with a consumer grade DSLR camera with a calibrated lens. The images captured are then stitched together to obtain an aerial map of the area. This data can be then used to provide high-resolution real-time updates of the area.
The data collected through aerial photographs is integrated to provide a broad survey of the habitat under surveillance. This innovative method was developed after a year of research, development and verification of collected data. Not only was it cheaper to develop than a satellite monitoring system, it is also more cost effective in the long run for conducting regular updates.
Why are regular surveys important? When a particular area is experiencing impacts, such as sediment movement along coastal areas, sudden changes in weather patterns or effects of development activities, surveys help to identify the possible causes and monitor changes.The data collected also provides decision makers with information on the status of these areas, and guides their approach in issues relating to biodiversity and the environment.
The remote-controlled helicopter system can be used to monitor large biologically important coastal habitats, and coastal and marine areas affected by shipping or coastal development. Singapore's natural habitats, such as mangroves and mudflats, are generally narrow strips. In these habitats, this system has an advantage over satellite imaging: it can capture images from a height of about 50m, which are of a high enough resolution for us to use in making accurate measurements. Also, the images taken will not be affected by cloud cover or reflections by the sun.
Compared to conventional ground surveys, where up to 10 people may be needed to walk through the habitat to ascertain the type of habitat present and to assess the condition of the area , this aerial system has a much lower manpower requirement. It can be quickly and easily deployed by just 2-3 people, whenever required according to the weather conditions and tide levels. It can also conduct effective surveys at sites where access is limited. For instance, habitats like the soft mudflats off Lim Chu Kang are difficult for surveyors to manoeuver through, while the forest cover in other areas may be too dense for easy access.The following photos show how the aerial system was used in the survey of the Mandai site where multiple trees fell in February 2011. From along the roadside, the trees still looked healthy. However, once the aerial system flew past the band of healthy trees, the amount of storm damage could be clearly seen.
When viewed from the road, the vegetation at the Mandai site looks lush and undisturbed, with no sign of the trees that fell.
The aerial system was deployed when we found that the Mandai site was difficult to survey on foot due to the dense vegetation.
As this innovation is still new, we hope to find more applications for its use as we go along. It is our hope that this aerial system will contribute greatly to our plans for conserving biodiversity in Singapore's ever-changing natural landscape.
By Rachel Lim & Collin Tong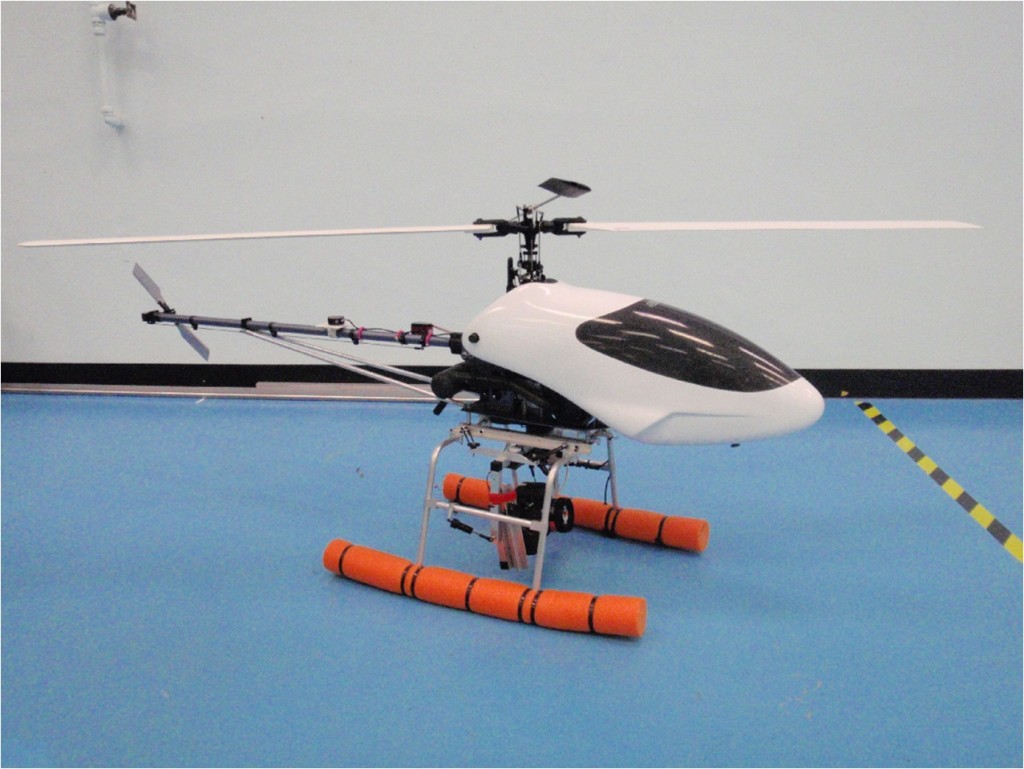 The helicopter effectively captured aerial views of the tree fall site.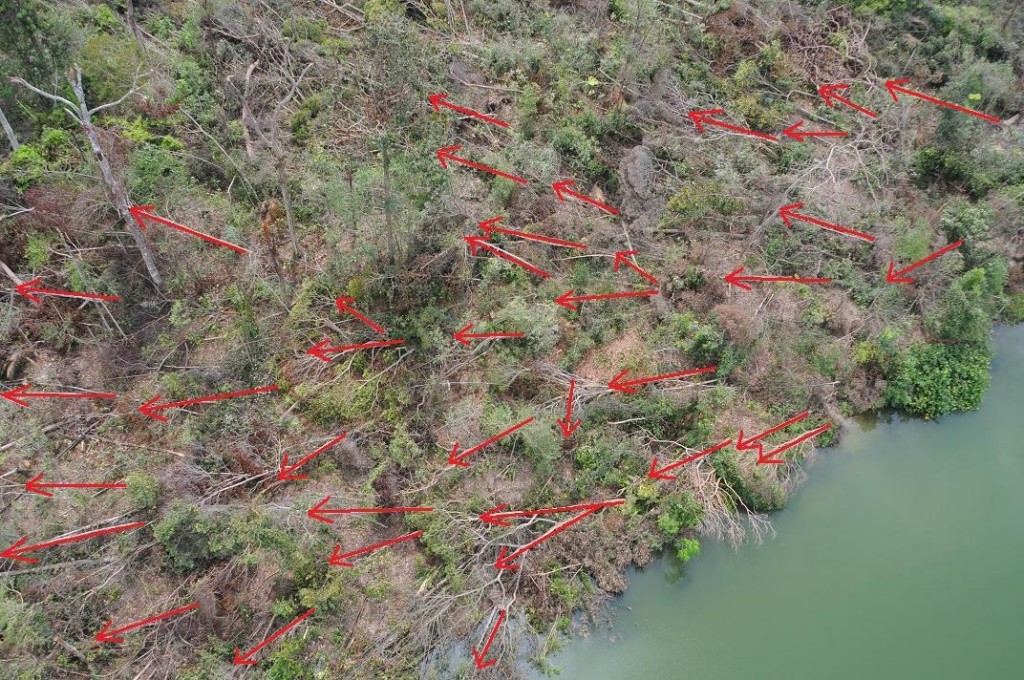 From the aerial photo, we were even able to determine the direction of tree fall.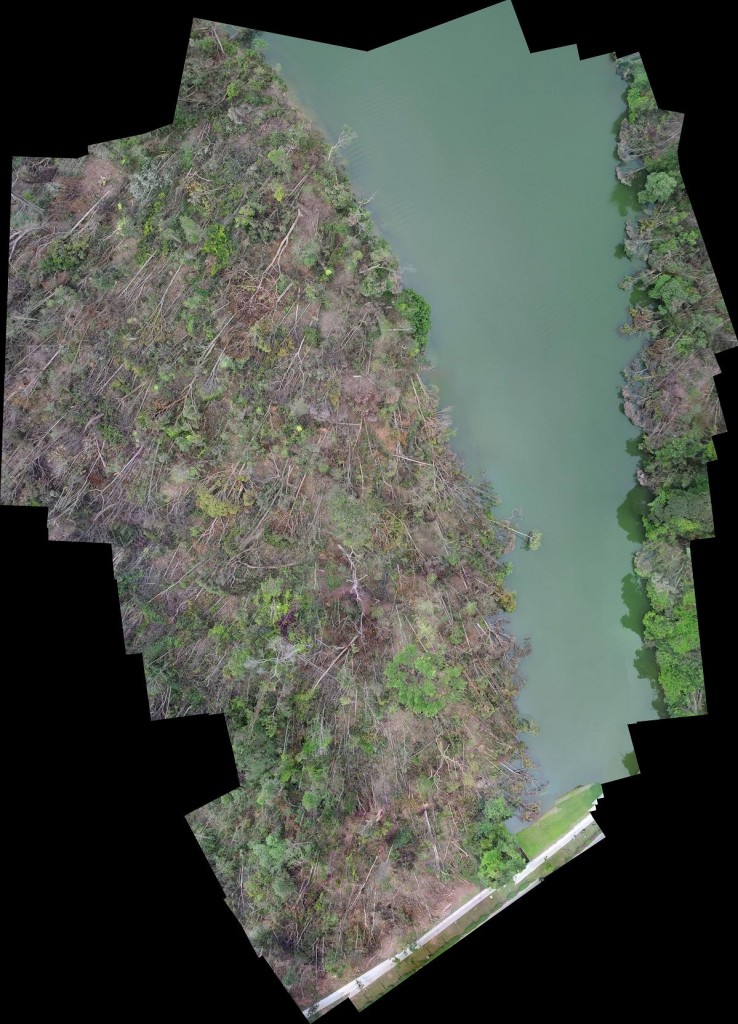 This stitched map provides a good overview of the affected area.