Baubles With A Green Message
If you thought that fine jewellery stands only for luxury and excess, think again. Local jewellery designer Choo Yilin uses jewellery design as a vehicle to spread environmental messages.
The latest collection from her label, Choo Yilin Artisan Jewellery, is called the Tree Series. Each necklace, bracelet and ring features motifs derived from the forest: leaves, roots, vines and buds. In some pieces, the bronze lustre and rugged texture even imitate the colour and feel of tree bark.
"The United Nations has declared 2011 the International Year of the Forest, and so we're dedicating all our pieces to that theme for this year," said Yilin. "Jewellery being such a personal item, it is a powerful and visual reminder of the natural world's beauty and the importance of tree conservation."
Yilin sees fashion and design as a way of reaching out to people who might not otherwise have given any thought to the issues represented in her jewellery. Her previous collections also promote environmental causes, including a coral-inspired range that campaigns against the use of real coral in jewellery.
Besides the use of nature's imagery in her works, Yilin also aims to "green" the supply chain as much as possible. "This includes the use of reclaimed metals, and advocating the importance of recycling metals," she said. The practice of recycling silver helps to prevent environmental damage caused by the mining of precious metals.
Even her choice of craftsmen reflects social consciousness. Choo Yilin Artisan Jewellery works with the Karen hill tribe artisans of Thailand, who handcraft and design the label's jewellery. "We started working with this traditionally marginalised group to raise awareness of their culture and expand their markets," said Yilin.
As someone who runs a socially and ecologically conscious business, Yilin also walks the talk by practicing sustainability in her personal life. "I try to be conscious of how I consume – although I don't necessarily succeed all the time," she admits.
Yilin is also a nature lover, who "completely fell in love with the scenery" the first time she visited the Jungfrau region in Switzerland. Closer to home, she loves spending time at the Singapore Botanic Gardens, which she finds extremely soothing.
By Germaine Ong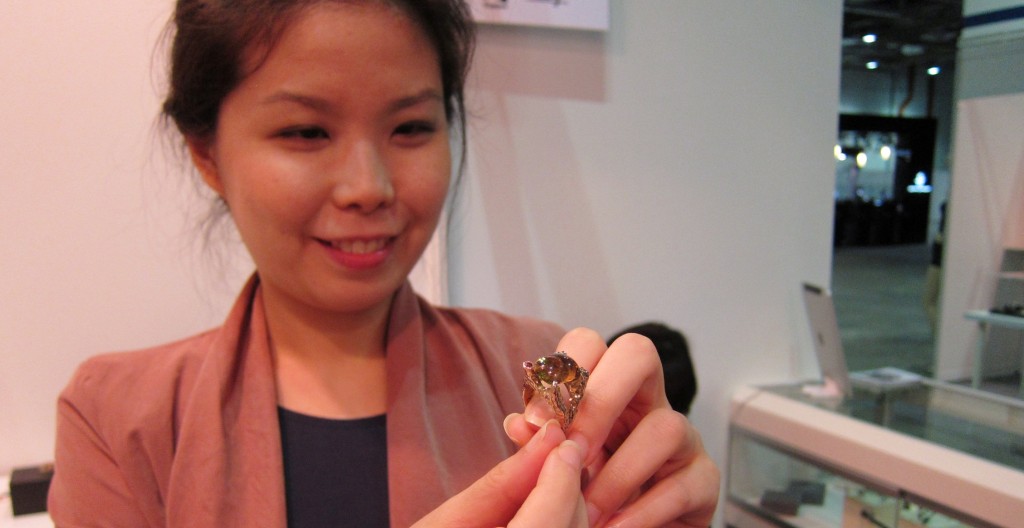 The designer, Choo Yilin, showing off a cocktail ring with a twig-like setting from the Tree Collection.
A member of the Choo Yilin Artisan Jewellery team arranges the jewellery on display at a trade show.
The Flower Jade Series shares design motifs with the Tree Series. Here, vines, leaves and buds decorate a jade bangle.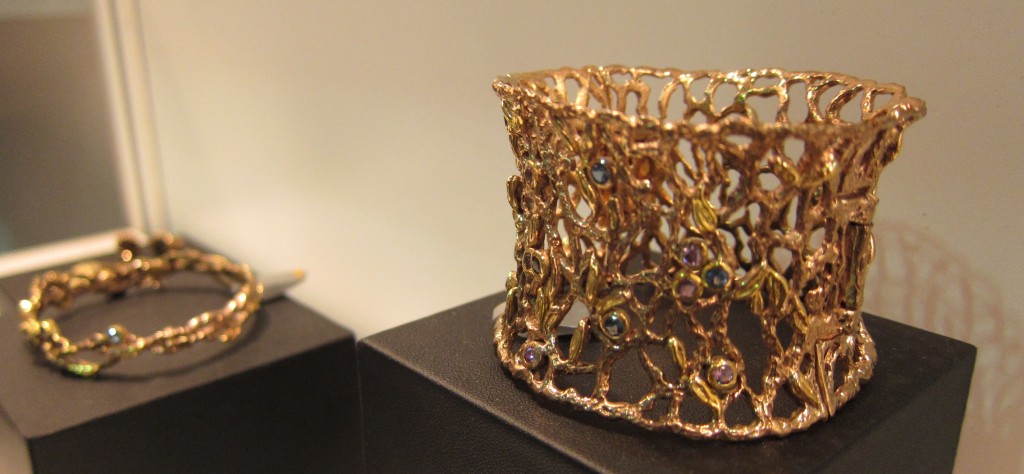 This cuff bangle features yellow gold leaves winding through a vine trellis, studded with buds of london blue topazes and amethysts.