Nature Through A Young Artist's Eyes
Where other people see dead leaves and flowers, Myrth Tan sees art.
A Year 2 student in Raffles Girls' School (Secondary), Myrth uses art as a way to connect people with nature. Based on her experiences of a trip to the Dairy Farm Nature Park, she created seven colourful paintings using dead plant material.
Through her paintings, Myrth hopes that people will come to appreciate the beauty of nature before they disappear. "My pieces are about how people have lost their connection with nature and their interaction with nature is limited to paintings and photos," she said. "This is a man-made attempt to beautify nature that has been lost, by using vivid colours and paints," she said.
Myrth's paintings were developed through the Illuminating Nature Programme, an initiative by Raffles Girls' School (RGS) and Artists Caravan, and supported by NParks. Through this programme, RGS students worked with professional practitioners in various disciplines, including art, to learn about nature in a holistic and site-specific way. This culminated in the Manicured Nature Art Exhibition, held from 14 May to 29 June 2011, where Myrth's art was also exhibited.
Artists Caravan, an independent, non-profit, local artists' collective, concurrently organised a six-week residency programme for artists at Dairy Farm Nature Park. There, the artists responded to the environment over an extended period. One of the artists, Dr Wang Luo Bing, guided Myrth to develop ideas for her paintings over a month-long period."The paintings behind the plant material are vague and not completely accurate, to show how nature has become a mere memory that cannot be fully recollected," explained Myrth. "If we don't stop to admire and appreciate nature, these vague paintings and dead plants will be all that we have to remember nature by, if they are all that we have left."
By Lena Han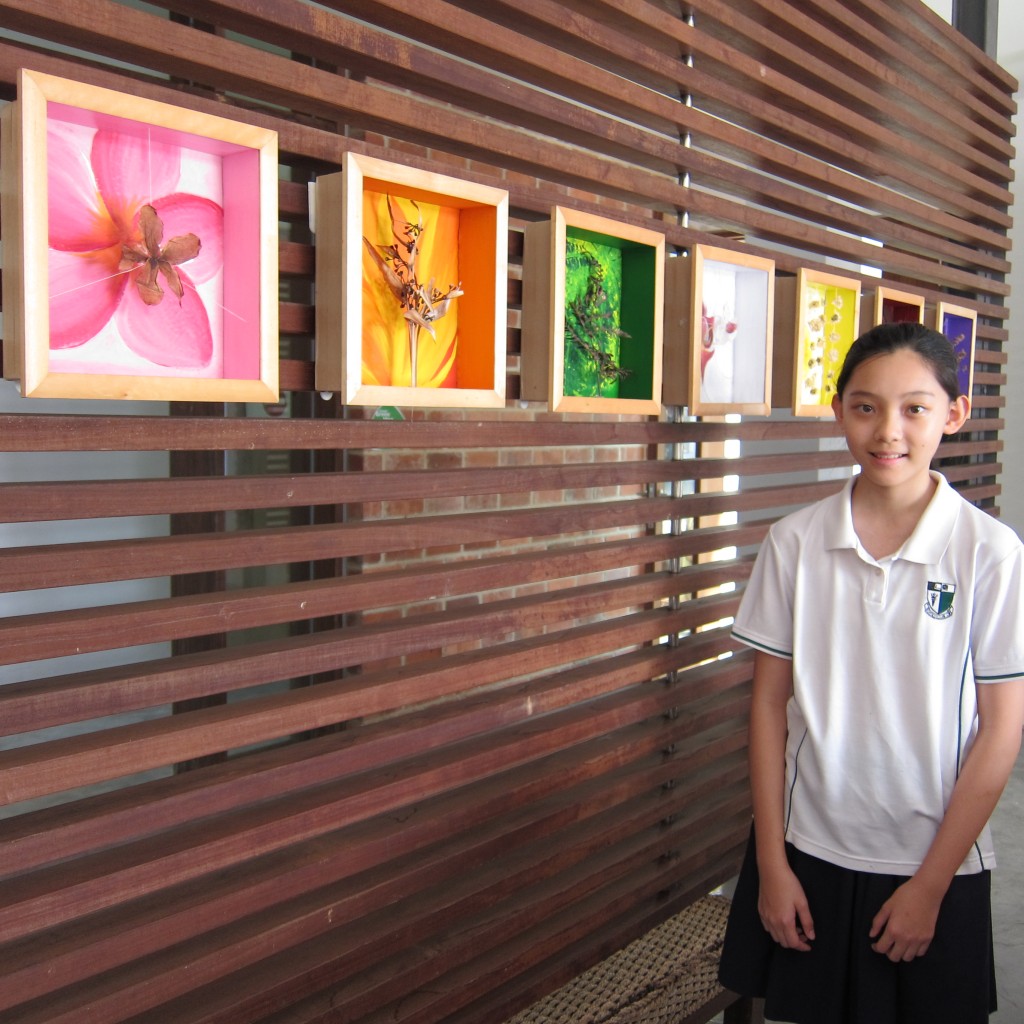 The young artist, Myrth Tan, with her exhibited works at Dairy Farm Nature Park.

A painting by Myrth, featuring dried flowers.
Dried plant material, threaded together, illustrates Myrth's impressions of nature from Dairy Farm Nature Park.