Seeing Green By Playing In Parks
Have you ever heard the old wives' tale that looking at green objects can improve your eyesight? For today's children, who are practically born with iPhones or Playstation Portables in their hands, there may be a grain of truth to this adage.
As part of a myopia research study, 40 children were tempted away from their big and small screens every Saturday from January to April 2011. NParks designed a series of exciting park activities for the young research subjects, aged six to 10, in support of this study by the NUS Yong Loo Lin School of Medicine.
Different activities were planned for the children every week, to engage and entertain them over the four months. The programme difficulty also increased gradually: the participants started with guided walks along level ground, then progressed to hikes on slightly more challenging park terrain.
Other activities included go-karting and fruit sampling, at islandwide venues from West Coast Park to Fort Canning Park and Yishun Park. For the programme's finale on 9 April, the children took part in parks orienteering in Woodlands. This game was played a la "The Amazing Race", where participants located landmarks within the parks and carried out activities based on a set of clues. Through this activity, they also learnt about the park's flora and fauna.
One participant, 10-year old Then Ee Xuan, has been wearing glasses since he was eight. He found the sessions so enjoyable that he even brought his older brother along to join the fun."I like go-karting at West Coast Park best. It was really fun! I also explored Toa Payoh Town Park (during park orienteering) and learnt many things there."
Ee Xuan's mother, Noelle Then, also found the programme an eye-opener. "I didn't know there were so much interesting things to see in parks!" she said. "We initially thought that the programme would bring us around the famous parks in Singapore, such as the Singapore Botanic Gardens. But now, I realise that there are fun sights even in the smaller parks."
Woo Wen Chong, a shy 7-year-old, was so excited about the activities that he convinced his family to arrive early for the last session. Over the months, he enjoyed meeting and playing with his new friends in the programme. His father, Alan Woo, quipped that even though Wen Chong found it difficult to wake up early in the morning for the activities, he got used to it eventually. He said, "It's good that Wen Chong gets to see new things and to learn outside of school. Now, we know there are alternative places for bringing the family out, other than shopping malls!"
The myopia study is still in progress, with another trial that began in June 2011 with 450 children over a one-year period. Even though the results remain to be seen, it is likely that the children's introduction to such fun activities will encourage them to spend more time in parks and nature areas. Through developing a habit of playing outdoors, their fitness can only improve – and their eyesight can take a break from electronic devices and games.
If you were unable to take part, don't fret – you can also explore the parks on your own. Start by downloading a trail guide at www.nparks.gov.sg/eguides to carry out your own self-guided walk. Through exploring our parks, you can enjoy a time of healthy family bonding too!
By Eta Lauw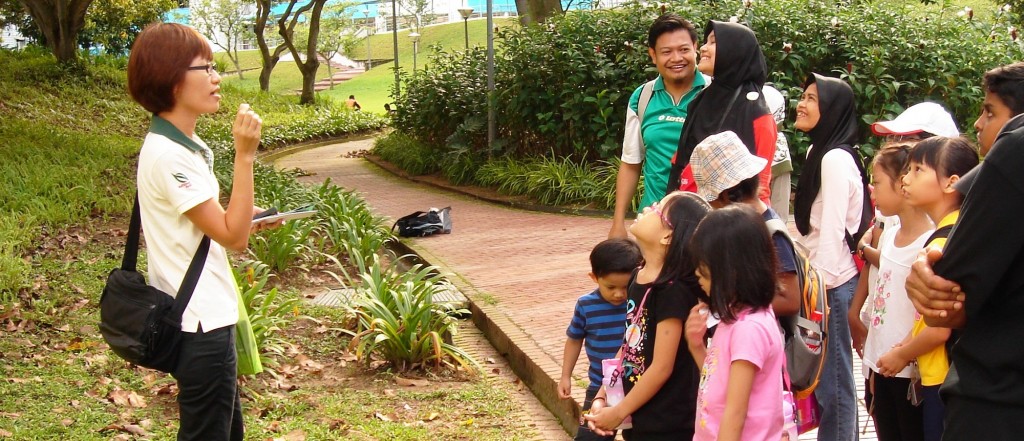 The children and their families met at a different park every week, to embark on new and exciting outdoor adventures.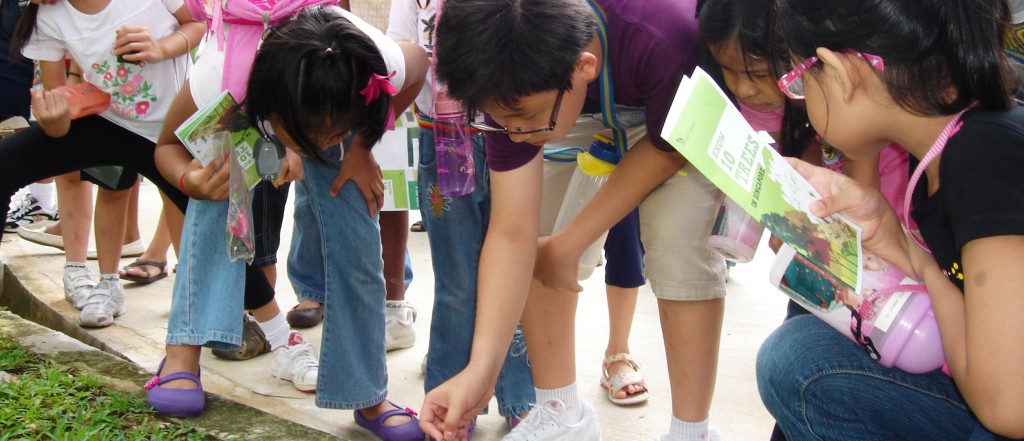 The activities in the myopia study allowed the children to experience nature first-hand, by going up close with trees, shrubs and even grass.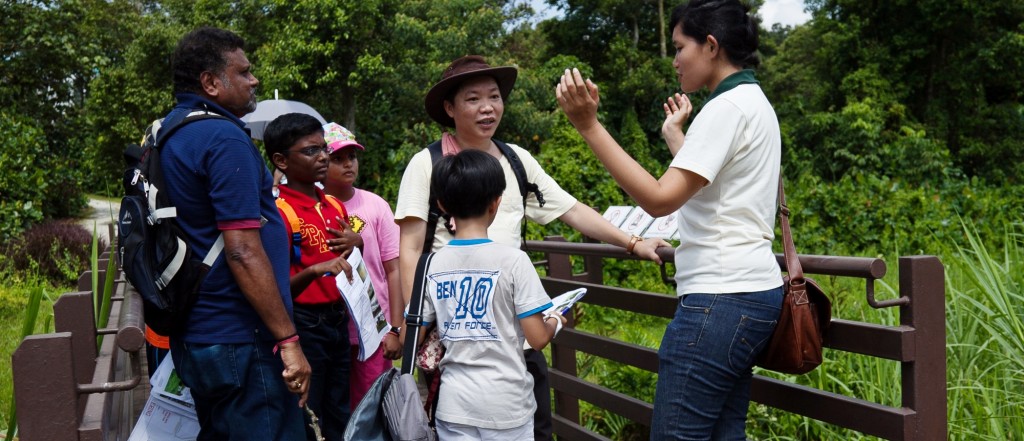 The guided walks through parks and nature areas were eye-openers not just for the children, but for their parents and siblings too.