Nature Is My Teacher
Nature is an endless, evolving textbook with so many lessons for us to learn.
As a former teacher turned outreach officer for NParks, I am always intrigued by the new lessons that nature has for me each day, as I work and walk through Singapore's two largest nature reserves - the Bukit Timah Nature Reserve and Central Catchment Nature Reserve.
When I was a teacher, I thought that Singapore had nothing much offer by way of natural history. I was so wrong. Singapore's natural heritage is rich and there is still much to discover.
So how much does the average Singaporean know about our natural heritage? During one of my walks in Central Catchment Nature Reserve, I overheard a guide saying, "Look, children. That's a Komodo Dragon!" He was actually pointing to a Clouded Monitor Lizard hiding in the undergrowth. (By the way, Komodo Dragons are only found in Komodo Island.)
It was this and other encounters that spurred me to develop programmes and activities that demystify nature for the layman. These resources help guides, teachers, educators, children, parents and interested public to know more about our natural heritage.
When a child is exposed to nature, he begins to develop a sense of connection with it. He gains responsibility for its well-being, and experiences feelings of wonder. Exposure to nature can help to release a child's creativity, build character alleviate the stresses of school life - in general, it can bring about positive overall development.
Our nature education programmes are developed with these in mind.
The Young Nature Explorers programme is for children aged 5 - 6. Conducted in partnership with the Ministry of Education's (MOE) Preschool Branch, it encourages children to use all their senses - touch, smell, sight and hearing - to learn more about nature.
Then there is the HeART for Nature programme for children aged 4 - 7. It uses art to help children explore the wonders of nature.
The Kids for Nature programme is developed for children aged 7 to 10. This learning programme is carried out in partnership with MOE Co-Curricular Activities Branch under the Programme for Active Learning initiative. It teaches environmental education, outdoor skills and social-emotional learning.
The Nature Keepers aims to build knowledge of our native biodiversity among children aged 8 - 12.
Those who are above 12 years old and have completed the programme will be invited to join NParks Conservation Volunteer Programme. Each year, there will be two camps for the children to spend a whole day at the nature reserves.
It is always gratifying to see such experiences change children's perspective of nature, such as the time a preschooler exclaimed, "Aunty Karen, I didn't know there were leaves as big as my head!"
It is even more encouraging when parents come forward to support our efforts in nature education. A mother shared with me this positive feedback for the Nature Keepers camp: "My two boys told me that this camp was the best activity I had ever signed up for them! We learnt to appreciate, respect and love Nature during the camp."
By Karen Teo
If you are keen to find out more about any of these nature education programmes, call us at 1800-4717300 and ask to speak to the outreach team of Central Nature Reserve branch
NParks offers a range of programmes and activities for children and adults. Our programmes and activities have been developed to help you appreciate our rich natural heritage, and are tailored to different age groups.
For those interested in knowing about heritage, we have walks where you can discover our rich history as far back as the 14th century.
If you wish to know more about plants and trees, explore the dipterocarps (giant forest trees) at Yishun Park or discover how different plants adapt to their habitats at Admiralty Park. You can also learn about herbs and spices at Singapore Botanic Gardens and Pasir Ris Park.
For a comprehensive list of NParks' programmes, guided walks, workshops and talks, check out our online brochure.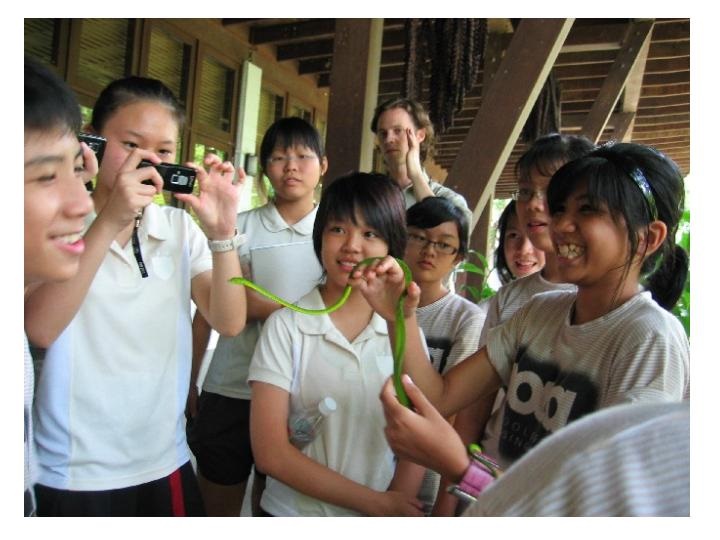 Through nature education programmes, children and teens can experience hands-on encounters with nature.



Kids for Nature is an environmental education programme that teaches outdoor skills, such as orienteering.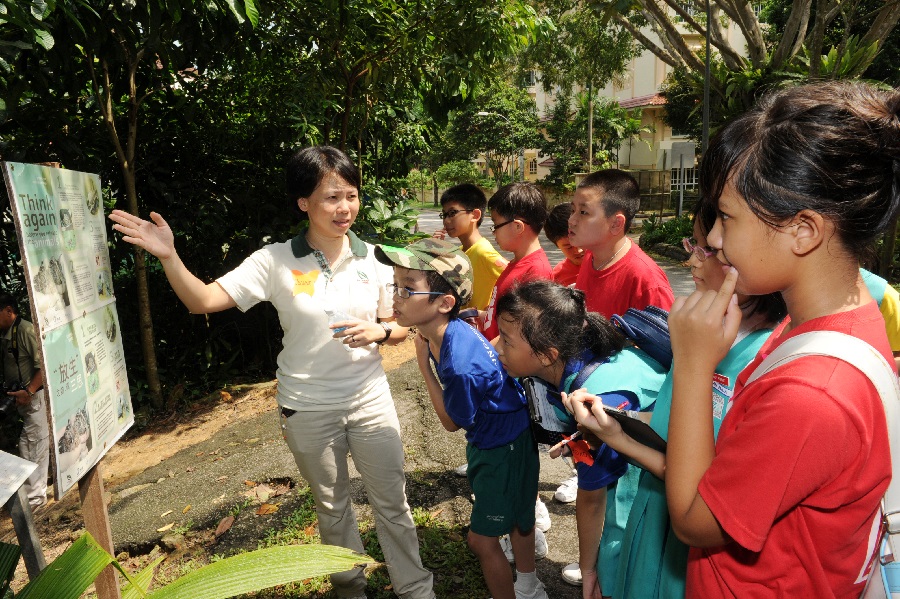 Outdoor learning is a great way for children to gain valuable lessons about the natural world, away from the traditional brick-and-mortar classroom.